June 9, 2009
  The story of Danao's "brutal teacher" that we posted the other day, continues … Thanks to SunStar. (monching)
  CEBU CITY – June 10, 2009 – Parents of Grade 1 kids in Danao City were urged to seek the help of their local social welfare worker on allegation that their kids suffer in the hands of their public school teacher.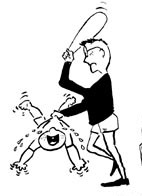 In an interview with Sun.Star Cebu Wednesday, Rosemarie Gonato, resident psychologist of the Women and Children Protection Center of the Vicente Sotto Memorial Medical Center (VSMMC), said harsh situations, such as a teacher severely punishing them, can cause long-term psychological damage to children.
  Parents of several students complained against the harsh punishment of students allegedly by a certain "Mrs. Quitaraño," a newly-assigned teacher of the Cambubho    Elementary School in Danao City.
  At least 20 Grade 1 kids complained that their teacher would severely punish them because they couldn't read and write well.
  The parents, in an interview with Sun.Star Cebu, complained that some of their children don't want to go to class anymore because they fear their teacher.
  One child allegedly burned all her school supplies just so she couldn't go to school anymore.
  After reading the report in Sun.Star Cebu, Gonato advised the parents to approach the Department of Social Welfare and Development (DSWD) and report the incident to authorities.
  Gonato said any teacher's harsh punishment on the students will not only affect the children's perception of school, but may also scar them for life.
  "If this (harsh methods of punishment) will continue, the children may suffer from anxiety that may hamper their learning process," said Gonato.
  Gonato also said that if the incident happens again, then the psychological damage on the children might become long-term, leading to mental trauma.
  Gonato advised education officials to look at the teacher's psychological history to understand her behavior when it comes to teaching her students.
  In an interview with Sun. Star Cebu yesterday, Dr. Recaredo Borgonia, Department of Education 7 director, said he has talked to Danao City education superintendent Vangiel Luminarias about the case.
   Borgonia said he ordered the superintendent to investigate. He also gave Quitaraño until today to submit a report to explain her side of the incident. (JKV of Sun.Star Cebu)
_____________________________________________ 
 DUHA ka mga tinun-an sa grade 1 sa Cambubho Elementary School sa Danao City wa na mobalik pa pagtungha.
  Kay sila ug ang ilang mga classmate nangahadlok sa ilang magtutudlo nga giingong mamunal, managpa ug mangusi kon di sila kahibaw mobasa.
  Ang grade 1 teacher sa Cambubho Elementary School, sa may sitio Kalbasa, Barangay Cambubho sa dakbayan sa Danao gikahadlukan sa labing minos 15 niya ka mga tinun-an.
  Gipugngan ang ngan sa maestra, kinsa bag-o pang nagtudlo sa mao nga tunghaan.
  Ang brgy. Cambubho dunay 26 ka kilometros nga gilay-on gikan sa kinapusoran sa lungsod.
  Asoy sa mga tinun-an ug mga ginikanan, nga niadtong Hunyo 1 sugod sa klase, nagsugod sab ang pagpakita sa kamaldita niining maestra.
  Pabasahon ang mga tinun-an og iningles nga basahon ug kon di kahibaw, bunalan og kartolina nga gilukot.
  Si Cathy, 7, nisugilon sa Sun.Star Superbalita nga magul-anon siyang niuli sa udto sa unang adlaw.
  Nianang hapon wa na siya mobalik sa tunghaan kay wa na gyud siya makaaguwanta sa gihimo sa maestra.
  Siya nipasangil nga gituslok og maayo ang iyang dunggan hangtod nga kini nihubag kay naigo ang iyang ugat.
  Dugang pa niya nga wa siya masayod kon unsa ang iyang sala nga nabuhat sa maestra.
  Si Wilma Giangan, 29, iyang inahan, niadto sa tunghaan kagahapon kuyog sa ubang mga ginikanan sa mga lain pang bata aron ikaestorya ang maestra kabahin sa giingong pagpanapat sa ilang mga anak.
  Apan, matod ni Giangan nga nanghimakak kini sa pasangil batok kaniya.
  Nisulti kini kaniya nga ang iyang anak di gyud kahibawong mosuwat sa ngan niini.
  Apan si Cathy nihagit sa maestra nga iyang pakit-on sa iyang atubangan nga kahibawo siyang mosuwat sa iyang ngan.
  Si Christian, usa sa mga tinun-an, wa moeskuwela sukad sa miaging semana.
  Sa unang adlaw ra siya mitungha ug wa na mobalik pa tungod sa iyang kahadlok.
  Samtang si Melody Garson, usa gihapon sa mga tinun-an, niingon nga iyang gisunog ang iyang usa ka pad sa papel kay di na ganahan moeskuwela kay mahadlok siya sa maong maestra.
  Apan gidala siya og balik sa iyang mama sa tunghaan.
Gisuwayan ni barangay captain Renario Durano og husay ang maong kaso apan matod sa teacher-in-charge sa maong tunghaan nga si Mr. Calipay nga husayon lang kini nila sud sa eskuwelahan.
  Niabot ang maong kaso kang Dr. Evangel Lurnarianos sa Department of Education (DepEd) dihang ilang gibisita ang maong tunghaan.
  Giingong nitambag kini nila nga obserbahan lang una ang magtutudlo ug kon mousab pa, ikiha na kini.
"No comment" ang ubang maestra sa tunghaan kay alang nila nahilot na ang kaso apan sa mga ginikanan sa mga biktima andam sila mokiha kon mabun-og ang ilang anak.
  Matod nila nga nisaad ang maestra nga paningkamotan niya nga di na gyud kini mausab.(Ray Francis A. Gamban-USJ-R Intern – SunStar Superbalita, June 9, 2009)
April 30, 2009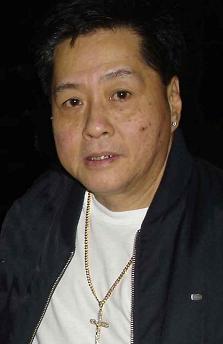 Thadeus "Deo" Durano, age 63, passed away Thrusday evening, April 30, 2009, at the Cebu Doctors Hospital, losing his 2-year fight against lung cancer.
  This was reported by Benny Peralta of Las Vegas Nevada, who was in contact with the family during the Mayor's last hours.
    Deo, an elder brother of Danao City Mayor Ramon Durano III was the incumbent municipal mayor of Sogod, Cebu
    Mayor Durano ruled the town of Sogod for a long period, spanning over 30 years, the longest in the the town's history.  
    Meanwhile, a nephew, Ramon "Boboy" Durano, sent an email to friends breaking the news of his uncle Deo's passing which is being posted below to share with fellow Danawanons. (Monching B)
—————————-
Guys,
My uncle Deo Durano passed away last April 30 at 8 p.m. after a 2 year bout with cancer of the lungs and liver, stage 4 when it was discovered in him in 2006.  After a series of chemo, he suffered a stroke which left him partly paralyzed and impaired his speech.
But born as a figher and a tough person, he struggled and fought it as his most bitter enemy in his life.  Of course, as a mortal person, he lost in the end.  He may be remembered as a tough guy but he had a heart of gold; a true and loyal person to his friends, whom he treasured so much.  He lived a life that one would dream to enjoy; wealth, wine, women, all other luxuries in life for cost would be no object to him and he shared all of this to his family and friends.
Now that he is gone, people will surely miss him. The gentleman who would go out of his way just to shake the hand of a friend seated at the end of the room, will no longer be around.  The man who would stop his car and greet a friend seen walking in the road will no longer be seen. 
We who were close to him sill surely miss him.  Please say a prayer for him.
Boboy
 ___________
 Durano laid to rest in Danao City
By   Doris C. Bongcac, Reporter
       Cebu Daily News, May 5, 2009 
Former Sogod mayor Thaddeus Durano was laid to rest yesterday when his ashes were buried at the family mausoleum in barangay Guinsay, Danao City.
Durano, 63, died of lung cancer on Thursday night. His body was cremated, which was the late mayor's wish.
Durano's ashes were brought to their ancestral house in Poblacion, Danao on Friday.
It was transferred to his Sogod residence on Sunday.
About 2 p.m. yesterday, the former mayor's ashes were buried in the mausoleum of the Ramon Durano Foundation.
Cebu Gov. Gwendolyn Garcia, Cebu Provincial Board Members Agnes Magpale and Judy Durano, friends, family, other local officials and supporters attended the burial yesterday.
Rep. Ramon "Red" Durano VI of the 5th district of Cebu said that his uncle died in a private hospital in Cebu City.
Former mayor Durano is survived by his wife Nimfa and his only child, now Mayor Lissa Marie Durano.
Durano was diagnosed with terminal lung cancer two years ago. He died at about 8:15 p.m. on Thursday.
Representative Durano said that his "Papa Deo" was supposed to celebrate his 64th birthday on July 5. 
March 23, 2009
Sun.Star Cebu, March 24, 2009.
DANAO City officials and the Metropolitan Cebu Water District (MCWD) signed yesterday a water supply agreement that will help address the water shortage in the cities of Mandaue and Lapu-Lapu.
Starting next year, the Danao City Government will supply a minimum of 5,000 cubic meters a day at P17 per cubic meter, which is cheaper by P8, Cebu City Mayor Tomas Osmeña said.
The mayor said the deal is advantageous to MCWD, unlike the proposed Car-men bulk water supply agreement.
Franchise area
 MCWD board member Joy Augustus Young said the water from Danao City will be diverted to the water supply system in Liloan town, which distributes water to Mandaue and Lapu-Lapu.
 "The supply will start sometime next year. It will help solve the water shortage problem in some parts of the franchise area but that will not be enough," Young said.
Young and Osmeña, the appointing authority in the MCWD, both attended the signing of the memorandum of agreement in Danao City yesterday morning.
In his news conference yesterday, Osmeña said that unlike Ayala's proposal that MCWD junked in 2007, the Danao City Government is not requiring a substantial minimum off-take purchase.
 It can supply as much as 40,000 cubic meters per day, but it will only require MCWD to buy 5,000 cubic meters.
Proposal
The Ayala consortium had proposed to sell water to MCWD at P25 with a minimum daily purchase of 50,000 cubic meters.
"Danao City will charge only P17 per cubic meter while Ayala insisted on P25. It shows you how overpriced the deal is. And the lobby for Ayala water was so strong, including Cabinet members and even the National Economic and Development Authority," the mayor said.
No politics
Meantime, Jose Thad-deus Roble, chief of staff of Mayor Ramon Durano III, told Sun.Star Cebu that the Duranos' meeting with Mayor Osmeña yesterday was "purely MCWD consultation and signing of MOA."
"Nothing is cooking yet," said Roble when asked whether there was already a building of political alliances during the meeting.
Roble assured he will share whatever political developments in the fifth district, particularly in Danao City. (LCR/GMD)
June 29, 2008
KNOW YOUR HOST: GUILLY & BEBE ROBLE
1st Novena: Sponsored by Guilly and Bebe Roble
1807 East 218th Street
Carson, CA 90715
Tel. 310-385-8045 (Home)
310-518-6273 (Bahay Kainan)
Sunday, July 6 at 11:00 a.m.

Si Guilly Roble, ang nailhang batang buotan sa Suba, milangyaw aron manimpalad sa Davao human natapos ang pagtuon sa UV pagka accountant. Ulitawo si Guilly sa iyang pag-panimpalad sa Davao, ug daghang mga babaye nangindahay nga ilang maankon ang utukan ug kugihan nga batan-ong lumad sa Danao. Apan wala pa-balda ang ulitawo sa mga tukso sa iyang palibot.
Wala molungtad ug dugay si Guilly sa Davao. Niadtong panahona, tungod sa mga kagubot, walay maayong kahigayonan para sa mga batan-ong profesyonal ang Mindanao. Busa mibiya siya sa Davao, dayon larga padulong sa Manila. May mga taga Danao usab didto nga mitabang sa iyang pagpuyo ug naghatag kahigayonan aron siya mahimutang. Didto gikahibalag ni Guilly ug gipangasawa ang usa ka talagsaong Manilena, diin nakita sa ulitawo ang tanang hiyas sa babaye nga maoy tugon sa iyang inahan, buotan, kugihan ug may kaanyag. (Naa sa hulagway si Bebe, ang mahal nga kapikas ni Guilly, ug ang ilang duha ka anak dala ang rebolto sa Patron, Santo Tomas.)
Maayo ang dagan sa panginabuhi sa mga bag-ong magtiayon. Milambo ang ilang gamay nga negosyo ug nag trabaho usab si Guilly isip accountant sa usa ka dakong patigayon. Apan dili pa gyod hingpit ang ilang kinabuhi sa Manila, busa naningkamot nga maka-ari sila sa Amerika, pamasin dinhi ilang makab-ot ang ilang mga pangandoy.
Inubanan sa mga pag-ampo, natagaan sila ug visa, ug dayon larga uban ang usa ka anak diri sa Los Angeles niadtong miaging siyam ka tuig nga milabay. (Ang ika-duhang anak, made in U.S.A.)
May 28, 2008
Posted for Dr. Anita Cal-Jackson.
Here is the tentative Novena Schedule for the Fiesta of our Senor Santo Tomas de Villanueva for 2008.
First Novena
July 6, 2008
Guiley/Bebe Roble Family (Sunday)
Second
July 12, 2008
Barriga/Famor Family
Third
July 19, 2008
Jojo/Monette Batucan
Fourth
July 26, 2008

Proceso/Marieta Hermoso Palos

Fifth
August 3, 2008, SUNDAY
Lavides/Roble/Ecarma/Escario Families15528 Blaine Ave., Bellflower, CA

Novena: 11:00 am; Mass: 11:30                                     

Sixth
August 9, 2008

Rey/Evelyn Espera Family,

23936 Old Pomegranate Rd.,Yorba Linda, CA,

Novena: 5:00 pm; Mass: 5:30pm  

Seventh
August 16, 2008

Cabahug & Montegrande Families,

24508 Mariposa Ave, Harbor City, CA, Novena: 4:30 pm; Mass: 5:00pm 

 

 

Eight
August 23, 2008

Domingo & Jackson Families

41027 Burgess  Ct., Temecula, CA, Novena: 4:30 pm; Mass: 5:00pm 

 

 

Ninth
August 30, 2008
"Cruise Group"
Fiesta Day
September 7, 2008
Silverado Park, Long Beach
May 12, 2008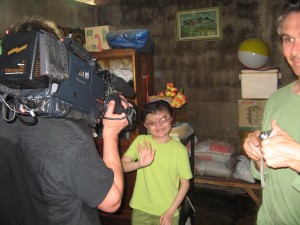 Merylou whose disfigured face made her unable to stay in school for long, underwent a series of cranio-facial surgery at the Children Hospital Los Angeles under the auspices of Mending Kids International, is back home to her family in Juan Luna, Danao City, arriving May 9, 2008.
A team of doctors of Children's Hospital Los Angeles, led by Dr. Mark Urata, seemed to have done some kind of surgical magic with Merylou's amazing transformation.
She arrived in Los Angeles on May 27, 2007 with help from PAL Foundation, Inc. (for plane tickets) and some well meaning Danawanons who chipped in to pay for his visa fees and local transpo expenses.
Monching and Mariam Barriga hosted her stay in the U.S. for nearly a year, and taking her to numerous medical appointments. DAUSA Vice Presidnet Marieta Palos, who cared another Danao kid, Keith Montesu's during his confinement for an open-heart surgery, also kept watch on Merylou at the Children's Hospital relieving Mariam when unable.
Read more
November 16, 2007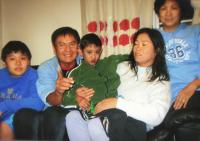 Another DAUSA protégé, 9-year old Keith Casas Montesuso of Suba, Danao City, finally arrived Los Angeles on Friday, November 9, 2007, after over a year of waiting for a life saving and urgently needed open heart surgery.
On the last day of the DAUSA Medical Mission on September 2006, a father pushing a stroller carrying a frail and bluish 8-year old boy showed up at Danao District Hospital asking to see a DAUSA doctor. He was referred to Dr. Anita Cal-Jackson, Chief of Medical Mission.
Mr. Archie Montesuso showed to Dr. Jackons his son's medical records indicating congenital heart defects known as pentalogy of fallot, as diagnosed by a pediatric cardiologist from Perpetual Succor Hospital in Cebu City.
(Keith (center) with host family in Los Angeles)
According to the boy's dad, Keith was in and out of hospital due to heart failure caused by exertion or infection. He also said that the cardiologist at Perpetual Succor Hospital, had explained to him it would cost over a million peso for the hospital to perform the very delicate procedure.
Being unemployed at the time, it was impossible for Keith's parents to come up with that amount. Their only hope was DAUSA, the father said.
September 15, 2007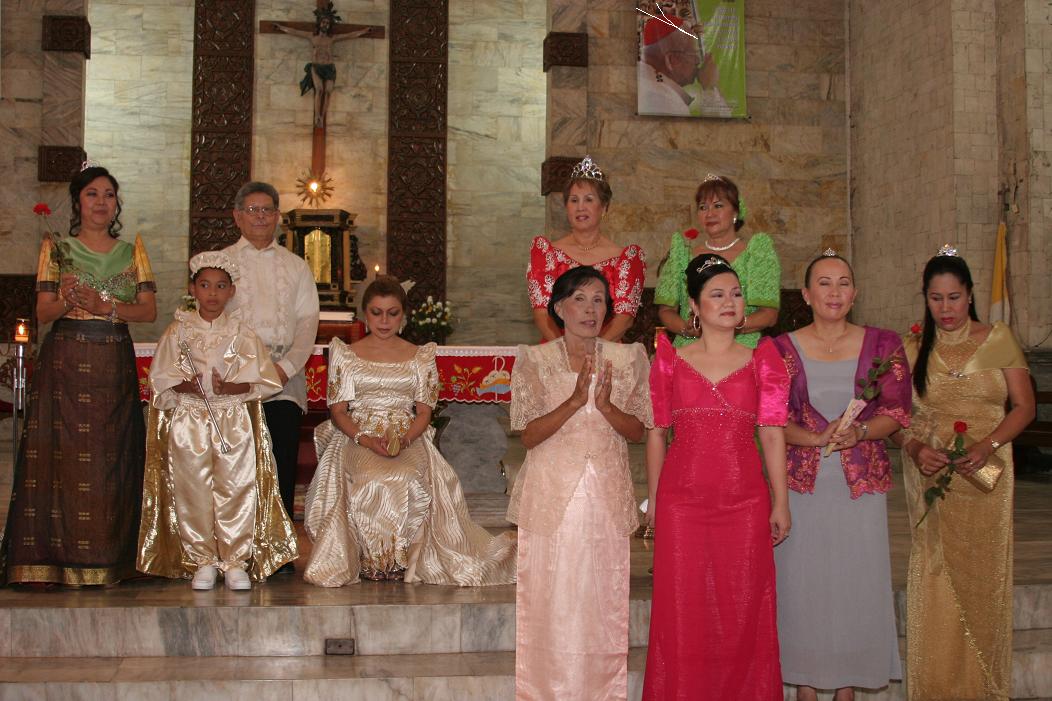 DAUSA President Dr. Anita-Cal Jackson, has been chosen among many participants as the Reyna Elena I in Danao's first Santa Cruzan Celebration held in September.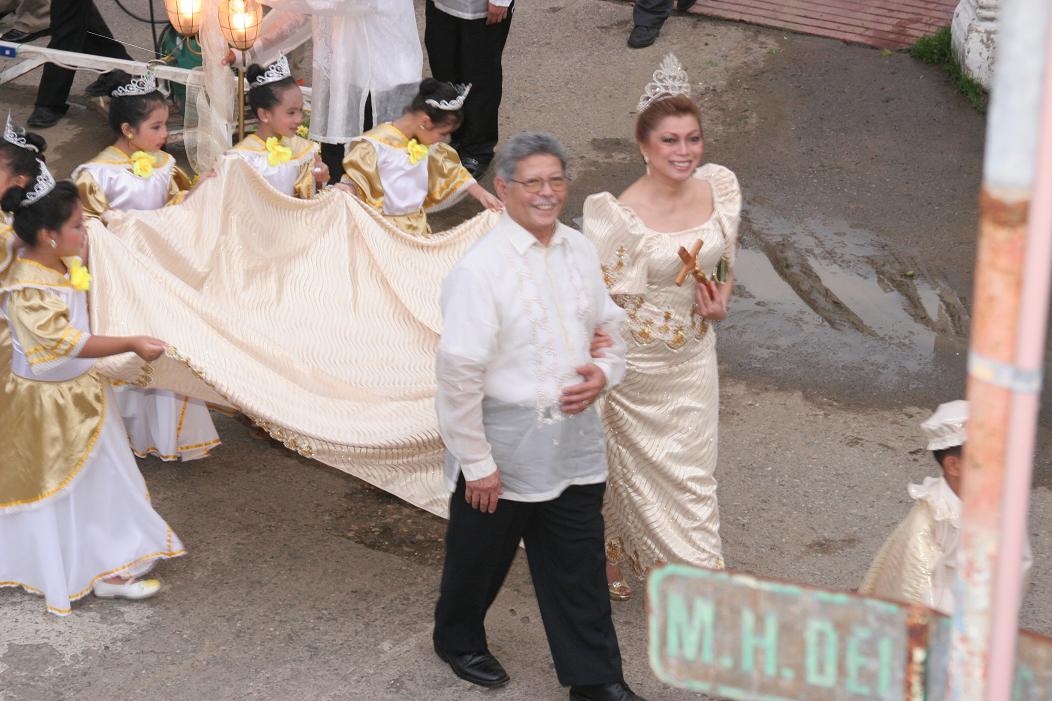 The Santa Cruzan was held at the Danao City Parish Church starting with a concelebrated mass and a long procession along the city's regular procession route with all participants wearing very elaborate and expensive gowns. Anita was escorted by Dr. Julian Banzon, another Danawanon residing in Chicago, Illinois.
Some of the participants include Rose Canga, Tita Meca, Jesusa Arsenal along with some balikbayans including Elsa Banzon (Sacramento), Kay Durano (San Jose), Georgina Villareal (San Francisco), Naomi Seigrist (Switzerland) and many others. (I will insert the names of others as soon as I get the list).
September 3, 2007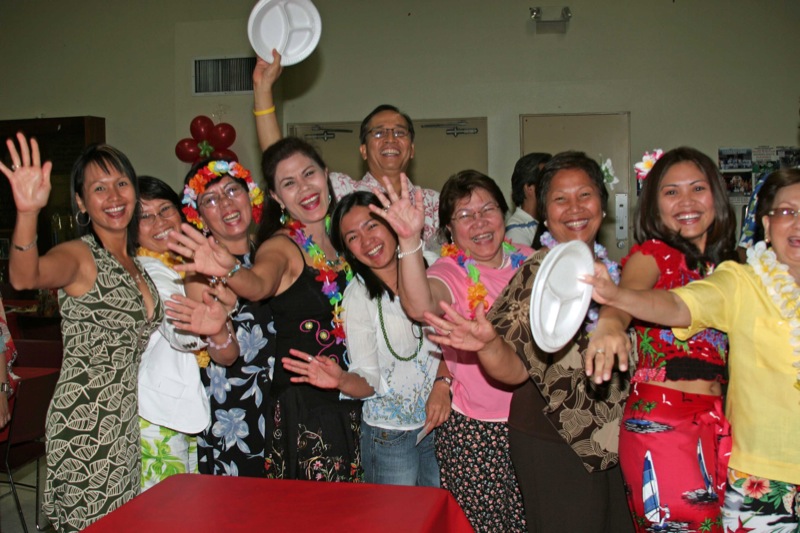 It's another Luau this Saturday and everyone will have that Hawaiian look at the 14th DAUSA Anniversary and annual fiesta celebration honoring Danao City's patron saint, Santo Tomas de Villanueva.
The 2007 DAUSA Luau will be held this Saturday, 5:30 p.m., September 8, 2007 at the Buena Park Recreation Center, Buena Park, California. (Address: Buena Park Recreation Center, 8150 Knott Ave., Buena Park, CA. 90620.)
The celebration will start with a con-celebrated mass officiated by two Danawanon priests, Msgr. Pascual Ypil and Msgr. Alfeo. Both priests served for many years in our Santo Tomas de Villanueva parish
According to DAUSA President Dr. Anita Cal-Jackson donation to the Luau Dinner-Dance is only $25.00, per person which will go to the DAUSA Medical Mission scheduled on September 18 – 20 at the Danao General Hospital, Danao City, Philippines.
"We expect around 250 Danawanons at the our patron saint's fiesta celebration, some coming from out-of-state and visiting Dananawons", Anita said.
August 29, 2007
(Jundell is the son of DAUSA Members Sixto and Mary Castardo of Long Beach, CA)
UC fetes nursing board topnotchers
By Jujemay G. Awit
Sun.Star Staff Reporter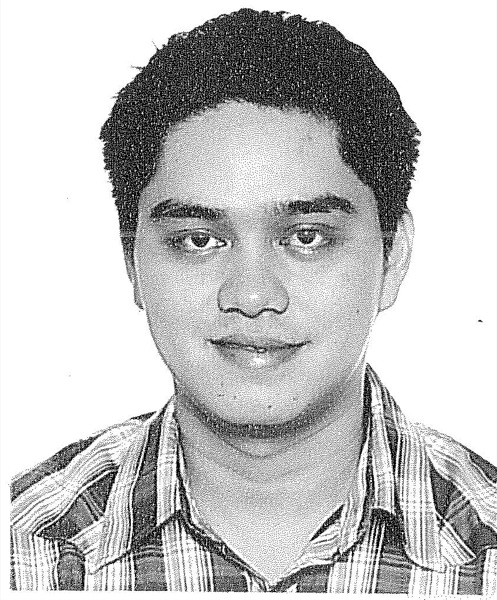 THEY only wanted to prove that there was no cheating during the June 2006 nursing board examination by taking the entire exam last June.
But Jundell Castardo and Santonin Yu placed fifth and eighth, respectively. Both became P100,000 richer.
University of Cebu (UC) president Augusto Go handed a check worth P100,000 each to Castardo and Yu, in time for the inauguration of the nursing dormitory near the UC-Banilad Campus.
Go made true his promise to give P100,000 to anyone who gets anywhere between second and tenth place in the nursing board, and a brand new car to a UC graduate who places first.
In an interview with Sun.Star Cebu, Go said he couldn't sleep after learning that two UC graduates made it to the top 10.
And it's not because he owed them money.
"They give pride not only to UC but to the entire Cebu," he said.
The reward is an incentive for other graduates to study hard, and Go will do anything to improve the school's passing average.
UC-Banilad had a 92-percent passing rate, said Dean Helen Estrella of the nursing department.
Topping the nursing board, however, is not new for the Yu family. Santonin's 22-year-old sister, Shiela, also topped the 1995 nursing board exams.
Santonin's father, Henry, could not contain his pride for Santonin, who was born on Sinulog day in 1985 and was named after Sto. Niño.
His name is not the only thing religious about Santonin, who attended mass every night after his review, before taking the exam.
Santonin almost did not take the entire exam though, opting to just take the mandated tests 3 and 5. But a chance encounter with Castardo at the Professional Regulation Commission (PRC) 7 last May changed that.
Castardo, 25, was there to return his PRC license in order to take the June 2007 board exams. He convinced Santonin to do the same.
Castardo wanted to prove that Cebu was leakage-free, and ended up proving more than that.