September 28, 2006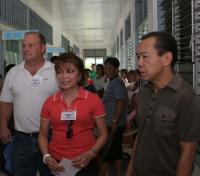 Despite her much anticipated Catholic Church wedding with husband of 22 years – Ben, scheduled on Friday, September 22, in Tagbilaran, Bohol, DAUSA President Dr. Anita Cal-Jackson, still took the task of spearheading the 9th DAUSA Medical Mission on September 19 – 21, with Ben helping out.
And she did it with same enthusiasm and energy the way she did as Chief of Medical Mission since 1998, as if there was no other major forthcoming activity to prepare.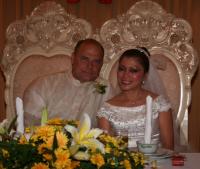 Her attention was totally focused on the activity at hand – the DAUSA Medical Mission. As usual, the Medical Mission – this time Anita serving as President and Chief of Medical Mission – was another huge success – helping indigent Danawanons in a big way.
Surprisingly, the couple even attended the culmination program hosted by City Mayor Ramon Durano III, held at the Mayor's residence in Guinsay, Danao City, Thursday evening, September 21.
Ben and Anita got up 3:00 a.m., Friday, getting ready for an early morning drive to the Pier in Cebu City to catch the 6:00 am boat to Tagbilaran.