September 29, 2012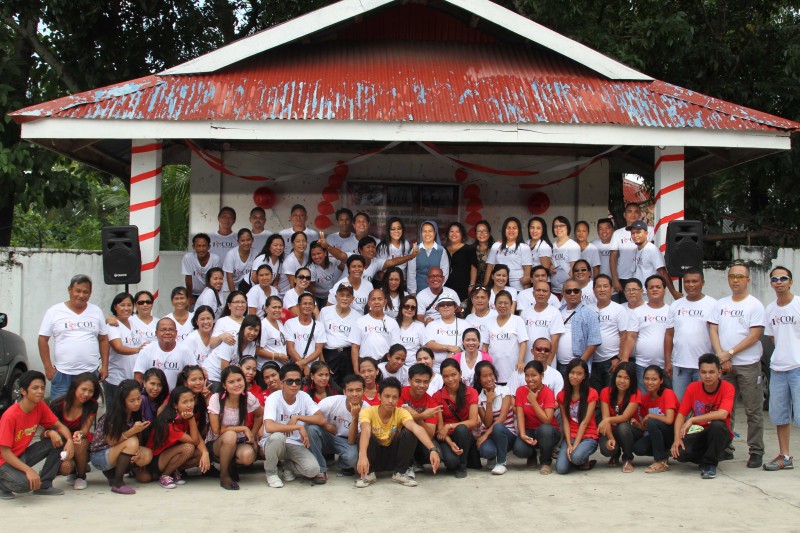 Everyone would agree with me that whenever we visited Danao and attended a Sunday Mass in our parish church, almost always, we ended up standing on the side or at the back of the church when we came a little late.
The reasons could be that the priests assigned at our parish were better preachers, good looking and could deliver inspiring, soul-searching and lively homilies, or maybe because the choir was great.  It wasn't like this 40 years ago.
Whichever the reason, one thing is certain our parish choir is really good, maybe one of best in the entire archdiocese.
On a Saturday morning before the fiesta I had the chance to meet the people who made church goers wide awake and participative through the years.
Through their lively music Choristers of our Lady of COL has been credited to making churchgoers sing along at mass and drew more young people to the church on Sundays .
They were celebrating their 40th Anniversary, according to Ms. Suzette Cabigon-Talaue, the leader of over a 100 past and present members of Choristers of our Lady (COL).
The  celebration started with a mass at 7:00 a.m., Saturday, the eve of the fiesta celebration. I promised to attend, but arriving almost 9:00 a.m.,  I saw only candle vendors and street children running around the church.
A church volunteer told me that COL members were at Manang Lalay's house having breakfast.  I had no breakfast yet, so that was good to know.   Nang Lalay's  house was a block away, and I got there in one minute.
I had to squeeze in to have a plate of bam-i, bodbod, mango and hot sitwate as nearly a 100 former and current COL members were doing the same.
Feeling so full, I  started noticing the people around.  There was Msgr. Pascual Ypil who was seated close to where I was, Manang Lalay at the kitchen, her son Raul and daughter Fe, and so many others I hardly recognize, all busy chatting and laughing.
I chatted with Divina Aguiling and Suzette Cabigon-Talaue (now a Manila resident), she's the organizer and anchor of the group, who had been communicating with members through Facebook for this first reunion.
Suzette related, "prior to COL, there was an informal choir (Stoneroller Originals) formed in 1972 at the church when Fr. Cesar Alcoseba was parish priest and Fr. Nick Bacalla, the assistant parish priest.
The Stoneroller Originals, according to Suzette, was COL's predecessor, started by a small group:  Nelson Unabia; Monching, Fe and Raul Gonzalez (Lalay's children), Shirley Owacan, Divina Aguiling, Ningning Perez and Mario Manulat.
(I personally knew at the time, Fr. Bacalla was desperately eager to have a church choir and to retire an aging duo of Mr. & Mrs. Castor Dagatan.  The couple had been singing at the Danao parish church for nearly half-a century. Although Castor could sing like Julio Iglesia and his wife like Aretha Franklin, they didn't appeal to the  younger generation.  Unfortunately, Fr. Bacalla's enthusiasm was not shared by the parish priest.   The choir didn't get much support or recognition they deserved when informally organized in 1972.)
The situation changed when Fr. Puno got assigned in the parish in 1976; he strongly pushed for the formation of big choir, so more members were recruited, not only from Santo Tomas School but also from the Danao Vocation High School.   The Stoneroller Originals was renamed, and was then known as the " Choristers of our Lady or COL;  Fr. Puno was very enthusiastic and supportive of having a bigger choir in Danao,"
"Fr. Puno invited famous musicians and conductors from Cebu City to train the Choristers; among them were Fr. Rudy Villanueva of the San Carlos Seminary, Cholete Sagaral of STC and Fr. Limotlimot.
Shortly  after, COL became famous when it bagged the championship award in a Kabataang Barangay sponsored Regional Youth Choir Competition held in Cebu City.  Then later COL represented Central Visayas Region in a national competition held at the Cultural Center of the Philippines in 1979.
After Fr. Puno, came Msgr. Pascual Ypil, a Danawanon, who provided more support to the choir and encouraged the youth to join in and be trained by professionals.
Suzette said that the growth of the choir and enthusiasm of COL members could also be attributed to very supportive parents, among them was her father, Ramon Cabigon, a Danao councilman, and many other parents, like Ramon and Lalay Gonzalez, etc.
When I asked who funded their 40th Anniversary reunion, Divina Aguiling acknowledged the support extended by their Balikbayan members who came in purposely for COL's first big reunion; among them Raul Gonzalez, from Yellowknife, Canada, who worked for Diavic Diamond Mine; Fe Gonzalez, a nurse in Wales, U.K.; Generoso Capuyan, from Texas, Lorna Manipis, from Melbourne, Australia; as well as from Joel Duterte, a successful businessman in General Santos.  (Joel invited Raul to GenSan and had him met in person, Joel's very close buddy, Manny Pacquiao)
Divina, Suzette and the rest of COL are all looking forward for a yearly reunion, if possible.  And so do I – maybe for the bam-i, the bodbod & sikwate and the mango. (Sulat ni Tito  Mon)
(More photos of the COL can be viewed here:  https://picasaweb.google.com/102616258015986788806/ChoristersOfOurLady?authuser=0&feat=directlink