January 7, 2013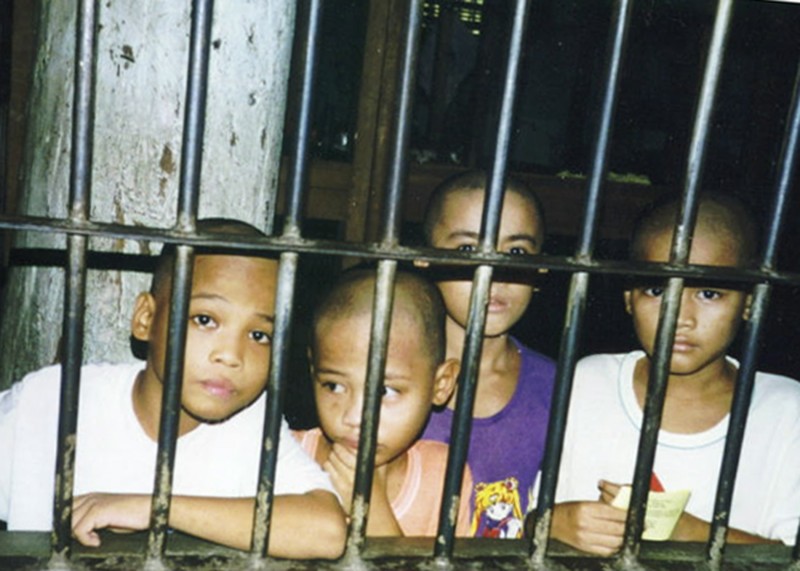 The above photo was taken sometime on September, 1999, at the Danao City Jail, three days after the city fiesta.
I took the shot as these young boys, ages ranged from 7 to 12, waited to get their share of packed lunch, a treat from some balikbayans, who were in Danao City for the yearly medical mission sponsored by the Danao Association USA, Inc. (DAUSA)
Accompanying us were two American ladies working for a U.S. based pharmaceutical company (Smith & Klein), which at that time donated the bulk of medicines for the Medical Mission. They were invited by Chief of Medical Mission Dr. Anita Cal-Jackson, M.D. to witness for themselves how their donated medicines were dispensed at the medical mission.
Learning that some DAUSA volunteers were going to the Danao City Jail to bring cheers and food  to the inmates of the Danao City Jail, as part of DAUSA's reach out project, the asked to tag along.
As they helped handing out packed lunch, they were so alarmed  to notice and cried seeing minor inmates, one was only 7 years old, in the same cell with adult criminals, some waiting for their trial, others were awaiting their transfer to National Penitentiary in Muntinglupa, convicted for murder, homicide, thief, burglary, drug dealing, etc.
Although strictly prohibited, I took a quick snap shot using a small point and shoot camera when the two Americans asked them to come closer.
When they learned what they were arrested for breaking into stores to get some food, they lamented these kids don't deserve to be treated as ordinary criminals.
The jail guards they talked to said that there was nothing they could do because there was no place to send them. They were street children abandoned by parents and survived by breaking into homes or stores.
The two Americans protested and said to me that they would not fly back to California until these kids are released or transferred to another place.
We asked Marieta Palos, a DAUSA officer who then headed the jail feeding project to talk to the Mayor if it was possible to release the children and take them to the Department of Social Services in Cebu City.
Two days later we made a follow up, the kids were not in city jail anymore and we were told they were sent to the town of Argao where the Department of Social Services had a facility for abandoned children.
Still I wonder who were these kids? What happened to them after all these years?  Most likely in jail or dead, but we still hope the Department of Social Services had done a good job, led them to become law abiding citizens and taught them some with employable skills. (Monching Barriga)
November 11, 2012
By Gil Cabacungan
Philippine Daily Inquirer, Nov. 11, 2012r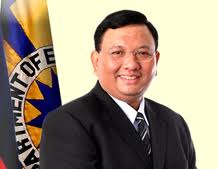 Jose Rene Almendras belongs to the innermost of President Benigno Aquino III's inner circle of classmates, schoolmates and buddies from Ateneo de Manila University that hangs out with the bachelor Chief Executive at social events and after work, or travels with him on his foreign trips.
Almendras leads an exclusive trio in this inner circle that includes Cristino Naguiat Jr., the chair of the Philippine Amusement and Gaming Corp. (Pagcor) and Romy Mercado, whose family used to own Red Ribbon Bakeshop until it was bought by Jollibee Foods Corp. in 2005.
One of the President's chums, who asked not to be named, said the Almendras clique has become a source of envy among the President's other friends and political allies for the way it has "barricaded" itself around the President to the exclusion of others.
Of the three, only Mercado does not hold a government post—and only because of questions about his citizenship, the source said.
Almendras did not respond to requests for an interview for this article.
Karaoke sessions
The Almendras clique has been dubbed the "Apo Hiking Society"—a reference to the popular 1970s pop trio, also from Ateneo—for the way they would regale the President during karaoke sessions with their medley of the top hits of their college days.
Mr. Aquino keeps his social circle tight and he apparently enjoys being with the Almendras group because he is known not to want to spend even a minute with anyone he does not like, particularly when he wants to relax, explained another friend close to the Almendras group.
"[But] is being close to the President enough to be appointed a power broker in Malacañang after failing to generate power in his previous job?" asked the jealous presidential chum.
That "power" dig refers to the latest manifestation of Mr. Aquino's perceived partiality for Almendras.
Almendras, who was president of Manila Water when Mr. Aquino appointed him energy secretary in 2010, was deemed to have performed disappointingly at his new job when he failed to adequately deal with the worsening power crisis in Mindanao earlier this year and his exit was widely anticipated.
During the Mindanao power summit in April, Mr. Aquino said it was unfair for some people to make Almendras their "favorite whipping boy" for the high fuel prices burdening the country and the daily blackouts buffeting Mindanao.
On the advice of Almendras, the President said the solution was for the residents and businessmen of Mindanao to pay more to get a stable and sufficient power supply. This decision was widely criticized and fueled calls for the replacement of the energy secretary.
It also fanned rumors that the President was looking to move Almendras elsewhere.
Pumped-up job
Six months later, Almendras was appointed to the now revitalized position of Cabinet Secretary, which some pundits claimed was Mr. Aquino's way of accommodating his friend.
However, this was deemed as having been done at the expense of another close friend, Executive Secretary Paquito Ochoa Jr., a claim that Malacañang mouthpieces adamantly denied.
It has been pointed out that Executive Order No. 99, which Mr. Aquino signed on Oct. 31, will transform the Office of the Cabinet Secretariat from a mere facilitator of information in the Palace and integrator of the President's initiatives as envisioned originally in its creation in 1986, into a pumped-up office of the Cabinet Secretary.
With the vastly more powerful office, Almendras can identify the priority areas in Mr. Aquino's Philippine Development Plan, realign targets and represent the President at meetings or events; sit in all Cabinet cluster meetings and join the National Economic and Development Authority (Neda) board executive committee and subcommittees on infrastructure, social work and investment; compel all state agencies and corporations to provide data and assistance to the Cabinet Secretary; and directly report to the President and run the Presidential Management Staff (PMS) and the Performance and Projects Management Office.
"Anybody that close to the President will be powerful," said Nueva Ecija Rep. Rodolfo Antonino.
An Aquino ally in the Senate, who asked not to be identified, described Almendras' Palace job as "a square peg in a round hole."
He is a technocrat in a political position, said this Senate source, pointing out a similar misfit in the appointment of Leyte Gov. Jericho Petilla and Transportation Secretary Joseph E.A. Abaya, politicians who were plucked out near the end of their 9-year elective posts to manage the largely technocratic energy and transportation portfolios, respectively.
The source believes that Almendras probably lacks the political savvy to thrive in Malacañang's "snake pit," having spent most of his professional career at the top of some of the country's Top 100 corporations.
An inspired choice
But Sen. Gregorio Honasan sees Almendras' appointment in a different light, saying the President has made an intelligent choice.
"I think Secretary Almendras is an inspired move by the President, to appoint a management expert like him for a political job. I think he will provide the Palace with more stability and the President with more focus on what needs to get the job done with as little politics as possible," Honasan said.
Aside from the presidency of Manila Water, which he assumed in 2009, Almendras also occupied key posts in various corporations during the nearly three decades he spent in the private sector.
He was a member of the management committee and concurrent head of the Visayas Mindanao Business and Operations Transformation Group.
He was also President and CEO of Cebu Holdings and Cebu Property Ventures and Development Corp., both parts of the Ayala Land Group.
Almendras also served as treasurer for the Aboitiz Co. and Aboitiz Equity Ventures.
An acknowledged international resource person on sustainable development, Almendras earned his business management degree from Ateneo de Manila University and completed the strategic business economics program at the University of Asia and the Pacific.
Antonino does not agree that Ochoa's role would be diminished with the entry of Almendras into Malacañang.
"His (Almendras) job is to ensure administrative efficiency in the implementation of the policies and programs of the President," he said in a text message.
A source close t  Ochoa said the so-called little president has welcomed the entry of Almendras and dismissed speculations of any rivalry between two of the President's closest friends.
"Let's just see how it unfolds," said House Speaker Feliciano Belmonte Jr., another one of the President's allies.
According to House Minority Leader Danilo Suarez, being neither with "Balay" or "Samar"—the two warring factions around the President, so named for the divided and separate campaign headquarters of Mr. Aquino in the 2010 presidential campaign—Almendras would serve as a sort of "watchdog" inside the Palace.
"I think his presence will serve to defuse the tension between the two groups. The President has said he has his eyes and ears in every department and Almendras will serve as his eyes and ears in Malacañang," Suarez said
September 29, 2012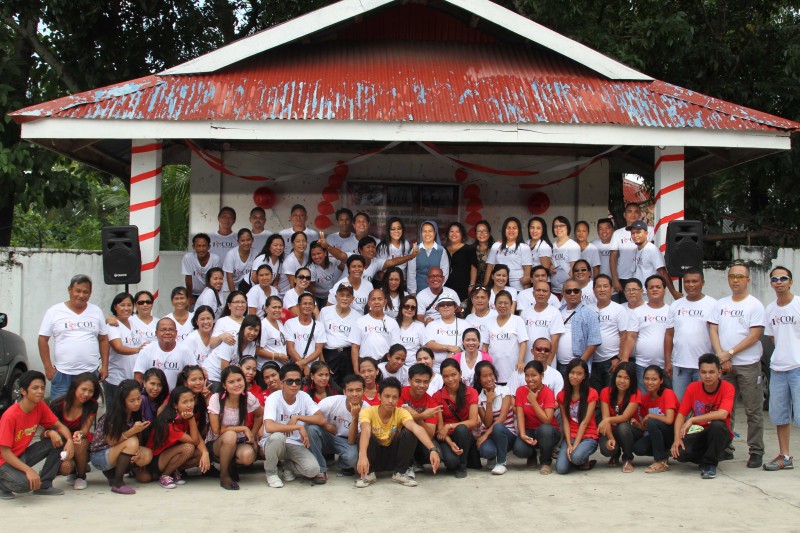 Everyone would agree with me that whenever we visited Danao and attended a Sunday Mass in our parish church, almost always, we ended up standing on the side or at the back of the church when we came a little late.
The reasons could be that the priests assigned at our parish were better preachers, good looking and could deliver inspiring, soul-searching and lively homilies, or maybe because the choir was great.  It wasn't like this 40 years ago.
Whichever the reason, one thing is certain our parish choir is really good, maybe one of best in the entire archdiocese.
On a Saturday morning before the fiesta I had the chance to meet the people who made church goers wide awake and participative through the years.
Through their lively music Choristers of our Lady of COL has been credited to making churchgoers sing along at mass and drew more young people to the church on Sundays .
They were celebrating their 40th Anniversary, according to Ms. Suzette Cabigon-Talaue, the leader of over a 100 past and present members of Choristers of our Lady (COL).
The  celebration started with a mass at 7:00 a.m., Saturday, the eve of the fiesta celebration. I promised to attend, but arriving almost 9:00 a.m.,  I saw only candle vendors and street children running around the church.
A church volunteer told me that COL members were at Manang Lalay's house having breakfast.  I had no breakfast yet, so that was good to know.   Nang Lalay's  house was a block away, and I got there in one minute.
I had to squeeze in to have a plate of bam-i, bodbod, mango and hot sitwate as nearly a 100 former and current COL members were doing the same.
Feeling so full, I  started noticing the people around.  There was Msgr. Pascual Ypil who was seated close to where I was, Manang Lalay at the kitchen, her son Raul and daughter Fe, and so many others I hardly recognize, all busy chatting and laughing.
I chatted with Divina Aguiling and Suzette Cabigon-Talaue (now a Manila resident), she's the organizer and anchor of the group, who had been communicating with members through Facebook for this first reunion.
Suzette related, "prior to COL, there was an informal choir (Stoneroller Originals) formed in 1972 at the church when Fr. Cesar Alcoseba was parish priest and Fr. Nick Bacalla, the assistant parish priest.
The Stoneroller Originals, according to Suzette, was COL's predecessor, started by a small group:  Nelson Unabia; Monching, Fe and Raul Gonzalez (Lalay's children), Shirley Owacan, Divina Aguiling, Ningning Perez and Mario Manulat.
(I personally knew at the time, Fr. Bacalla was desperately eager to have a church choir and to retire an aging duo of Mr. & Mrs. Castor Dagatan.  The couple had been singing at the Danao parish church for nearly half-a century. Although Castor could sing like Julio Iglesia and his wife like Aretha Franklin, they didn't appeal to the  younger generation.  Unfortunately, Fr. Bacalla's enthusiasm was not shared by the parish priest.   The choir didn't get much support or recognition they deserved when informally organized in 1972.)
The situation changed when Fr. Puno got assigned in the parish in 1976; he strongly pushed for the formation of big choir, so more members were recruited, not only from Santo Tomas School but also from the Danao Vocation High School.   The Stoneroller Originals was renamed, and was then known as the " Choristers of our Lady or COL;  Fr. Puno was very enthusiastic and supportive of having a bigger choir in Danao,"
"Fr. Puno invited famous musicians and conductors from Cebu City to train the Choristers; among them were Fr. Rudy Villanueva of the San Carlos Seminary, Cholete Sagaral of STC and Fr. Limotlimot.
Shortly  after, COL became famous when it bagged the championship award in a Kabataang Barangay sponsored Regional Youth Choir Competition held in Cebu City.  Then later COL represented Central Visayas Region in a national competition held at the Cultural Center of the Philippines in 1979.
After Fr. Puno, came Msgr. Pascual Ypil, a Danawanon, who provided more support to the choir and encouraged the youth to join in and be trained by professionals.
Suzette said that the growth of the choir and enthusiasm of COL members could also be attributed to very supportive parents, among them was her father, Ramon Cabigon, a Danao councilman, and many other parents, like Ramon and Lalay Gonzalez, etc.
When I asked who funded their 40th Anniversary reunion, Divina Aguiling acknowledged the support extended by their Balikbayan members who came in purposely for COL's first big reunion; among them Raul Gonzalez, from Yellowknife, Canada, who worked for Diavic Diamond Mine; Fe Gonzalez, a nurse in Wales, U.K.; Generoso Capuyan, from Texas, Lorna Manipis, from Melbourne, Australia; as well as from Joel Duterte, a successful businessman in General Santos.  (Joel invited Raul to GenSan and had him met in person, Joel's very close buddy, Manny Pacquiao)
Divina, Suzette and the rest of COL are all looking forward for a yearly reunion, if possible.  And so do I – maybe for the bam-i, the bodbod & sikwate and the mango. (Sulat ni Tito  Mon)
(More photos of the COL can be viewed here:  https://picasaweb.google.com/102616258015986788806/ChoristersOfOurLady?authuser=0&feat=directlink
April 11, 2012
Yes, Virginia, There are Danawanons Living Near the North Pole
There are at least, two Danawanons that I know living and working near the top of the world.  One is a woman from Barangay Langlang, Rose Barriga-Jonsson. She lives and works in Iceland.  There could be more – maybe in Northern Alaska too or Norway.  Danawanons are just everywhere in the world.
The other sub-arctic resident is Raul Gonzales who  I recently met during the Holy Week – in Yellowknife, Northwest Territory, Canada.  (From Wikipedia: Yellowknife (2011 population: 19,234[1]) is the capital and largest city of the Northwest Territories (NWT), Canada. It is located on the northern shore of Great Slave Lake, approximately 400 km (250 mi) south of the Arctic Circle, on the west side of Yellowknife Bay near the outlet of the Yellowknife River)
Raul is the son of the late Noy Ramon and Nang Lalay Gonzales of Poblacion.  Their house is located at the Corner of Bonifacio and F. Ralota Streets, just across the Danao Central School and a block away from the church.
My cousin and friend Fr. Henry Bascones, currenlty a parish priest in High Level, Alberta told me about Raul, being there up far north in Yellowknife about 9 hrs. drive from his parish.
Then during the Holy Week I had an opportunity to travel far north of Canada and having a good feel of a very cold winter on springtime in Yellowknife.  So on Tuesday after Easter,  I bundled up, at least 4 layers – wore a winter hat – double  socks and a pair of winter boots for me to comfortably walk in the snow and meet Raul at his house, just two blocks from where I was staying.
For local residents, like Raul, a temperature of  -10°C is nice – they can be wearing lighter than their usual heavy winter get up that  protect them from the usual winter chill at -30°C up to -50°C, which I still have to experience. (That must be at least 3 times more freezing than the freezer at Magnolia).
Raul related that he came to Canada in 2001 as an immigrant because his first wife insisted she could not raise their daughter by herself. He was an accountant at the William Lines when he left Philippines and came to Hay River, Northwest Territory, Canada and worked in a grocery store.
In less than two years at Hay River, Raul and his wife were separated, filed for a divorce while he retained full custody of their only child. Then he moved farther north to Yellowknife.  The small city capital of the Northwest Territory has recently been experiencing a booming economy after the discovery of diamond in the early 1990s and the entry of the world's  top players in the diamond mining industry.
Yellowknife is popularly known as America's Diamond capital and considered the world's third largest diamond producer.
Raul then applied to work in one of the 3 mining companies operating about 300 miles  north of Yellowknife and got his starting job as a company kitchen helper. But he did kitchen work for only a very short time, because he kept on applying whatever positions that open up until he passed a tough screening for  a much better paying job as a tool keeper and warehouseman at the Diavik Diamond Mine.
(From Wikipedia: The Diavik Diamond Mine is in the North Slave Region of the Northwest Territories, Canada, about 300 kilometres (190 mi) north of Yellowknife. It employs around 700, grossing C$100 million in sales, and producing 8 million carats (1,600 kg (3,500 lb)) of diamonds annually. It is connected by an ice road and Diavik Airport with a 5,235 ft (1,596 m) gravel runway regularly accommodating Boeing 737 jet aircraft.)
As a full time employee, Raul as well as most of the employees only work two weeks and get a 2-week vacation.  Every two weeks Raul takes the company airplane to the work site and is flown back to Yellowknife for the 2-week break.  Employees are provided a comfortable living accommodation and free meals at the worksite's dining hall.  According to Raul aside from a handsome pay, employees are also given the opportunity to buy at 25% discount a maximum of 3 carats diamond every year.
Few years after his divorce, Raul remarried to a lovely nurse, Vida Atadillo, from San Fernando, La Union. She works at a hospital in Yellowknife. The couple came to visit Danao a year ago when  Raul's father, passed away.  Raul's daughter will be graduating from Edmonton University this June with a Bachelor's degree in Social Work. (Monching – Apr 2012)
November 4, 2011
by Lily Macachor-Fong, San Jose, California
          At 3 o'clock in the morning, I was wide-awake, so I stepped out onto the balcony, sat down, closed my eyes and took a deep breath. The air was hot and humid.
          I just arrived the day before in El Salvador Resort in Sabang, my temporary home for 2 weeks to celebrate the feast of Sto. Tomas de Villanueva also known as the Danao Fiesta and to volunteer in the DAUSA medical mission.
         I still had my eyes closed when I heard a familiar sound "toku! toku! toku!".   I smiled and savored the moment. I haven't heard that sound in a very long time.  I continued to sit and enjoy the quiet moment … then I heard a cockcrow, "cock-a-doodle-do, cock-a-doodle-do"!
        Moments later another one chimed in, then another, before long there was a chorus, welcoming the day. I had a lump in my throat; tears streamed down my face, I mumbled, "I'm home"! Strange thing to say considering I've lived in the US longer than I've lived in Danao. I never expected I'd feel that way.
        The next few days were a whirlwind of activities. I began to appreciate what DAUSA has done over the years, from scholarships to the medical mission. I have always been loosely connected to DAUSA based in LA (Southern California) while I lived in the San Francisco Bay Area (Northern California), Hawaii and Colorado.
        I know deep down I wanted to be more involved, "someday" I used to tell myself.    That someday came, so here I am in Danao after 43 years of being away, and looking forward to helping out in any way I can.
        I don't have any medical training and I know nothing about pharmaceuticals, so I did as I was told and enjoyed every minute of it. I must say, I really enjoyed interacting with the locals and speaking Bisaya again was a lot of fun.
        Having been talked into becoming a candidate for the Balik Danao Queen, I became a willing participant when I was told that it is for a good cause and the money will go to a special project.
       I enjoyed it all, even the part when the Balik Danao Queen and I missed out on the parade because we arrived late. Well, we didn't miss it completely, we were able to get on the float in front of City Hall and rode it for one block, to the delight of my cousins and Tia Lagring that came all the way from Cebu City just to see me.
        They were on my cousin's balcony waving, yelling and screaming. They made it all worthwhile.   The queen and I had front row seats on stage to watch the Karansa competition. It was my first and I loved the pageantry, beautiful, colorful costumes and the performances were awesome.
        The only drawback…Wa gyud ko makapamista! I have to publicly apologize to all my cousins for not making it to their homes as promised. I missed out on all that food.
        Fortunately for me, I had enjoyed the ultimate luncheon that was so generously provided by Sani and Tita Barriga Tomayao in their farm in Guinacot for the Medical Mission volunteers. I tried all the dishes and they were all scrumptious, some dishes I have completely forgotten about because you can only get them in Danao.
        With a newly found freedom, one day I ventured out on my own, taking a pedicab from Sabang to Danao, 3km away.   Danao is no longer the quiet little town I grew up in. Now, it boasts several bakeries (there used to be only 3), cyber cafes (there was none), beach resorts (there was only Sands) and an Eco Adventure Park in the mountain of Danasan where you can ride a zip line, go caving, watch a waterfall and go horseback riding.
       I didn't recognize the streets, the houses or any of the people. It is now very crowded, people and vehicles everywhere. Crossing the street is very challenging because there is no such thing as pedestrians' right of way.
       My cousin Catherine and I were reminiscing about how we used to play "tubig-tubig" in the middle of Pio del Pilar St.  Those days are gone forever.
       I attended mass and lingered to enjoy the church and noticed the electric fans, nice!   We won't be needing the "pay-pay" as much. The altar is grand, beautiful and much brighter than I remembered. At the end of the mass the Philippine National Anthem was sang, hmmmm very interesting!
        I crossed the street to Sto.Tomas School where I attended high school 44 years prior. The old convent where we held classes is still there and the grotto of the Virgin Mary where we used to pose for pictures has been moved a few feet away.
       I continued on to Rizal Plaza where we trapped humungous frogs to dissect in our Science experiment in Sto. Tomas School.  I caught a glimpse of two girls in school uniforms, looks like one is going through the hair of the girl in front of her.  OMG! Nanghinguto!!!  I had mixed feelings, I wasn't sure whether to laugh or be grossed out.
        I was very disappointed to see Sands Resort shuttered and in disrepair, such a waste of a beautiful area. I hope to see it back to its former grandeur soon.
        In the 60s, it was the best Danao was to offer with it's bowling alley, snack bar, beauty salon in the back where we used to have our hair done when there was a special event in school.  I remembered the cottages… there were stories that it was the favorite place for lovers/sweethearts to rendezvous.
         My cousin Grace and her husband Arturo treated me to lunch at the new Macapagal-Durano Fish Port. Now that's progress, downstairs is where the fresh catch is dropped off and upstairs is the restaurant. I had kinilaw…yummy! I have to go back there and try the other dishes.
         I never made it to the market, so I have to add that to my list of things to do next time . I missed out on the procession too, that will be on the top of my list.   I'll spend a night or two in Danasan Eco Adventure Park, and then there are the churches that my cousins promised they'd take me to see.
       Since I came back, I miss the camaraderie, the food and the funny stories and jokes especially the ones Celia Barriga was telling me. They sure brought back a lot of wonderful and weird memories.
 God willing, I will be back.
April 19, 2011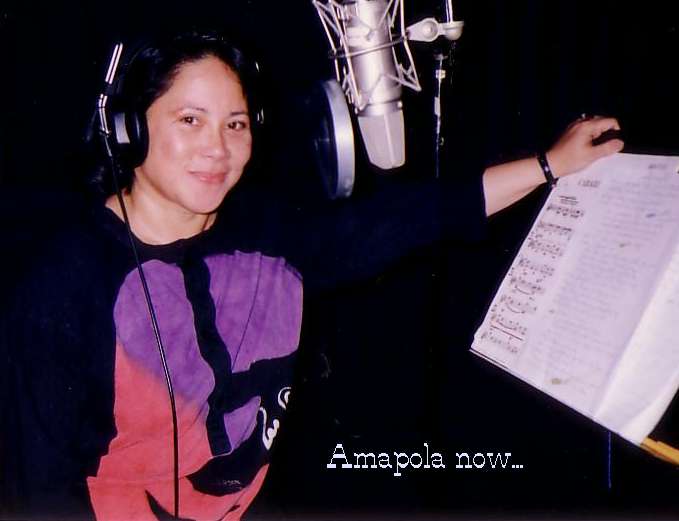 DAUSA is fortunate to enlist the support of a versatile singer/actress and radio/TV personality, AMAPOLA, in introducing to young Fil-Am Danawanons classic Cebuano love songs through dausa.org in line with DAUSA's mission to instill in the minds and hearts of our new generation an appreciation of our rich Cebuano heritage. 
      Amapola is the daughter of the late great Cebuano musician, Mahnee Cabase, an icon in Cebu radio for over two decades, best known for his harana. She graciously volunteered to share with Cebuanos through the DAUSA Website her father's huge collection of Cebuano composition.    
    Younger Cebuanos vaguely heard of this very popular Cebuano celebrity who sometime in the 70s quietly slipped out of the country at the time her popularity was rising to superstardom to find her niche in the U.S.  So, I am posting Amapola's brief bio penned by an adoring fan, Marie F. Hernandez.
 ooooooo
Born in Cebu City to Manny & Sheila Cabase, Amapola began her musical career at the age of five, singing her father's compositions & her mother's lyrics in Visayan movie productions subsequently featured in a few films as a child star. Her career blossomed & took her to Manila where her television, stage, recording & film endeavors flourished. At age 17she was dubbed the 'Jukebox Queen' (because Jukeboxes were filled with her hit singles) in the Philippines, she sought more challenges & went on concert tours in Asia & the Pacific, and eventually the US Mainland – juggling appearances at The Fairmont Hotels in San Francisco and Dallas & in her own Magazine TV-Variety show "Amapola Presents Show" in San Francisco's Channel 20, KEMO-TV for eight years. Scaling the heights of her musical career took her around the world – inland on concert tours and at sea as headliner onboard some of the world's most luxurious ships.
 Amapola started her singing career at the age of two when her Nanny took her to a kiddies radio show early one morning. In the audience were many people who would play major roles in Amapola's showbiz career in Cebu City. Soon, 5-year-old Amapola made her film debut by dubbing other children's voices in several films and not too long after that gained her own footing as one of the popular child stars in the Visayas. She debuted in the nightclub scene with her father's band. In the mid-sixties she became the youngest bandleader with her band Amapola and the Sounds to alternate with her father's band the Manny Cabase Sextet at the famous Sandtrap of Hotel Magellan
 Soon she and her group was invited by showbiz agent "Fae" Corrales to appear as guests on "An Evening with Pilita" that opened many doors for Amapola and her band. She then resumed her film career in the lead role as the ill-fated ladylove of matinee idol Victor Wood in the film "Mr. Lonely". Added to her movie shoots were appearances with her co-stars: Eddie Mesa, Carina Afable, Tirso Cruz III, Ike Lozada, and many more stars in the TV musical variety program on ABS-CBN: Stop Look and Listen.
 In addition to her full television schedule, Amapola reigned as the resident chanteuse at the famous Hotel Intercontinental in Makati, Metro Manila with Ramonito del Rosario, Art Maloy, Maning Aballe, and the Manny Cabase Band. True to the saying: "when it rains it pours", Amapola was offered another lead role opposite Victor Wood. Amapola tackled the role with aplomb, as a provincial lass fighting to keep the love of her life (Victor Wood) from the other woman. "You Are My Destiny" opened to jam-packed movie theatres all across the country on Valentines day which earned Victor Wood and Amapola the title: Love Team of the Year.
 Amapola continued appearing on television variety shows and performing in El Castellano and Le Boulevardier in Hotel Intercontinental until an offer for a Hawaiian concert tour was offered to her in 1972. It was the same year that she had 3 singles listed in the top ten charts from her album: "Songs and Amapola." She starred in the Hawaiian tour that reunited her with some of her colleagues from her ABS-CBN television programs: Boy Mondragon, Linda Magno and Diomedes Maturan. (Later, Amapola embarked on her solo performances at the Kahala Hilton in Honolulu and then co-starred with the Hawaiian icons: Danny Kaleikini and Don Ho in a benefit concert tour around the islands.
 After her Hawaiian concerts & nightclub appearances, Amapola toured mainland USA for a couple of years.  She then accepted an unprecedented contract at the Mabuhay Gardens (later nicknamed the FabMab) from owner-proprietor Ness Aquino, who later became her co-host in her syndicated television magazine-variety: "Amapola Presents Show" produced and directed Punk Godfather Dirk Dirksen. "Amapola Presents Show" went on for 8 seasons alongside her nightly appearances at the Fairmont Hotel's Tonga Room from 1976 to 1982, making Amapola the longest running local solo performer onstage and on television in the Bay Area, and the only singer who sang the anthems for the Giants, 49ners and the Oakland As all in one season.
 Her singing career onboard cruise ships began in 1986 onboard the Royal Viking Sky. Her cruising career lasted for fifteen years onboard several ships: Royal Viking: Sky, Sea (Australia and Asian Cruises), Star (Caribbean, Panama Canal, Hawaiian and Polynesian Cruises) and Royal Viking Sun (World Cruises for two legs); SS Gripsholm (European Cruises); MS Song of Flower (Mediterranean, Oriental and Asian Cruises), QE2 (New York/London run) and MS Hanseatic that gave Amapola the opportunity to travel through the Northwest Passage, Central and South America, Antarctic and the Arctic alternately for two years once spending her Christmas morning on South Georgia Island in the Antarctic. ~ Marie F. Hernandez ~
__________________________
HARANA:
"Unsa-on Ko"
Music: Manny Cabase
Lyrics: Sat A Villarino
Vocals: Amapola
"Guihigugma Ko Ikaw"
Music: Manny Cabase ; Lyrics: Sat A Villarino; Vocals: Amapola
CABASE CLASSICS 
"Unya Nahanaw Ka"
Music: Manny Cabase
Lyrics: Sheila C Cabase
Vocals: Amapola
"Patayng' Buhi"
Music: Manny Cabase
Lyrics: Sat A Villarino & Manny Cabase
Vocals: Amapola
August 12, 2010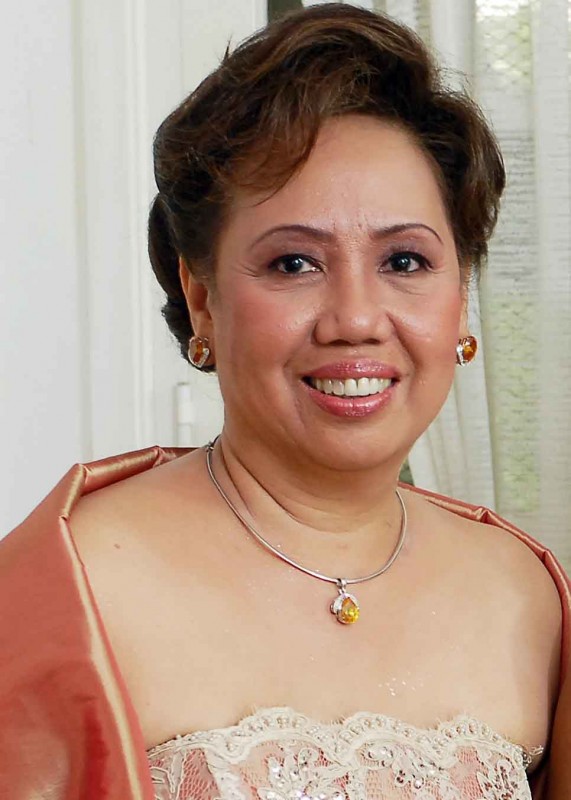 Mariam 'Darling' Barriga passed away at Kaiser Permanente, Woodland Hills, California on Monday night, August 9, 2010, after a long fight against cancer.  She would have been 56 on Sept. 24.
Having been born during the Marian Congress held in Cebu in 1954,  her parents Amparo (of Asturias) and Teofilo Famor (Argao), named their youngest daughter 'Mariam'.  She had her elementary education at Cebu City Central School, high school at Cebu City Colleges (now University of Cebu).  She graduated Bachelor in Commerce major in Management from Colegio de San Jose-Recoletos.  At CSJ-R she was very active in the Dramatics Guild, performing in variety shows.
She met her husband, Monching when she applied for a job at the Commission on Population in 1977.  Monching interviewed her for the position  of outreach worker to educate mothers on family planning.  Although sexual harassment complaint was still unheard of in government offices in those days, yet Monching decided to quit his job as supervisor as soon as they went dating.  She herself quit the family planning job a year after; got married in 1978, started her own family with Monching, having Mariel and Monette born in Cebu. She put a dress shop at their house in Cebu City while taking care of her two young daughters.
Darling came to the U.S. in 1987 accompanying  her sister Helen's two minor children, Troy and Hyacinth who waited nearly 5 years in Cebu before finally getting their immigrant visa and got reunited with the parents.
Seeing the sad state of the Philippines shortly after the EDSA revolution and the fall of Marcos, Darling saw a great opportunity for herself and her family's brighter future in California.  She then convinced her reluctant husband, Monching, to quit his job (an appointed city councilman in Danao City and running a non-profit foundation providing assistance to small farmers in the Province of Cebu.)  He eventually followed Darling in Los Angeles 4 months later; got a work permit enabling him to work with a law office specializing immigration law.
Mariam also got a job as a biller for First Choice Nursing Services, whose Cebuana owner, Leah Rama, R.N., hired her on their first meeting.  After a 3-year stint with First Choice Darling also learned the ins and outs of the business.  When recession hit the U.S. in early 90's  First Choice closed all their 15 branches all over U.S. and moved to New York to open another nursing registry.  Being a loyal and efficient biller, Ms. Leah Rama invited Darling to join her in New York, but Darling kindly refused to go.  She just had a baby boy, Matthew.  She was a full time Mom for nearly 5 years when Matthew was about 2 years old, and when Mariel and Monette started school upon their arrival in the U.S. in 1993.  She started working from, recruiting nurses and as an insurance agent.
With her experience as a biller, she had no problem getting a job despite the massive layoffs in many companies.  She soon got a collection job in a Hollywood company supplying lights and special effects to movie production companies in Los Angeles, then later with Catalina Yacht, handling its collection and customer service.
She then went back to the nursing registry business, helped establish then managed the Medical Support Services, which in short time became a very profitable enterprise.  Later, May Mallari, her close friend and former co-worker at First Choice asked Darling to also help her establish Master Staffing Inc, and she did.  Two years later MSI was a major player among professional nursing service providers  in the Los Angeles area, run by 3 best friends, May, Darling and Gloria Madrona.
When Monching initiated the DAUSA Medical Mission and the Adopt-a-Student Project along with U.S. resident friends from his hometown, Darling actively did her share in making the Danao Association USA (DAUSA) projects an institution in Danao City, Philippines, helping the city's poorest of the poor through the yearly medical mission and scholarship program. She often went with the volunteers that go to Danao City every September to conduct the mission and meet the scholars.  So far over 50 of the DAUSA scholars have graduated college and now gainfully employed.  Darling herself helped one orphan go to college and became a nurse and now, a pharmaceutical distributor in Cebu.
She enjoyed travel and had so much fun going on weekend Mexican cruises with family and close friends from Danao.  She traveled to Europe two times, and also realized her dream trips: to Switizerland, Rome, the Shrine in Lourdes and the Holy Land.  Darling and Monching even had their 30th Wedding renewal at the Ecce Homo Basilica within Old Jerusalem, less than a year after a major surgery.
Darling felt so blessed and could not ask for more from God with her two daughters, Mariel and Monette, having finished college, good jobs, married in the Catholic Church; seeing and enjoying two grandchildren, Haley, daughter of Mariel and Brian Noyes, and Nathan, son of Monette and Hywel Paragas.  She had no doubt that her son Matthew, would also turn out to be fine gentleman and become successful in his chosen career, presently a 3rd year college at CSUN where his sisters also graduated.
Darling quit her job after CT Scans found cancer had spread in her body late 2009.  She showed strength and great courage to defeat cancer, but God's will be done.  (See, Memorial Service & Internment Photos:  http://www.flickr.com/photos/monching/sets/72157624606793921/detail/
June 20, 2010
(This article was published in The Freeman on June 7, 2010, by Melanie Marie Ypil-Lachica, who works at the U.N. Headquarters and is  the wife of the Philippine Consul to New York, lawyer Leandro Lachica.   I just thought today being "Father's Day," it may be just fitting to post this eulogy which Melanie delivered on June 5 at the church service in honor of her Tatay, Prudencio R. Ypil, from Looc, Danao City, and  former municipal secretary of Liloan, Cebu .  Prudencio who was fondly called "Dodong", by friends and relatives was the elder brother of my good friend and high school classmate,  Ben Ypil, now in Indiana.  Dodong and I worked in the same building adjacent to the Cebu Capitol Building, he was with the Provincial Development Office and I was with the Farm Systems Development Corp) in the '80s during Gov. Gullas' administration.  Monching)                                    
          On behalf of our family, we would like to thank you for being with us here today and for your comfort and prayers during this difficult and painful time. Yes, he was my Tatay, but he was not only just my Tatay but a Tatay to so many of us here today. Tatay was a good man, a simple man and a humble man. While we mourn his loss, let us celebrate a life well-lived. God, in His great goodness, blessed our lives with Tatay's presence as a husband, a father, a son, a brother, a grandfather, an uncle, a colleague and a friend. Each of us here  has a story to share about Tatay.
              One of the things I will miss most about Tatay was his inimitable sense of humor. He never failed, as I'm sure is the case for all of you here, to make me laugh. I'm positive that he wouldn't want us to be sad, but rather to remember the happy times with him with a happy, nostalgic smile.
              His humor was only surpassed by his immense heart for others. I'm sure that Tatay has not only helped, not one, not two, but the entire community of Liloan. He never refused anyone who came to him for help. Tatay served the public diligently and honestly throughout his years in government, and armed only with his wit and genuine care for the people, he always delivered. In his own humble way, he has helped this town to be a better place and we are all the richer for having had him in our lives.
             While Tatay's efforts went unnoticed, he was not to complain. He never complained. But it gives me great comfort and solace to know that during the wake, time and time again people have come up to me to relay how, in one way or another, Tatay has helped touch their lives. But that was the quintessential Tatay.
             A humble man who did not seek nor need recognittion. Truly Tatay was indeed valued and appreciated by so many and Tatay's passing is not just the family's loss, but the community's loss as well.
             Tatay's love was an unconditional love. He loved wholeheartedly, without any conditions nor reservations, no matter the consequences. Tatay did not have a mean bone in his body and was ever ready to forgive and let by-gones be by-gones. When he was hit by an overspeeding motorcycle driver, the driver was caught and put in jail. But Tatay decided not press charges because the driver has several children to support and he did not want to further burden the man.
             As my Tatay, he never failed me. More than a source of strength, he was my inspiration of love who asked nothing in return. I remember when I was in college in Manila, I fell ill and had to be hospitalized. I was admitted late at night and when I woke up he was the first person I saw the very next morning.
             I will also miss his cooking. He knew my favorite foods and everytime I came home to Liloan, he always had my favorite shrimps or 'pasayan' at every meal without fail. Though we will crave for his home-cooked meals in the days to come, we will be soothed by the knowledge that Tatay has already filled us up so many times over with his unconditional love and I take comfort in this knowledge that Tatay will live on in my children and in my children's children.
            I would also like to take this opportunity to thank the Ypil family for their outpouring of love and support. As you know, I did not grow up here and did not have the chance to know my uncles, aunts and cousins from my Tatay's side of the family. But Tatay, in his own unique way, painful the circumstance may be, brought us all close together.
            I thank Tatay for giving me the chance to discover and appreciate the truly wonderful people that they are. Needless to say, my cousins from Nanay's side of the family have been a pillar of strength during this difficult time as well.
            When I was a little child, Tatay used to sing the song "You are my Sunshine" to me. Tatay, I want you to know that "YOU" are my sunshine. As sure as the sun rises each day, I know that you will be watching over all of us to brighten our lives and comfort us in the days to come.
             I couldn't be more proud to have you as my Tatay.
June 12, 2010
A cause bigger than one's own
By Malou Guanzon-Apalisok
Cebu Daily News First Posted 05/24/2010
How does Cebu figure under a Benigno "Noynoy" Aquino III presidency?
One answer might be forthcoming in the shape of the Noynoy Aquino Cabinet. The names of possible appointees are currently making the rounds of text messages. The list reminds me of the stuff that a bride customarily brings to her wedding for good luck: "something old and something new."
Former members of the Arroyo Cabinet Dinky Soliman, Cesar Purisima, Avelino Cruz and Florencio Abad are in the list. Members of the so-called Hyatt 10, they turned against President Arroyo in 2005 at the height of the Garci tapes controversy. Dinky is said to be a shoo-in for the Social Welfare and Development Department, Purisima as Finance Secretary, Cruz as Justice Secretary and Abad as Education top honcho.
Also included is Philip "Popoy" Juico, former Department of Agrarian Reform Secretary during the early days of the Cory administration. Online reports say Popoy will be going back to the Agrarian office while his wife Margie, who once served as Cory's appointments secretary, will be appointed chair of the Philippine Charity Sweepstakes Office.
The inclusion of the Juico couple in the new Cabinet has triggered the resurrection of issues against the so-called Kamag-anak, Inc. This has incensed former Tarlac congressman Jose Cojuangco and rightly so. The issues are unsubstantiated, rehashed and sound like a broken record. Critics pointing a finger against Noynoy's relatives better put or shut up.
New names in the incoming Aquino Cabinet include lawyer Paquito "Jojo" Ochoa as Executive Secretary, Bong Naguiat as chair of the Philippine Amusement and Gaming Corporation and Cebuano Jose Rene Almendras as Secretary of the Department of Public Works and Highways. One of their shared qualities is a long-standing friendship with the incoming president.
Last week's banner story about Rene Almendras immediately sent ripples in the political circle but especially in the corporate world, where he is held in high esteem.
Almendras is currently President of Manila Water Company, Inc. He also sits in the Ayala Corporation as managing director. Before this, he held top positions with Ayala Land Inc., and was also president and CEO of two listed companies managed by the Ayala Land Group, Cebu Holdings, Inc. and Cebu Property Ventures and Development Corp. He was also Chairman of the Ayala Land Group Bidding Committee and head of the Strategic Procurement Division. Among top 100 business executives in the Philippines, I would say Rene would be in the upper 20 bracket.
Pressed for a reaction, Almendras' elder sister, Provincial Board member Agnes Magpale said her brother is not likely to accept the offer because "maayo ang iyang pagkabutang" (he is comfortable where he is now). The reactions of Ma'am Agnes though would qualify as the understatement of the year because according to a good friend of mine who happens to be Rene's co-worker in ALI, "super maayo ang pagkabutang ni Rene."
Rene's ability and talent in bringing about success to a number of Ayala big-ticket projects is almost legendary. It is a fact that as one goes up the corporate ladder, one finds himself alienated from ordinary workers, but I gathered that Rene is not only well-respected by his peers but also loved by the workforce of the Ayala group.
Stories about Almendras popping up in the workplace to invite mid-level supervisors for coffee abound, as well as his tendency to join the 'commoners' during major corporate events when Fernando, Jaza, etc. descend from the virtual Mt. Olympus. Thus when it was time for Rene to leave Cebu to assume the top position of Manila Water Company and make Makati his home base many workers were teary-eyed.
Very capable, dedicated, a track record for honesty and integrity and a heart that holds a soft spot for the ordinary man are attributes that should put Rene on top of the Aquino Cabinet list but especially in the DPWH. I will not bore readers with the background of the department to explain the urgency of the problem. Suffice it to say that even the World Bank weighed on the issue by exposing the bid rigging of WB-funded road projects in 2009. The report exposed how deep and embedded is the system of graft and corruption in the department. By Noynoy's own calculation, some P280 billion was lost to graft in 2009 alone.
Will Rene bite? Many think he will not and they understand. Someone gave me a picture of the kind of compensation and perks that a man in Rene's position receives and my eyes almost popped out. If he decides to stay in the corporate world, it will be on account of his family who wish for him a life of peace and contentment.
However, I think Rene also realizes the challenge of the moment. To be called to the task of helping put the country on the road to moral recovery is the chance of a lifetime. Without a doubt, Rene is in the pinnacle of professional success, but among great men and women, one's purest possibility can only happen if he goes to battle for a cause bigger than his own.
May 11, 2010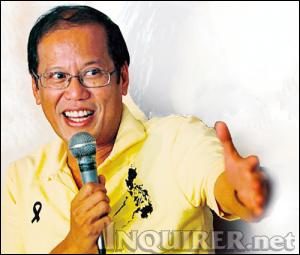 In the front page of Sunstar Superbalita dated April 28, 2010, reads:  "Mga Durano nipasalig nga mohatag silag makabungog ug dakong kadaugan ni Lakas-Kampi-CMD Gilberto 'Gibo' Teodoro sa 5th district sa lalawigan sa Sugbo.
       Then on May 12, 2010, two days after the election, Sunstar Cebu reports:  "The Duranos, who dominate politics in Danao City and virtually the entire fifth district, endorsed Teodoro. But even in Danao City, Aquino won."
      Aquino got 24,299 votes, compared to Teodoro?s 21,287 votes in Danao City.  In the fifth congressional district, the tally showed 148,675 votes for Rep. Ramon Durano VI, compared to 22,784 for Jesus Durano Jr.
      Danawanons all over the world must be happy, knowing their brothers and sisters back home have started to experience without fear a freedom of choice – and no more goons, guns and hopefully, no more vote-buying also next election.    
       For the record I was hoping and rooting for Gibo Teodoro to win, but the Filipino people have spoken, so we must respect, support and pray for our new President to succeed.
      Mabuhay ang Pilipinas.  (R. Barriga)