November 30, 2015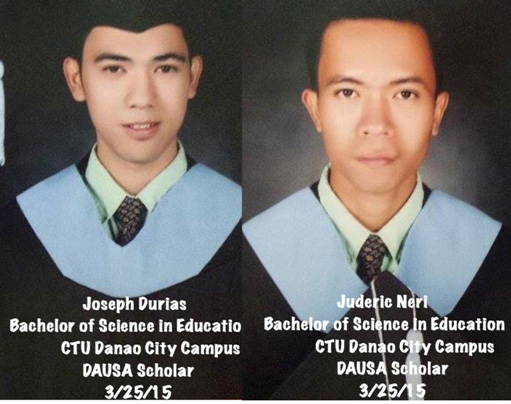 Two DAUSA Scholars, Joseph Durias and Juderic Neri, recently passed the Teachers Licenseure Examination which they took on September 27, 2015.  They are now qualified to teach in public schools.
Joseph and Juderic got their BSED diploma during a commencement exercise held at the Cebu Technical University – Danao City Campus in Sabang on March 25, 2015.  After their graduation Joseph and Juderic received P1,000.00 from DAUSA to help them take the Teachers' Board.
Sponsors stay anonymous until beneficiaries graduate and pass the licensure exams.  DAUSA member Jaena Valles was Joseph Durias' sponsor.  Manny/Melinda Aquino sponsored Juderic Neri.   Both Jaena and Melinda previously sponsored one scholar each who both graduated and shortly after gainfully employed.
Since the inception of DAUSA's Adopt-a-Student Program in year 2000,  already 69  poor barangays kids had finished college through the financial support from a few generous sponsors/DAUSA members.
Most of the beneficiary-scholars who graduated at CTU, are currently working as public school teachers, some are gainfully employed as office workers in the private sector, while a few work overseas.
If not for the scholarship, these kids would probably end up, like so many young barangay kids in Danao, as habal-habal drivers, 'paltik' or gun makers/runners  or worse, as drug pushers.
To help one scholar achieve his/her dream of a better life, it only cost $300.00 a year to pay a student's tution and other miscellaneous expenses, or $1,200.00 for 4 years until they graduate.
WE NEED MORE SPONSORS, because so many high school kids back home are pleading for help.  Please contact us, if you want to give a barangay kid a better chance to do good in life.
Just email any of the following:  Martinette Batucan-Dayondon ([email protected]); Eric Cabahug ([email protected]) and Ramon Barriga ([email protected]).
JUDERIC PESCANTE NERI
I thank God for hearing and granting my prayers, my parents, especially my mother for always being there for me.
To my grandfather Lolo Boni and Nanay Norma, thank you for the financial support and, to my family who prayed for this success, thank you.
Also, Sir Ramon Barriga and Maam Darling Batucan-Dayondon, and most especially to the kind-hearted anonymous DAUSA sponsor for my scholarship during college,  I would not made it without your support Sir and Maam.
To our second mother, Matets Berly Miranda Durias, thank you for the encouragement during review days and examination day. To my college buddies, congratulations to all of us! Thank you relatives and friends for the greetings! Hardships are all paid off..
JOSEPH DURIAS
I just want to extend my BIG THANKS to all kind hearted people behind this organization. I am so blessed to have been part of this organization as a scholar.
Now that I am already licensed, I just hope that my sponsor/s are proud.
Thank you so much my sponsors and to all of you. You are all part of my success because without your support, I will not be able to reach this peak of success.. Thank you again and may the lord God give all of you more blessings. Thank you!!: