May 14, 2009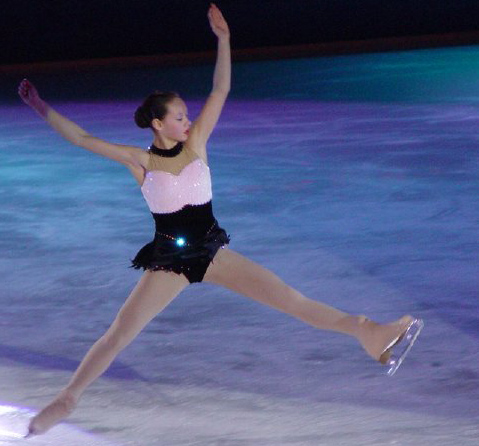 Danao City, better known in the world for making illegal near perfect copycats of Smith & Wesson revolvers, Colt 45 pistols or other automatic handguns, or where its long dead residents rise from their graves on election day, will soon be talked about in the world as the birthplace of the mother of the world's figure skating superstar.
Our Danawanon reporter in Washington D.C., Boyito Quiroz, recently brought to our attention that a daughter of a young mother from Sabang, Danao City has consistently won major figure skating competitions in the State of Massachusetts and on her way to grabbing the limelight in the nation's figure skating scene at a young age of 13.
Boyito Quiros reports to dausa.org: 
Her name is Keilani Lynn Rudderham. Her mother's name is Marilis "Bebeth" Quiros who is the youngest sister of my father. Ate Bebeth was married to an American of British descent, Larry Rudderham. They were married in Maslog, Danao 18 years ago.
They have two children, the older boy is David. The Rudderham family visited Danao around 10 years ago but Ate Bebeth went home recently when her father and my grandfather Isabel Quiros died few years ago.
 Below is an article published recently in Lowell Sun of Lowell, Massachusetts  
Tyngsboro teen skates her way into the U.S. Nationals
By Kevin Jacobs , [email protected]
BOSTON — The moment she glides onto the rink at the Skating Club of Greater Boston, it's clear that Keilani Rudderham is something special.
At only 13 years old, the Tyngsboro eighth-grader will be competing for a U.S. Figure Skating National Championship on January 18th. Rudderham recently won the New England Regional Championships and placed third in the Eastern Sectional Championships.
"That's everyone pretty much on the east coast and I came in third, so I qualified for the National Championships," says a cheery Rudderham. "I'm in the novice division. That's two levels below all of the Olympic champions."
Despite skating against girls as old as 17, Rudderham has been able to stand out. Off the ice Rudderham, tall and charismatic, looks like most girls her age. However, on the ice she looks more like a grown woman than a middle school girl. Elegantly and effortlessly carving up the ice, performing breathtaking jumps and complex combinations, Rudderham looks totally comfortable.
"I definitely love skating just because it's fun," said Rudderham, "My favorite move would definitely have to be the spiral."
Rudderham started skating at the age of two, inspired by watching her older brother play hockey. Although she started in hockey skates, by the time she was seven she was lacing up figure skates. It was then that she began training with private coaches, and she's been skating everyday since.
This will be her first time competing at the National Championships and it should help guide her towards the ultimate goal; competing in the Winter Olympics.
"It's my first National Championships so I'm just looking forward to having fun and trying to skate my best," said Rudderham, "In 2010 I won't be age eligible and I won't be at the right level yet, so 2014 is definitely my goal to reach."
She knows it won't be easy, but it's something she works hard to achieve. Her dedication to realizing that dream is evident by looking at her daily schedule:
6:00: Wake up & go to school
2:30: Leave school and drive directly to the rink
3:45-5: Stretch and skate
5:10-6:10: Work out
6:15-7:15: Homework
7:30-8:20: Skate
8:30-9:15: Drive home & homework
10:30: Bedtime
Most days she has less than an hour of free time, but what matters most is her time on the ice.
"It becomes habit, but I think we all know what happens when you become a figure skater, the sacrifices," said Rudderham, "but it's totally worth it."
May 11, 2009
Boyito Quiroz  recently contacted dausa.org expressing his appreciation for having this website that connects Danawanons with their loved ones, friends, relatives or  classmates of long ago, wherever in the world they may be. 
He said he came to America barely a year ago with his family in tow, including his parents, a privilege granted to foreign diplomats, U.N. personnel, including employees of World Bank where Boy and his wife work.   Boyito is from Sabang, Danao City where he finished his elementary and high school.  He studied for the priesthood at the CICM Seminary in Bacolod but later discovered he had another calling in life.
We requested Boy to write for dausa.org to share with fellow Danawanons what life is like for him and his family here in the U.S. or what led him to come to America.   (Monching)
My Own Big Family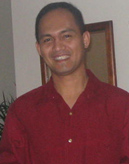 Most of the Filipino households are numerous.  This is not to exclude my parents. Both of them belong to a quite large family. My mother has 8 brothers and sisters and my father has 7.  When my grandfather Lucio Andrade passed away, there was a count of more than 50 grandchildren and great grandchildren. Much more,  in my Quiroz lineage. The barangays of  Maslog and Sabang in Danao City are filled with Quiroz descendants. There is a trace of Quiroz or Quiros to every family native in the area. This is just to show how fruitful the family tree where I belong.
 
However, this is not the case with my own immediate family. I have only one sister and no brother at all. For health reason, my mother was advised not to give birth anymore after my younger sister was born. If not because of that, I think I may have plenty of siblings as well.  Much more I realized that priesthood was not meant for me. If patience just took place, I could have been a missionary and a religious. There is no doubt that I will not enjoy and experience of being a family man, as celibacy is an inherent value and almost equivalent to priesthood.  
 
I usually introduced myself to new acquaintances and to old friends that I have 4 children. Most of the time,  if not always I received a "wow" response not because that I look younger to having four, hmmm.  Having been here in the US for one year, I understand and realize that it is extraordinary normal to have more than 1 child. This is not to mention the expenses related to child care and the needed quality time allotted to each child's development. I have not encountered these as I am lucky to have my parents helping me out taking care of the children and other household activities while my wife and I go to work on weekdays.
 
                                                            
Challenges
 
Just to live in the US is a challenge in itself. I can count hundreds or more reasons to be worried about. After 1 year of stay, the youthful myths that US is a country of honey and green money is fading. It was even aggravated that the economy is down and struggling and many faced unemployment. Even with hope, the future may seem hard and difficult. The job which I thought is just around was hard to reach. My father whom we expected to have been given his work permit found nothing yet in the mailbox. 
 
Another level of challenge pertains to growing-up children. As much I would like them to remember our values and speak our native tongue, they started to speak otherwise specially with my youngest. She understands Pilipino because she was born in Metro Manila but it sounds awkward anymore to hear her utter salamat or magandang umaga with an "h" in between the letters and with air coming from her nose. She seems not interested anymore to speak the dialect.
 
I should be adventurous to food as my children no longer like the food I usually cook and enjoy to eat  since I was young.  They prefer chicken and pasta. My "inun-unan" and tinuwang  isda  are always keep untouched.  
 
Blessings 
 
Rather than to be sad like the lifeless trees in winter, I always count our blessings. I remember five years ago when my wife and I were lining up early morning at the US Embassy in Manila carrying the documents we prepared for months. It turned out that we were only asked for 3 questions and told right away by the consul that she was not satisfied and stamped our passport with received which meant decline.  It is a blessing that we were able to come to America and not even asked to go to the Embassy. My parents and my wife's parents were given the same visa but did not experience lining up for the interview.
 
It is a blessing that there is a good public school system where my children continue to develop their talents. It would cost us half of our earnings, like we did back in the Philippines to have quality education. We no longer have to worry where to get the tuition fee at least until they finish high school.
 
Home is where my spirit smiles
 
There are still many obligations I need to shoulder and debts that have to be paid. But as they say, America is the land of opportunity and where labor is of great value.  I continue to strive to look for that opportunity and use my honest labor to advance in life. This is the new place where my family lives. This is the country that my children  grow and find their meaning.  I am confident this will be my new home for my spirit starts to smile as the summer is about to come.  (Boyito Quiroz, Washington, D.C.)
May 5, 2009
Mr. Benjamin Ypil is a good friend from Danao, a classmate at Santo Tomas School, ex-seminarian (good he left – being a potential embarassment to the Archdiocese – too irrestible to girls – according to him), former Freeman columnist, former PR of  Governor Gullas, retired PR Consultant of Napocor, a widower, now single and actively on the look out for a 2nd time around.  We asked him to write for dausa.org, and willingly he sent us a nice piece.
My Apostolic mission in the USA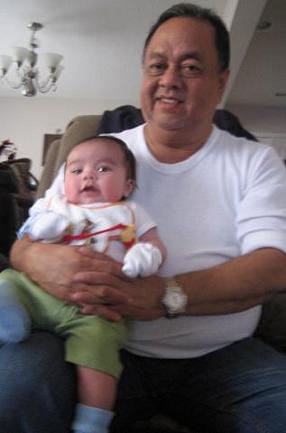 So, this is America! I left Cebu for Manila 5:20pm on March 24, a Monday, then took a connecting flight at 10 pm for Los Angeles which was my port of entry. My daughter in Fort Wayne, Indiana was worried sick because her friend whom she requested to meet me at LAX at 7:35pm (L.A. time) failed to fetch me at the airport arrival area.
Anyway, my daughter's friend was unable to recognize me. How could she when she was told that I had a moustache and a goatee with a  bulging tummy to boot? Except for the stored fats in my stomach,I had long shaved off my bigote and my bungot!
Thank God, the nature of my job back home in our country requires me almost always to be on land, air and sea travel! Otherwise, I would have been gobbled up and lost in the hustle-and-bustle of  the gigantic Los Angeles airport. Well, probably because I'm never ashamed and timid to ask people for assistance (blame it on my experience as a newsman and public relations practitioner) I can easily adjust and adapt to any emergency situation.
To make a long story short, I found myself at terminal 5 of the Delta Airlines where I stayed overnight and waited for my flight to Atlanta the next day. From Atlanta I took anotherconnecting flight to Indianapolis airport where I was fetched by my daughter and her hubby and their little bundle of joy and my grandchild,
Rafael.
The moment I saw Rafael my jet lag was gone! I realized I just logged a total of 18 hours and 40 minutes in my plane travel from the Philippines all the way to my final destination. At any rate, I'm here at Fort Wayne, Indiana on some apo-stolic mission (euphemism for babysitting for my grandson, my second and all boys).  I love Rafael as much as I hate the weather here. Although it's now the onset of spring but I got the taste of  snow on the second week after my arrival.
So, here I am now doing a l63, better known in ABS-CBN as "Bantay-Bata." On weekdays, Rafael and I are left at home while my daughter and son-in-law are out working. It is, more often than not, only during weekends that I am able to go out malling or dining. To kill my boredom, I contact my kith and kin here, thanks to Monching Barriga, my classmate during our michievous days in highschool at Santo Tomas in Danao whom Timmy Laurente, another classmate has called the immigration officer here in the U.S. But, of course!  Monching is virtually the walking directory of all Danawanons here.
So far, I've already gone to Chicago, just a three-hour drive from our place and visited my cousin Pablo Ypil and Edna. If not for this swine flu virus,  I would have already travelled to New York, Maryland and Washington D.C. But I couldn't risk the safety and well-being of the apple of my eye, Rafael for these tourist sites who'd necessarily go with us on these trips had they pushed through.
At any rate, I still have a lot of time to visit my friends and relatives. My return trip to the Philippines will still be on Sept. 2 in time for the fiesta in Danao. In my itinerary are places like Las Vegas. Los Angeles, Maryland, Florida and New York where the hubby of my niece and daughter of my elder brother Prudencio is the Philippine consul.
(Dinhi lang usa ko kutob kay ang akong boss nangayo na's iyang gatas. Monching wa na ko'y utang nimo ha!)