May 28, 2008
Posted for Dr. Anita Cal-Jackson.
Here is the tentative Novena Schedule for the Fiesta of our Senor Santo Tomas de Villanueva for 2008.
First Novena
July 6, 2008
Guiley/Bebe Roble Family (Sunday)
Second
July 12, 2008
Barriga/Famor Family
Third
July 19, 2008
Jojo/Monette Batucan
Fourth
July 26, 2008

Proceso/Marieta Hermoso Palos

Fifth
August 3, 2008, SUNDAY
Lavides/Roble/Ecarma/Escario Families15528 Blaine Ave., Bellflower, CA

Novena: 11:00 am; Mass: 11:30                                     

Sixth
August 9, 2008

Rey/Evelyn Espera Family,

23936 Old Pomegranate Rd.,Yorba Linda, CA,

Novena: 5:00 pm; Mass: 5:30pm  

Seventh
August 16, 2008

Cabahug & Montegrande Families,

24508 Mariposa Ave, Harbor City, CA, Novena: 4:30 pm; Mass: 5:00pm 

 

 

Eight
August 23, 2008

Domingo & Jackson Families

41027 Burgess  Ct., Temecula, CA, Novena: 4:30 pm; Mass: 5:00pm 

 

 

Ninth
August 30, 2008
"Cruise Group"
Fiesta Day
September 7, 2008
Silverado Park, Long Beach
May 12, 2008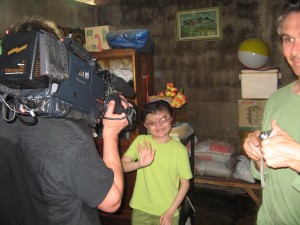 Merylou whose disfigured face made her unable to stay in school for long, underwent a series of cranio-facial surgery at the Children Hospital Los Angeles under the auspices of Mending Kids International, is back home to her family in Juan Luna, Danao City, arriving May 9, 2008.
A team of doctors of Children's Hospital Los Angeles, led by Dr. Mark Urata, seemed to have done some kind of surgical magic with Merylou's amazing transformation.
She arrived in Los Angeles on May 27, 2007 with help from PAL Foundation, Inc. (for plane tickets) and some well meaning Danawanons who chipped in to pay for his visa fees and local transpo expenses.
Monching and Mariam Barriga hosted her stay in the U.S. for nearly a year, and taking her to numerous medical appointments. DAUSA Vice Presidnet Marieta Palos, who cared another Danao kid, Keith Montesu's during his confinement for an open-heart surgery, also kept watch on Merylou at the Children's Hospital relieving Mariam when unable.
Read more