July 9, 2021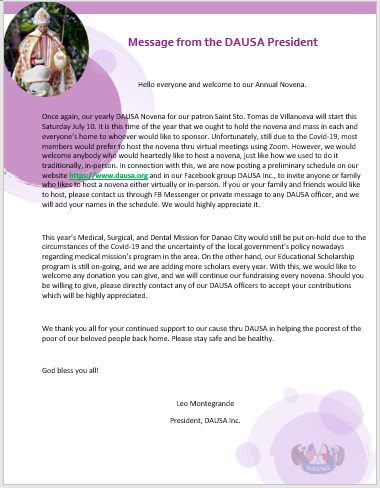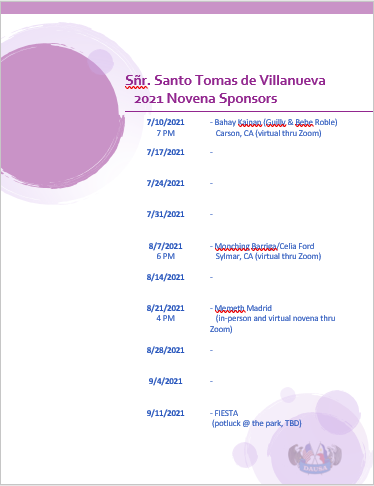 Please select the date that you would like to host either in an in-person or virtual (via ZOOM) Novena, then contact any of the officers thru private message (PM) in the Facebook Messenger. Thank You!
September 9, 2015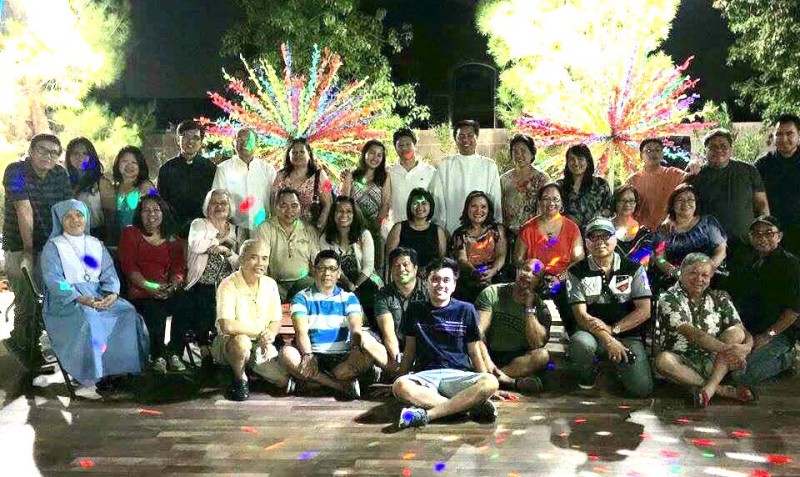 A successful medical practitioner, born and raised in Danao Cty, Dr. Maritess Beduya Princer along with her loving and very supportive husband,from the Province of Abra, Ed Princer hosted once again DAUSA's last Novena in honor of Sr Santo Tomas de Villanueva at their home in Las Vegas, Nevada on September 5, 2015
The last of the 9-Saturday Novena, which is held every year during the Labor Day long weekend, has become an annual fundraising event for the Medical, Dental, Educational Mission and being hosted by Ed and Tessie Princer.
The young couple have been helping DAUSA raise some money to help the association conduct the yearly medical-surgical mission which started in 1998.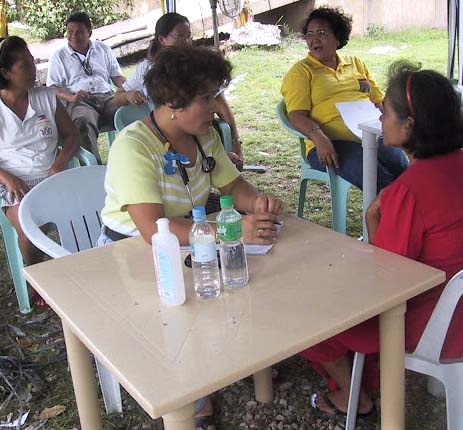 Herself a medical mission volunteer in 2001, Dr. Tessie saw for herself the huge crowd that lined up for their turn at the Danao Provincial Hospital, mostly coming from the mountain villages of Danao City, to see a doctor for free consultations and free medicines.
Since then Tessie and Ed had been helping DAUSA year after year by hosting the last of the 9-Saturday novena, inviting friends and co-workers to their home, partake a sumptuous dinner and touch their hearts to reach out and help Danao City's poorest of the poor.
On average, some 2000 were being seen by physician-volunteers, getting free medications during a 3-day period.
Some 25 patients undergo major surgical procedures, while 200 for minor surgeries.  Also some 200 are being served at the mobile dental clinic provided by the Ceby City Health Department .
On behal of the association, DAUSA President Eric Cabahug and treasurer Martinette Batucan-Dayondon exoressed their great appreciation and big thanks to the Princer couple for the hospitality and to all who joined and participated to support this year Medical Mission.
Martinette said "it is very overwhelming to be part of the most anticipated event, and witnessed the generousity of Las Vegas community as well as the friends and relatives of Ed and Tessie Beduya-Princer who go out of their way to help plan and make it successful.
"The amazing couple were able to raise a total of $6,438.00", Martinette reported
July 5, 2015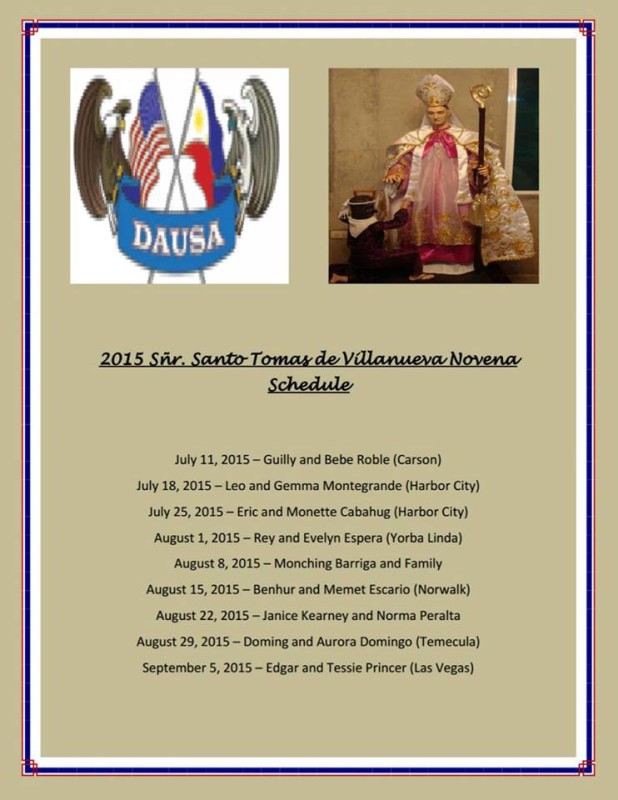 May 12, 2015
After over twenty years of hoping and trying to have the Danao Association USA, become an accredited non-profit organization in the U.S. and be determined as tax exempt by the IRS, its realization has finally come.
We received only yesterday, May 11, 2015, the highly anticipated IRS determination letter that says "you are exempt from Federal income tax under section 501(c)(A3) of the Internal Revenue Code."
We acknowledge and express our great appreciation to the efforts of our very own accountant, Leo Montegrande, his lovely wife, former DAUSA President Gemma, treasurer Darling Dayondon and incumbent president Eric Cabahug who labored so hard to have this tax exempt status approved by the IRS,
DAUSA benefactors and sponsors will now be encouraged to give more to our association since their donations can now be tax deductible.
Doctors and nurses from the U.S. who desire to volunteer in future medical missions,may claim for deductions their travel expenses,
Once again thank you Leo and Gemma Montegrande, Darling Dayondon and Eric Cabahug for a job so well done.
July 2, 2014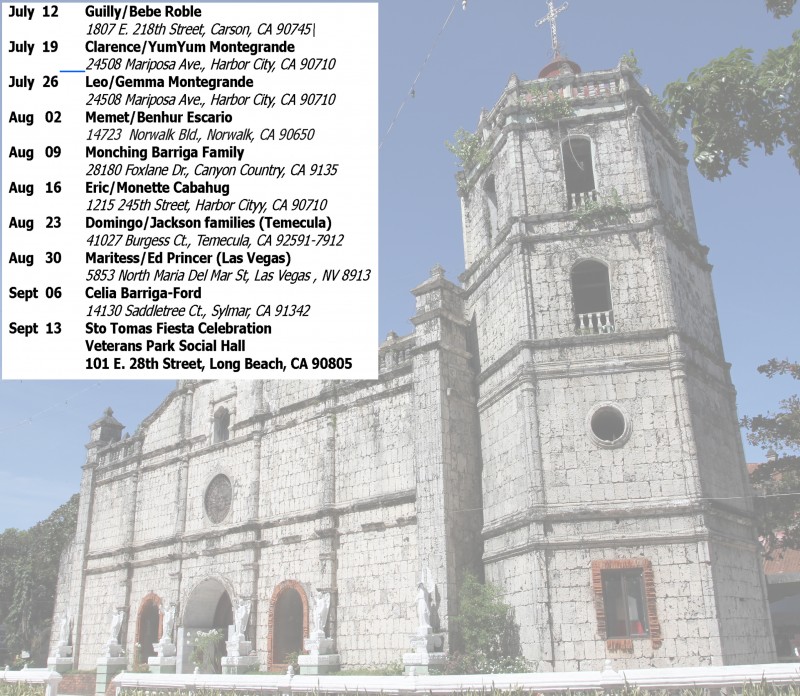 August 26, 2013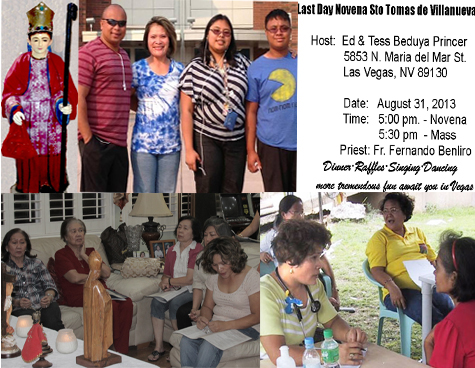 August 24, 2013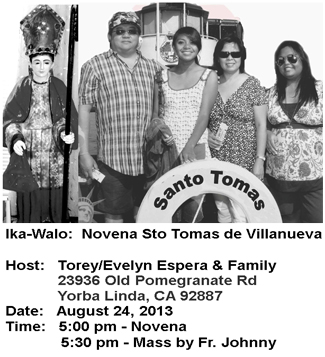 August 12, 2013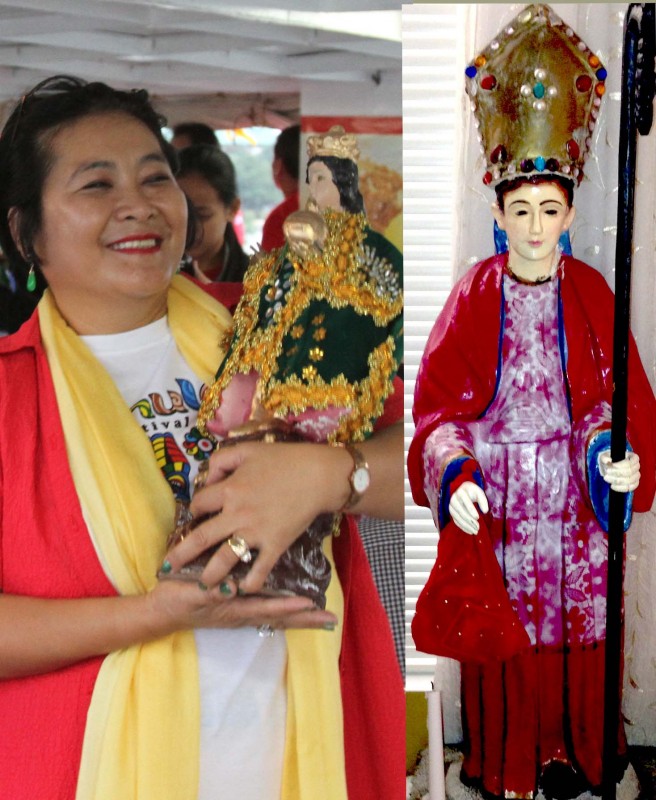 Ika-pito Novena ni Sto Tomas de Villanueva
Date:  Saturday, Aug. 17, 2013
Place:  14723 Norwalk Blvd,  Norwalk, CA 90650  
Time:  Novena: 5
Mass:  5:30pm, by Fr Dennis Baricuatro
(Mosunod ang lamian kaayo nga panihapon)
Host:    Benhur/Memet Escario 
               Tel: (562) 929-8429 
August 6, 2013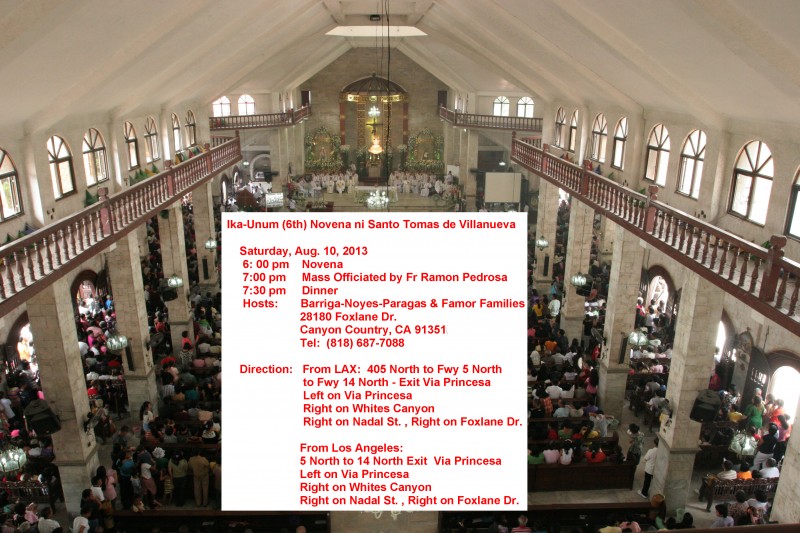 July 31, 2013

    Ikalima (5th) Novena ni Santo Tomas de Villanueva
    Saturday, Aug. 03, 2013
     5: 30 pm    Novena
     6:00 pm     Mass Officiated by Father Johnny Planea
     7:00 pm     Dinner
     Hosted by:  Leo/Gemma C. Montegrande & Family
                          24508 Mariposa Avenue
                           Harbor City, CA  90710
                          Tel:  (310) 539-1354