A New Merylou is Back Home With Family
Mon, May 12, 2008 3:43 am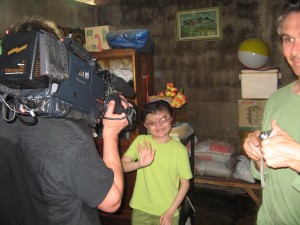 Merylou whose disfigured face made her unable to stay in school for long, underwent a series of cranio-facial surgery at the Children Hospital Los Angeles under the auspices of Mending Kids International, is back home to her family in Juan Luna, Danao City, arriving May 9, 2008.
A team of doctors of Children's Hospital Los Angeles, led by Dr. Mark Urata, seemed to have done some kind of surgical magic with Merylou's amazing transformation.
She arrived in Los Angeles on May 27, 2007 with help from PAL Foundation, Inc. (for plane tickets) and some well meaning Danawanons who chipped in to pay for his visa fees and local transpo expenses.
Monching and Mariam Barriga hosted her stay in the U.S. for nearly a year, and taking her to numerous medical appointments. DAUSA Vice Presidnet Marieta Palos, who cared another Danao kid, Keith Montesu's during his confinement for an open-heart surgery, also kept watch on Merylou at the Children's Hospital relieving Mariam when unable.

She had a taste of celebrity status on arrival being accompanied by a TV crew contracted by Children's Hospital Los Angeles to produce a one-hour documentary for showing in a national TV network sometime end of summer this year.
At the airport Merylou was met by Philippine Airlines' Manager of Passenger Services and her staff assisting her all the way for the emotional reunion with her family waiting outside the terminal.
Before proceeding home, Merylou and her parents dropped by the office of Danao City Mayor Ramon Durano III, thanking him for his continuing support of the DAUSA Medical Mission which negotiated a sponsor to pay for the very expensive cranio facial surgery.
On her way home the Mayor sent police escorts to keep kids from milling around their humble home while the film crew was recording the family's emotional reunion.
Comments