August 26, 2009
I was scouring the web looking for some news from Danao when I came across this website. Ever since, every now and then I would visit this website for news update. I truly admire you guys for the  noble undertaking you have done in helping our poor kababayans in Danao.

Let me first introduce myself. I hail from Bali-ang, Danao city. I had my

elementary education in Bali-ang under the tutelage of Mr. Catalino Ramos. I

went to DNVHS in Sabang for my secondary education in which Mrs. Rose Canga was

our nurse at that time. How time flew so fast, I guess Candy was one of the

children she frequently brought along to school.
We graduated on March 1972

after which Martial Law was declared by following September. Because there was

no "paltik" on the early years of Martial Law, I was then force

d

to try

my luck in Mindanao where most of my relatives in my mother's side reside

d

.
While

I

 was

 still 

in

college in Cebu, I only visited Baliang and Danao once

in a while. Some 4 years back, together with my whole family, we

migrated to Ontario, Canada.
Reading some stories and crossing some familiar names in this website would

bring some fond memories of Danao. I would say I had one of my best memories

during my high school days in Danao which I would forever treasure in my life.
HOPE YOU ALL THE BEST IN YOUR UNDERTAKING. M

AY

GOD B

LESS

US ALL.
Romy Olivar
April 6, 2004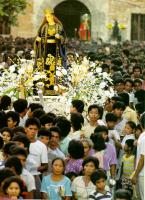 Holy Week or Semana Santa starts on Palm Sunday – Bendita sa Lukay. People from all over town would come to church bringing all sorts of palms leaves.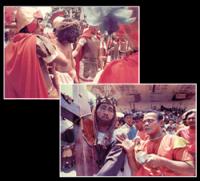 The mass on Palm Sunday was rather too long because of the reading of the Passion. This was followed by a blessing of palms and procession around the church. A few would faint.
Poblacion residents rarely carried a palm to church, they simply asked from the barrio folks who come to church loaded with lukay.
Religious processions were perhaps the most awaited event during the holy week celebration. The first around-town procession was on Miercoles Santo.
Nearly twenty carrosas would be in the Miercoles Santo Procession – called the Paso.
December 14, 2002
[Note: Originally posted on Kaming Danawanon, Vol V, No. 5 Nov-Dec 199.]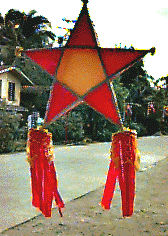 As signs of the holiday season, from radio music, to mall decors, to the cool weather get into our systems, older U.S. Pinoys start to get nostalgic and feel an irresistitble urge to visit their hometown and reconnect with old friends and relatives for Christmas.
But it seems this doesn't hold true among Danawanons in the U.S. Rather, the city fiesta in September actually beckons more Dananawons than does Christmas.
Someone said maybe we're just very kuripot (stingy) scared of our many friends and relatives asking for pinaskohan so we don't go home on Christmas.
Since my high school in 1967 I have never spent a hometown Christmas and I have almost forgotten what I was missing.
I guess there was nothing much happening at Christmas in Danao that would draw Danawanon back home at this time of year.
In many Filipino literatures, travel brochures, magazines, in Christmas jingles, so much we read or heard about this unique Filipino tradition of Pasko, such as "Misa de Gallo', musikeros, aguinaldos, 'mano po ninong, mano po ninang", etc.
August 2, 2002
He Better Marry A Dalagang Bukid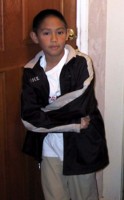 Parent-mandated marriage is a common practice, even in modern times, especially in remote villages in some third world countries, including the Philippines.
It is definitely resented and despised in more civilized and free societies. It's an infringement of basic human rights.
Yet, Filipino parents do wish, we can dictate our kids who, where and when to marry. How I wish my three kids will give me a free hand.
We generally don't trust our kids' intuition, in matters of the heart, so we attempt to exercise parental authority over their choice of a boyfriend or girlfriend.
In free America or even in the Philippines, it is somewhat unthinkable for parents to tell a son or daughter when and who they should get married to and live with for the rest of their lives.
Perhaps the most we can do, as parents, is make an effort to influence our kids to conform to our wishes, in some subtle ways.
August 1, 2002
"EATING THE HOUSE ONE BY ONE"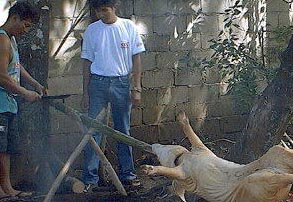 Ay, Señor San Roque, patron a Looc, how I miss the barrio fiestas. So do many other hard-boiled Danawanon who left town, eking out a living in places, oceans away from home.
They must be as nostalgic as I am comes month of May, the town's fiesta season. Way back, in the not so old days, when everybody in town knew everybody, my friends always had in their wallet a year-round `listahan' of barrio fiestas.
My sacristan-friend Nicomedes Parangan, my buddies Eduardito Valdez or Dario Reyes could recite the fiesta dates including the patron saints of all barangays, from Awihaw to Tubiga'g Manok. More Knowledgeable than the parish priest, of course.
Going to a barrio, it didn't matter, we had , a friend or not. At a fiesta no one went pasmo' because people literally opened their doors to everyone – even to strangers. If we had no close acquaintance, me and my buddies, all convento istambays, would go along with Padre Manalili or Nick Bacalla.
July 9, 2002
A day in the life .  .  . at Grade III, Section 1
Kaming Danawanon, Mar-Apr 2002
The ringing of a bell signaled the end of a 30-minute break.  Then children would stampede back to their classrooms in a rush.
Social Studies was our next subject. Mrs. Ypil for nearly a month taught us everything she knew about our town of Danao and  the province of Cebu.
She loved to relate heroic deeds of Spanish time Dana- wanons who built the town's old church and about brave guerrillas who valiantly fought the Japanese soldiers during the war.
She made us memorize all the names of town officials.  Ms. Ypil must have done a good job as we remember those names very well.
July 7, 2002
[Note: Originally posted on Kaming Danawanon, Vol VII No. 3 Jul-Aug 2001.]
A day in the life . . . at Grade III, Section 1
We dreaded the day we enter third grade. Third graders had that nasty habit of scaring second graders, like "You will have a hard time in Grade III, and worse, if you go to Section 1.
"Mrs. Ypil is many times meaner compared to any teacher in the entire Danao Central School."
July 5, 2002
[Note: Originally posted on Kaming Danawanon, Vol VII, No. 5 Oct-Dec 2001.]
A day in the life .  .  . at Grade III, Section 1
A plate of corn grits with buwad or tinabal or inununan (fish) for breakfast would not last till noon. We had to eat again by mid-morning at recess.  If we didn't, we would be starving before the last period.
While in third grade, five of us were in school, two in college, one high school and another in sixth grade, so it was somewhat a struggle to squeeze a 5¢ 'baon' from my Tatay each day.
July 5, 2002
[Note: Originally posted on Kaming Danawanon, Vol VII, No. 4 Sep 2001.]
There were no tricycles or jeepneys in Danao when I was in third grade.
Only three or four families had a car. In 1959 even Danao's medical doctors could not afford to buy a car. Drs. Laude, Cola or Tining Canga made their house calls in bicycles.
July 4, 2002
[Note: Originally posted on Kaming Danawanon, Vol VI No. 2 May-Jul 2000]
An epidemic more serious and far more debilitating than any disease is softly killing our children. Shabu is a real killer. It attacks the mind, the body and the pocket.
It's not only the children of the city's affluent families, also some pedicab drivers, Mitsumi employees who work long hours, istambays, boys and girls as young as 12, are hooked.