November 30, 2015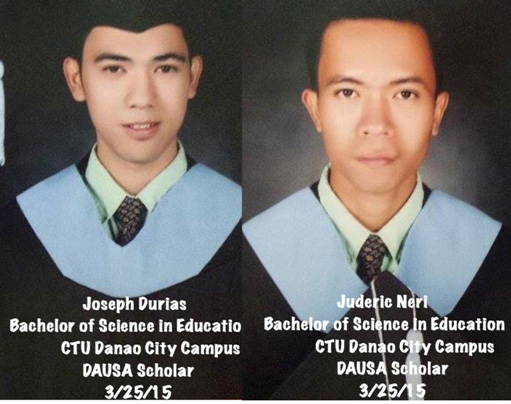 Two DAUSA Scholars, Joseph Durias and Juderic Neri, recently passed the Teachers Licenseure Examination which they took on September 27, 2015.  They are now qualified to teach in public schools.
Joseph and Juderic got their BSED diploma during a commencement exercise held at the Cebu Technical University – Danao City Campus in Sabang on March 25, 2015.  After their graduation Joseph and Juderic received P1,000.00 from DAUSA to help them take the Teachers' Board.
Sponsors stay anonymous until beneficiaries graduate and pass the licensure exams.  DAUSA member Jaena Valles was Joseph Durias' sponsor.  Manny/Melinda Aquino sponsored Juderic Neri.   Both Jaena and Melinda previously sponsored one scholar each who both graduated and shortly after gainfully employed.
Since the inception of DAUSA's Adopt-a-Student Program in year 2000,  already 69  poor barangays kids had finished college through the financial support from a few generous sponsors/DAUSA members.
Most of the beneficiary-scholars who graduated at CTU, are currently working as public school teachers, some are gainfully employed as office workers in the private sector, while a few work overseas.
If not for the scholarship, these kids would probably end up, like so many young barangay kids in Danao, as habal-habal drivers, 'paltik' or gun makers/runners  or worse, as drug pushers.
To help one scholar achieve his/her dream of a better life, it only cost $300.00 a year to pay a student's tution and other miscellaneous expenses, or $1,200.00 for 4 years until they graduate.
WE NEED MORE SPONSORS, because so many high school kids back home are pleading for help.  Please contact us, if you want to give a barangay kid a better chance to do good in life.
Just email any of the following:  Martinette Batucan-Dayondon ([email protected]); Eric Cabahug ([email protected]) and Ramon Barriga ([email protected]).
JUDERIC PESCANTE NERI
I thank God for hearing and granting my prayers, my parents, especially my mother for always being there for me.
To my grandfather Lolo Boni and Nanay Norma, thank you for the financial support and, to my family who prayed for this success, thank you.
Also, Sir Ramon Barriga and Maam Darling Batucan-Dayondon, and most especially to the kind-hearted anonymous DAUSA sponsor for my scholarship during college,  I would not made it without your support Sir and Maam.
To our second mother, Matets Berly Miranda Durias, thank you for the encouragement during review days and examination day. To my college buddies, congratulations to all of us! Thank you relatives and friends for the greetings! Hardships are all paid off..
JOSEPH DURIAS
I just want to extend my BIG THANKS to all kind hearted people behind this organization. I am so blessed to have been part of this organization as a scholar.
Now that I am already licensed, I just hope that my sponsor/s are proud.
Thank you so much my sponsors and to all of you. You are all part of my success because without your support, I will not be able to reach this peak of success.. Thank you again and may the lord God give all of you more blessings. Thank you!!:
March 9, 2004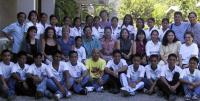 Nineteen beneficiaries of DAUSA's Adopt-a-Student Project, all selected from Danao City's barangay high schools, will receive their college degree diploma at a commencement ceremony, today March 9, 2004 at the Cebu State College – in Sabang, Danao City.
The 19 scholars were supported by DAUSA members Winston/Pat Osmena-Misa, Candy Canga, Manny/Melinda Derecho-Aquino; Ben and Dr. Anita Cal- Jackson and Fred/Nattie Almeda.
They were first to respond when the Adopt-a-Student Project was initiated sometime in year 2000 after a successful medical mission.
Sponsors must support the students' tuition and other fees until they finish their 4-year bachelors degree.
Below are the names of the 19 graduates, where they came from and their respective degrees: Bachelor of Elementary Education (BEED), Bachelor of Secondary Education (BSED) and Bachelor of Industrial Technology (BSIT):
June 3, 2003
DAUSA President Gemma Montegrande recently received two emailed messages from Dungguan Elementary School Principal Lilia Ramos-Ybanez (apo ni kanhi Panfilo "Pamping Pulis" Ramos. Ed).
In both communications Ms. Ybanez attached a letter signed by  Dr. Michael M. Cono, Danao City School Superintendent.
(Dungguan Elementary School is beneficiary of DAUSA Adopt-a-School Program initiated by Mr. Jose Campo of Freeport, TX and who personally donated lots of hard bound books to the school library and some 13 computer desktops and monitors.)
The first letter is an appeal to kind-hearted DAUSA members and other Danawanons living abroad to sponsor deserving high school students.
January 16, 2003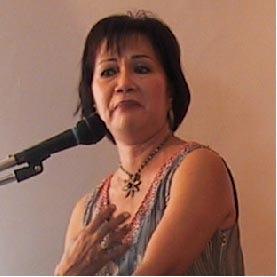 This is a personal note from a doting daughter to her mom, but I asked permission to share to our readers Candy Canga's email to her mom, Rose Canga, Dean of Student Affairs of Cebu State College, Danao City campus.
Candy is a professional registered nurse and currently is Surgical Department Manager of Sutter Memorial Hospital, Modesto, California,
Candy spearheads the DAUSA's Adopt-a-Student Program since its inception three years ago. She is a sponsor herself to some five scholars.

Likewise, Candy's mom contacts the barrio high school principals of Danao to send deserving indigent students to apply for scholarship.
Mrs. Canga screens and recommends students who get 4-year free college tuition. At present there are 30 DAUSA scholars enrolled at the Cebu State College, two will be graduating this March and another 20 next year. (Click "read more" to continue)
Read more
August 23, 2002
To all my kind-hearted sponsors,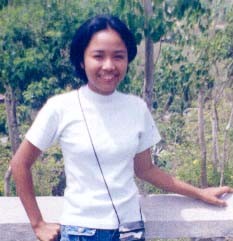 It's me again, Nobeya, I was very happy to receive a letter from you. I want to ask an apology that I haven't responded immediately. I have been very busy in school and in other activities outside school during the past weeks. Some of these activities include catechism (teaching children the basic prayers, religious songs and teaching them how to go to confession.) I was involved in this activity because I am a member PYCC (Pastoral Youth Coordinating Council) in our parish. Other things that kept me busy is the Clean and Green Program in which I am one of the organizer.
I don't know how to use the internet that's why I am writing you, but don't worry I will try my best to learn how to email. I also want to thank you for all the help that you had given to us all. You know if only we're near, I want to thank you everyday, but since we are far apart and making phone calls overseas is costly, I'll just send a letter every month. You know I always pray to the Lord our God that He will keep you and your family safe and guide you in whatever you do.
I always remember you, even if I can't recognize your face one by one. Sir, I am very inspired by your letter. Thank you very much for the inspiration. I will let my English teacher read that. I am very much excited to see you again this coming September. By the way my parents also wanted to say "thank you" for helping me, together with my fellow scholars. I also am sending you my picture, taken during our trip in Bogo, Cebu. I will stop only until here 'coz it's already 12:30 a.m. and I feel sleepy na . . . Once again, thank you and God Bless . . . I LOVE YOU.
Yours truly,
Nobeya
July 5, 2002
[Note: Originally posted on Kaming Danawanon, Vol VII, No. 5 Oct-Dec 2001.]
There is not a bit of doubt Dungguan Elementary School pupils will be most computer literate among all barrio public schools throughout the country. Thanks to Joe Campo whose heart is bigger than Texas.
DAUSA Board of Director Joe Campo of Freeport, Texas, pioneered the association's Adopt-a-School Project and started the project in the barrio where he was born and raised.
July 4, 2002
[Note: Originally posted on Kaming Danawanon, Vol VI, No. 2 May-Jul 2000]
DAUSA Adopt-a-Student Project Coordinators Candy Canga and Darling Dayondon confirmed that they had remitted the first semester tuition and miscellaneous fees for 30 scholars who had enrolled at the Cebu State College of Science and Technology – Danao City Campus in Sabang.
These DAUSA scholars are entitled to 4-year free tuition provided they pass all the subjects.
July 3, 2002
[Note: Originally posted on Kaming Danawanon, Vol VI, No. 3 Oct-Nov 2000.]
Pat O. Misa, Chief of Educational Mission 2000 expressed her most sincere gratitude to all donors, most of whom are her own friends and relatives. Their help enabled Pat to deliver to barangay schools much needed assistance.
July 3, 2002
My dear sponsor
I am Alfredo Tumampos, 20 years old, 2nd year  BSEd II majoring T.H.E.  I'm living with my sister at Highway, Look in our beloved city.
During my 1st year, I was chosen model student of our school and most outstanding leader as well.  I took up summer class and had  lots of experience here.
If you still remember, I was the one who spoke on behalf of the scholars.  Now I'm the Supreme Student Council President, the highest governing body of our school.
I knew this a hard and tough job.  But I believe you are always in my side to support me, morally and financially.
January 3, 2002
[Note: Originally posted on Kaming Danawanon, Vol VI No. 3 Oct-Nov 2000.]
DAUSA Board of Trustee Joe Campo of Freeport, Texas gave a big boast to DAUSA's Educational Mission by setting a precedent – adopting Dungguan Elementary School. Joe grew up and learned his abc in Dungguan.