October 2, 2007
Kathleen's Dad, Patrick Ferraren (in Virginia), a long lost friend, 30 years ago a co-staffer of The Forward at Colegio de San Jose-Recoletos, after we got reconnected wrote: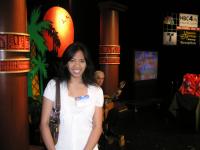 "How can a young contemporary Filipina lay claim to Hispanic Heritage, compete with other DC area high school Hispanics in an essay contest about how being Latino is the best of both worlds in the USA, and win? Answer: By weaving a connection that is indisputably valid, drawing on her life's experiences that enhance the connection, and expressing her feelings about the significance of that Spanish connection–utilizing her unique personal style of literary writing that appeals to her audience. She made it light reading and interestingly anecdotal, with relevant facts. The dozen or so judges approved and gave it to her. Who would have known? Pardon my "estoy muy orgulloso" father attitude, but this makes for an interesting English Lesson because it is true. Here is an example of how to write a winning piece! In the real world!" (I asked Patrick that I post Kathleen's winning piece as I find this very inspiring for our young Danawanons in California as well as all other young Pinays. – Monching)
SOY LATINA TAMBIEN
Kathleen is my given name but I recall my parents called me by my Spanish name, Catalina, when I was four years old. Both my parents are Filipinos of mixed origin—mostly Spanish and Asian. Having immigrated to America from the Philippines, they brought their colorful cultures to the melting pot that is America. I was brought up in a Roman Catholic household where the Santo Niño and the Virgen stood on an altar.
Although my parents' home country, the Philippines, is located in Asia, it has a lot to share with other Latino countries. Named after Madrid's King Philip II, the country was colonized by Spain from 1565 to 1898.
My parents decided that I would grow up learning English only. However, they would often insert Spanish words—embossed into their culture from 333 years of Spanish rule—into daily conversation. I was used to hearing other people muttering about my and other children's foibles, complaining with sacrilegious words of Jesús y María, and when we were especially clumsy, Jesús, María y José. Refusals to eat my empanada or drink my leche earned me a slap on the arm and an order of habre.