July 9, 2002
Gidapit ang tanang taga Danao (apil taga Compostela hangtod Bogo) nga nanimuyo sa Southern California sa pag-tambong sa santos nga misa ug pagsabat sa novena sa atong patron Señor Santo Tomas de Villanueva.
Ang unang adlaw sa novena himoon karong sunod Sabado, Julyo 13, 2002 alas 5 sa hapon sa panimalay ni Cecilia Barriga, 8427 Etiwanda Ave., Northridge, CA 91325.   Tel. 818-882-2168.
Dili kini potluck, busa ayaw hasola inyong kaugalingon sa pagluto o palit ug makaon. (Si Celia misaad mag-tumba ug kabaw.)
Hinoon, giawhag ang tanan nga imbis magdala ug pagkaon, hinaot magdala ug mga bitamina o mga tambal sa ubo, sip-on, kagid o korikong, kabahong, hilanat ug trankaso (most prevalent diseases treated at the Medical Mission).
(Pasimangno ni Dr. Loretta Montesclaros:  Please, ayaw pagdala ug Viagra!  Sa miaging tuig may tigulang babaye (taga Amoy) nangaway sa mga volunteers, ngano iyang bana gihatagan ug Viagra.
Sa asoy pa ni Nang Sebya, si Noy Paladio diay, didto pahulay iya Inday silingan, human tomar Viagra.)
Mapasalamaton kaayong ang mga pobreng kagisoonang taga Danao ug mga silingang lungsod sa ilang nadawat nga  daghang Vitamins nga inyong gipadala sa miaging tuig.
July 9, 2002
A day in the life .  .  . at Grade III, Section 1
Kaming Danawanon, Mar-Apr 2002
The ringing of a bell signaled the end of a 30-minute break.  Then children would stampede back to their classrooms in a rush.
Social Studies was our next subject. Mrs. Ypil for nearly a month taught us everything she knew about our town of Danao and  the province of Cebu.
She loved to relate heroic deeds of Spanish time Dana- wanons who built the town's old church and about brave guerrillas who valiantly fought the Japanese soldiers during the war.
She made us memorize all the names of town officials.  Ms. Ypil must have done a good job as we remember those names very well.
July 9, 2002
Kaming Danawanon, September 1997.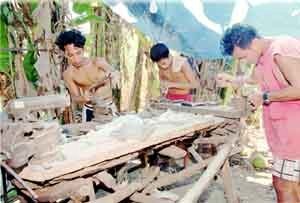 Nabasa ko sa periodiko nga kuno ang kwerpo kapolisan sa Region 7 seryosong motinuod sa pagwagtang sa tanang contrabandong buhatan sa pistola sa Danao.
Gani gibalita nga may dakong negosyanteng pistolador, si Joveniano Roble, gidakop ug gipasakaan ug sumbong.
Dakong subo ang akong gibati samtang nagbasa. Si Joveniano, usa ka higala, silingan ug buotang tinun-an sa Santo Tomas School, sumala a akong nahinumduman.
Sukad ko mi-gradwar sa high school niadtong 1967, wala na kami magkita, ug walay nakahisgot sa dagan sa kinabuhi ni Joveniano Roble.
July 9, 2002
Usa niana ka buntag duha ka babayeng tambok, mga balikbayan volunteer sa medical mission, wala makapaabot sa mokuhang sakyanan. Busa misakay na lang sila ug traysikol gikan sa mercado padulong sa Hospital.
Parehas mga maanyag, bigot ug lawas silang duha, niadtong mais ug utan kamonggay pa ang ilang kina-on adlaw-adlaw.
July 9, 2002
Hangyo Lang . . . Sermon Pamub-an
Kaming Danawanon, September 1999
Bisan sa iyang pag-palagpot sa sekretarya ug sacristan mayor, ang mga taga Danao puno sa pagdayeg ni Mons. Gerbolingo.
Bisan sa iyang pagdumili nga misahan ang patay, nga sa buhi pa giingon may kabit, mirespito ang katawhan sa maong desisyon.
Matod sa mga taho ang kura sa Danao buotan gayod, walay daotang binuhatan ug dili nawong ug kuarta. Dili usab siya dawo. Maayo ang iyang pagdumala sa parokya, hinungdan nga midaghan ang mga voluntaryo sa simbahan.
July 9, 2002
Kalipay ug Paghandum ning
pag dua-aw sa atong Lungsod
(Kaming Danawanon, Jan – Feb 2000)
Gibana-bana nga daghan ang mouli karong umaabot Septembre atol sa pagsaulog sa Pista ni Santo Tomas de Villanueva. May mouli kay moduaw sa mahal nga patron, pasalamat sa grasyang nadawat. Ang uban moduaw sa ilang mga higala ug paryente aron mapasundayag ang ilang kaanyag ug bag-ong kahimtang.
May mga mananambal ug narses usab mosalmot ug motabang sa medical mission. Ug may manguli tungod sa ilang class o clan reunion.
Una, ang Golden Jubilarians sa Upland Elementary School . Napulog usa kini sila nga nia sa Amerika, silang tanan uban ang pamilya mouli, sugilon pa ni Nick Gonzalez ug Ben Durano.
Ikaduha, and STS Alumni Class `70, gipangulohan ni Endal Roble ug Marityn Arpon, mag reunion usab atol sa ilang 30th anniversary.
Daghan kanila, dugay pang wala mauli. Busa ato silang sultihan sa kausaban sa atong lungsod, aron dili intawon sila makugang ug makalitan .
Tingali makuratan sila sa precio sa mga palaliton. Sa ilang panahon, niadtong mga sip-onon pa sila, ang bantok nga puso, bahogan ug espisong dugodugo, tag singko centavos Lang.
Kaon ang lata ug pisat nga puso, bahogan ug lasaw nga dugo-dugo, mokabat na labing menos 10 ngadto sa 15 pesos. Buss, ayaw intawon balikasa ang tindera, kay mao kanay presyo karon, dili tungod kay balikbayan ang mokaon.
Dili na nila madungog ang sinultihan sa mga palainum "taksi ko'g 10 ¢ nga dugo-dugo ug balig 90 ¢ nga tuba.
Read more
July 7, 2002
[Note: Originally posted on Kaming Danawanon, Vol VII No. 3 Jul-Aug 2001.]
A day in the life . . . at Grade III, Section 1
We dreaded the day we enter third grade. Third graders had that nasty habit of scaring second graders, like "You will have a hard time in Grade III, and worse, if you go to Section 1.
"Mrs. Ypil is many times meaner compared to any teacher in the entire Danao Central School."
July 5, 2002
[Note: Originally posted on the Lampoon Issue of The Danao Gazette, Jan 1994.]
…After a brief rumble in Summit Meeting
Leaders of the fragmented Danao City's Southern California residents for the first time held a summit meeting at a downtown hotel in an attempt to thresh out their differences and pave the organization of a truly united Danao Association.
The unprecedented move to unite three factions of combative Danawanons of Southern California was initiated by Fr. Jonathan Lao who was approached by concerned and cool-headed town-mates for him to intervene, act as mediator and patch up differences.
July 5, 2002
[Note: Originally posted on the Lampoon Issue of The Danao Gazette, Jan 1994. ]
Our very own Benny Peralta will soon be missed by fellow Danawanons in Los Angeles, for at least a year, during the entire production of a Gringo Honasan  flick "Run Gringo, Run"
Benny has been offered to play the lead role as Gringo by an Oscar nominated action film director that Benny met and befriended while frequenting a topless bar in Hollywood.
According to Benny's Manager, Paeng Mangubat,   the Gringo Honasan movie is a first Paramount Pictures-Viva Films joint production  that will be filmed entirely in Manila and Montalban, Rizal.
July 5, 2002
[Note: Originally posted on the Lampoon Issue of The Danao Gazette, Jan 1994.]
This could be a  boon to the city's sagging economy or a bane to the pistoleros of Danao.
Danao gunmakers could be subject to a massive and sustained efforts to put them in jail and out of business, as both FBI and the CIA are alarmed of the non-stop entry to the U.S. of the Danao Paltik and into the hands of criminals.
The once derided poor quality Made-in-Suba handguns have become the weapons of choice among inner city criminals according to an FBI report.