July 17, 2020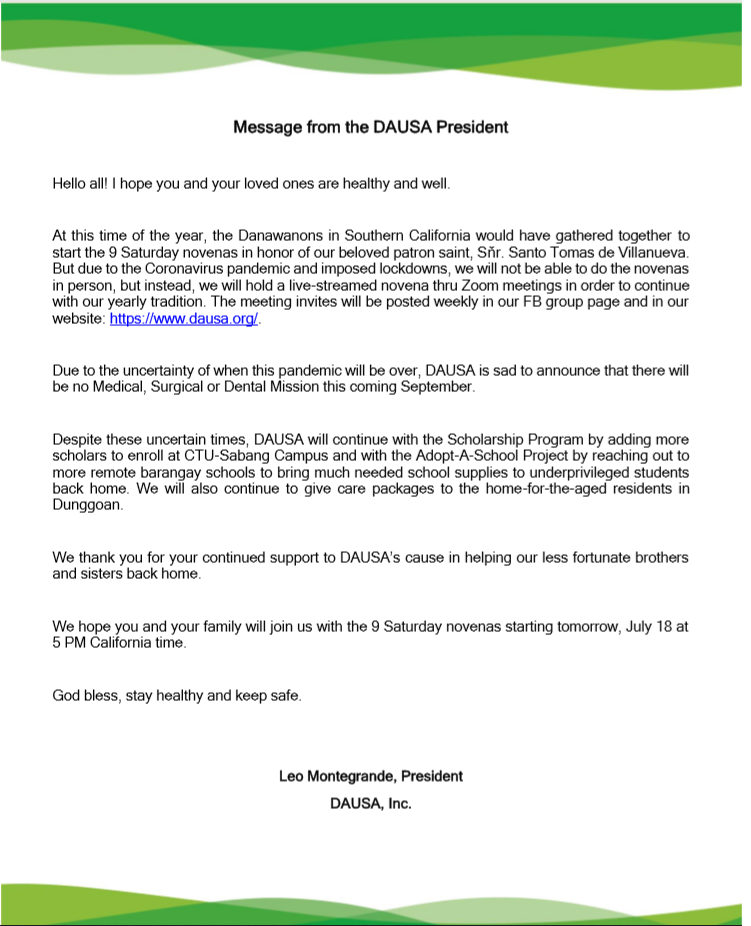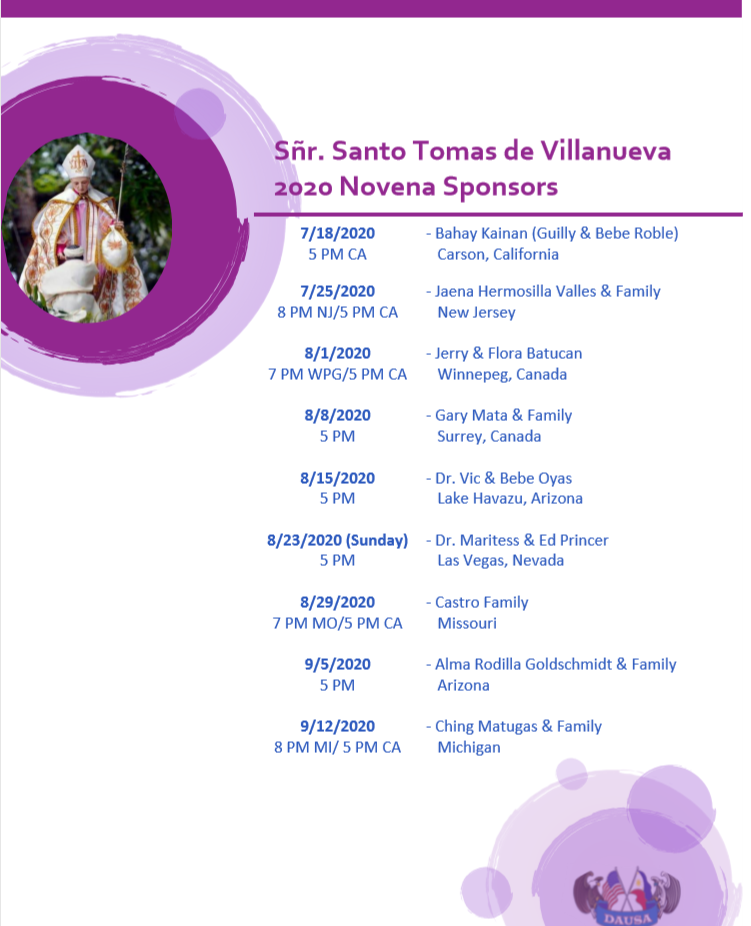 June 30, 2016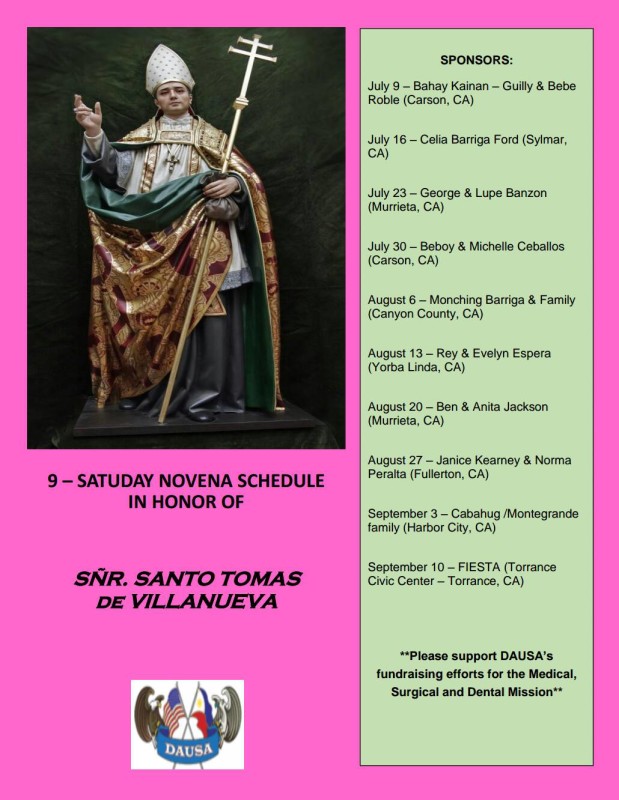 January 22, 2016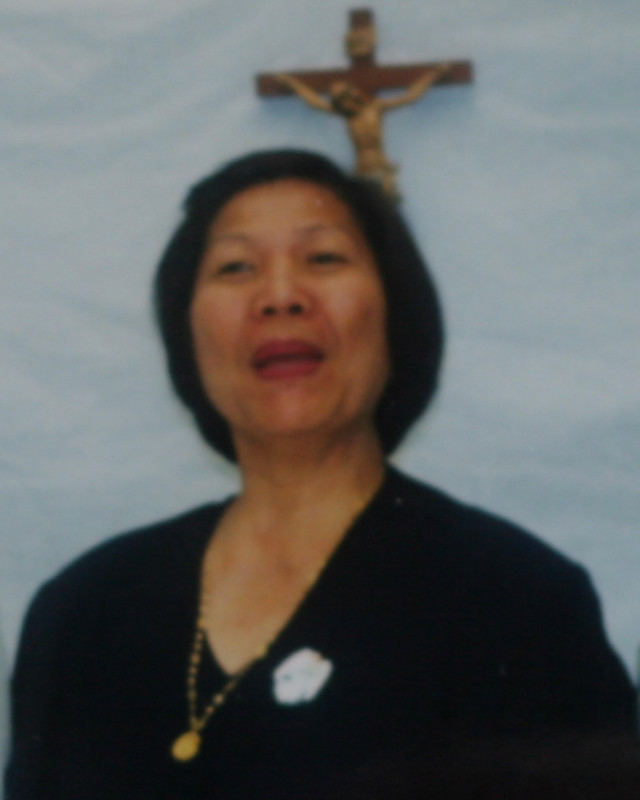 The entire DAUSA community is greatly saddened by the news of the passing of Marietta Hermoso-Palos  one of the organizers and former president of the Danao Association USA, Inc.
She died from a heart attack on January 22, 2016, while on vacation in Danao City.
She was a Nanay to many of us  – young and old.  Danawanons in the U.S. has lost a good friend and mother figure.
The body lies in wake at a chapel in St. Peters in Mandaue City. Details of memorial service and internment will be announced as soon as available
May 12, 2015
After over twenty years of hoping and trying to have the Danao Association USA, become an accredited non-profit organization in the U.S. and be determined as tax exempt by the IRS, its realization has finally come.
We received only yesterday, May 11, 2015, the highly anticipated IRS determination letter that says "you are exempt from Federal income tax under section 501(c)(A3) of the Internal Revenue Code."
We acknowledge and express our great appreciation to the efforts of our very own accountant, Leo Montegrande, his lovely wife, former DAUSA President Gemma, treasurer Darling Dayondon and incumbent president Eric Cabahug who labored so hard to have this tax exempt status approved by the IRS,
DAUSA benefactors and sponsors will now be encouraged to give more to our association since their donations can now be tax deductible.
Doctors and nurses from the U.S. who desire to volunteer in future medical missions,may claim for deductions their travel expenses,
Once again thank you Leo and Gemma Montegrande, Darling Dayondon and Eric Cabahug for a job so well done.
November 27, 2014
---
  Dr. Gregory 'Koko' Canga, a  good friend to many of us, one of the pioneer volunteer surgeons of the DAUSA Medical Mission,  passed away on Thursday morning, November 27, 2014, at the Danao Provincial Hospital. 
He will be terribly missed by hundreds of Danawanons whose lives he saved during his active practice of medicine, mostly getting pro bono delicate surgical procedures.
Dr. Canga who once served as president of the Philippine College of Surgeons – Central & Eastern Visayas Chapter,  had sent several surgeons as volunteer at the annual medical mission in Danao City. 
Dr. Koko along with Dr. Lito Almendras had firmed up the partnership of the Philippine College of Surgeons and Danao Association USA making the medical mission in Danao City a regular event.
Koko was an older brother of Candy Canga, former DAUSA Vice President who helped the establishment of the association's scholarship program.
His mother Ms. Rose Canga, a retired nurse, has been a regular medical mission volunteer for several years.
 According to Candy wake will be at the Canga family home in Danao. She will notify DAUSA for the schedule of internment and church service as soon as final preparation is made.
 Koko is survived by his wife Lisa, a registered nurse.
April 8, 2014
Please be advised that our current DAUSA President, Eric Cabahug, has called our first meeting for this CY 2014. All DAUSA Officers and active members are requested to be present and participate in the discussion regarding our activities for the year and continuity of on-going projects.
Date: April 19, 20
Time: 3:00 pm
Venue: Eric/Monette Cabahug's Residence
1215 245th Street, Harbor City, CA
Host: Eric/Monette Cabahug
The host will provide the food, however, everyone is encouraged to bring a bottle of vitamins – preferably Vitamin C or Multi-Vitamins – especially from Costco kay barato ug daghan ang sulod. However, any size or any vitamins, bisan inibanan, still very welcome. Those members who could not come, still we want your Vitamins. Just mail them to the above address.
Salamat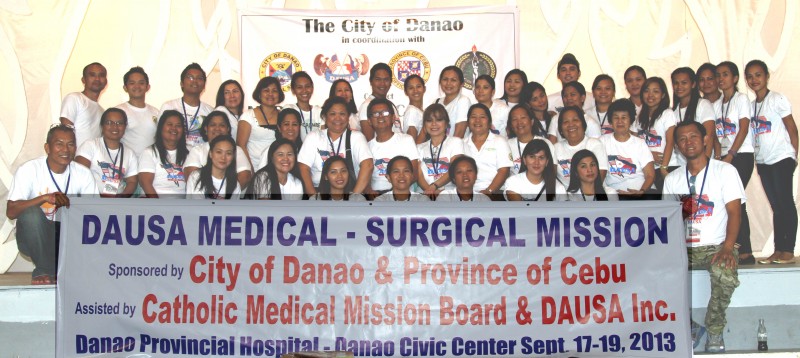 November 14, 2013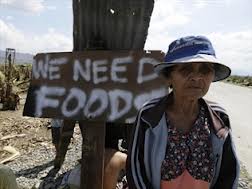 DAUSA President Eric Cabahug has been calling friends, relatives and DAUSA members to inform that the association is very much in the action of helping victims of the earthquake in the province of Bohol and typhoon Yolanda in Northern Cebu and Leyte, and is still accepting donations.
Barely two days after  Yolanda wrecked much havoc to Northern Cebu, Eric has instructed his brother to initiate relief efforts to respond on time to the needs of some mountain barangays in Borbon that were badly hit.
Likewise, some DAUSA members on their own initiative also went into action right on site and personally handed food to victims of Yolanda, like Timmy Laurente and wife Adlee who went to Bantayan and Ormoc on a boat, distributing sardines and instant noodles.
Memet Escario who happened to be in Cebu at the time of the typhoon, also responded on time and went to Bantyan Island, also handing food items.  Memet has appealed to friends in Los Angeles for donations as more and more people clamor for help.
Three days after the 7.2 Earthquake in Central Visayas, over 100 lbs. of  excess medicines, and surgical supplies, from the DAUSA Medical Mission that were supposed to be turned over to the Danao City Health and to the Danao General Hospital, were immediately shipped to Tagbilaran in response to the urgent appeal of Dr. Anita Jackson, and were turned over to the Botica sa Barangay ,  a church run project.
According to Mario Uy who is running the Botica sa Barangay, DAUSA's surgical supplies and antibiotics (donated by the Catholic Medical Mission Board) was of  tremendous help at a time when so much was needed while volunteers were attending to hundreds of injureds.
Should you desire to help, please send donations to our treasurer:
Martinette Dayondon
8893 Jefferson Dr.
Buena Park CA 90620
September 5, 2013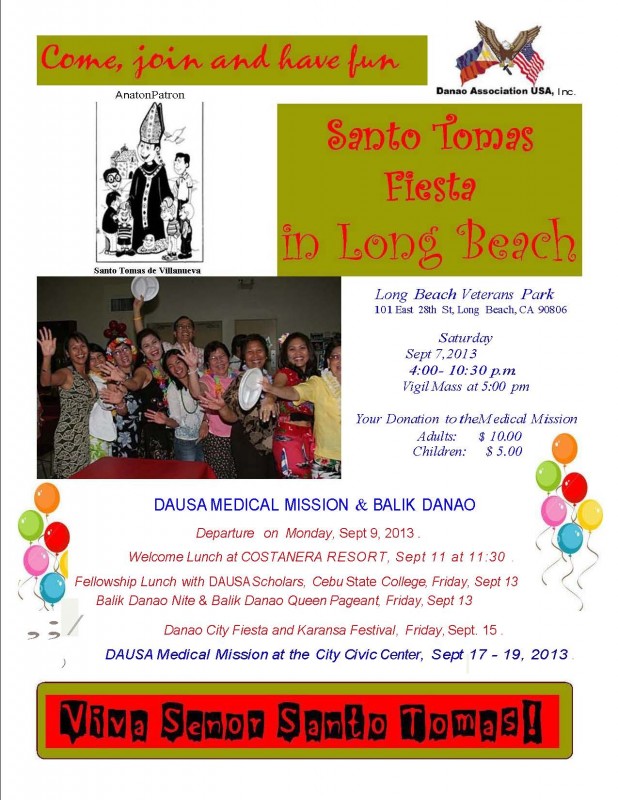 Dear Fellow Dananawons & Friends,
On September 7, 2013, Saturday starting at 04:00 p.m., members of the Danao Association, U.S.A. (DAUSA), their friends and relatives will observe and celebrate the feast of their hometown patron saint, the venerable Santo Tomas de Villanueva, Veteran's Park Social Hall, 101 E. 28th Street, Long Beach, CA.
We invite you to join us in the celebration of the Holy Eucharist officiated by Rev. F. Gil Magampo.  We want you to join us partake in a hearty lunch and share a good clean fun with Danawanons of Southern California.
Being at this traditional yearly DAUSA event, we expect you to experience, like most of us, a gratifying feeling of self-fulfillment for doing a good deed, making a difference in the lives of some less fortunate brothers and sisters back home.
The $10.00 donation that DAUSA is requesting from our guests is enough to cover the cost of surgical supplies for one minor surgical procedure.  The DAUSA Medical Mission volunteers do, on average, about 200 minor surgeries, such as abscess or cyst removal, etc. (This year's medical mission will be at the Danao City Civic Center and not at the Danao General Hospital (which is under renovation)
DAUSA has been doing this, year after year, since 1998. It had assisted 3 children come to Los Angeles; two underwent extremely delicate life saving procedures.
Please, come, join us, spend an evening with super friendly Danawanons honoring their patron saint and do your share in saving a life.
Thank you and God bless.  VIVA SANTO TOMAS!
Sincerely,
Cecilia Barriga-Ford                                  Eric B. Cabahug
DAUSA President                                     DAUSA Vice President
July 3, 2013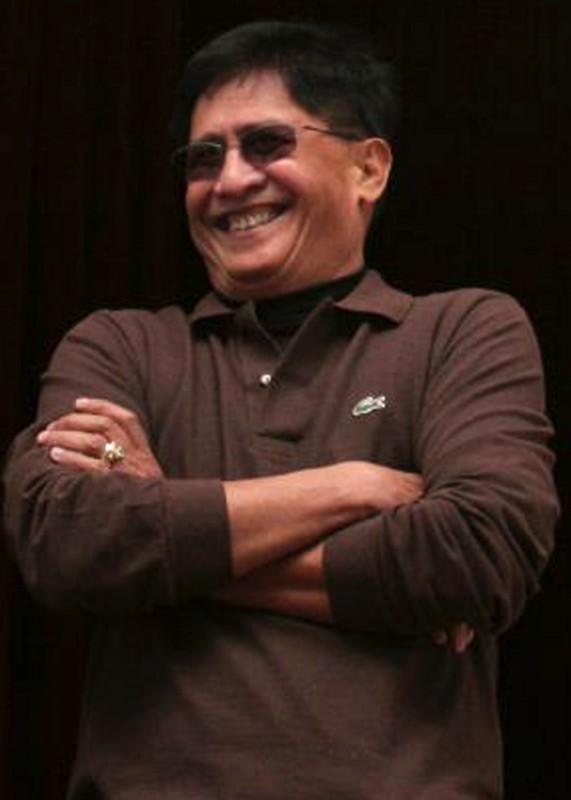 DAUSA is deeply saddened to announce the passing of Bernardino "Benny" Peralta, a pillar of this organization and a good friend to many Danawanons back home and all over U.S. Benny died surrounded by his loving family, yesterday morning, July 2, 2013, at the St. Jude Hospital in Fullerton, California, losing his battle to lung cancer.
Friends of Benny who wish to pay their last respect, please take note of the scheduled of wake/viewing and memorial service.
Friday, July 5 – Wake and Viewing at the Cypress Forest Lawn, 4471 Lincoln Ave., Cypress, CA 90630, Time: 6:00 pm to 9:00 pm
Saturday, July 6 – Mass and Memorial Service at the Holy Family Church, at 18708 Clarkdale Ave., Artesia, CA 90701.
May he rest in peace!
April 11, 2012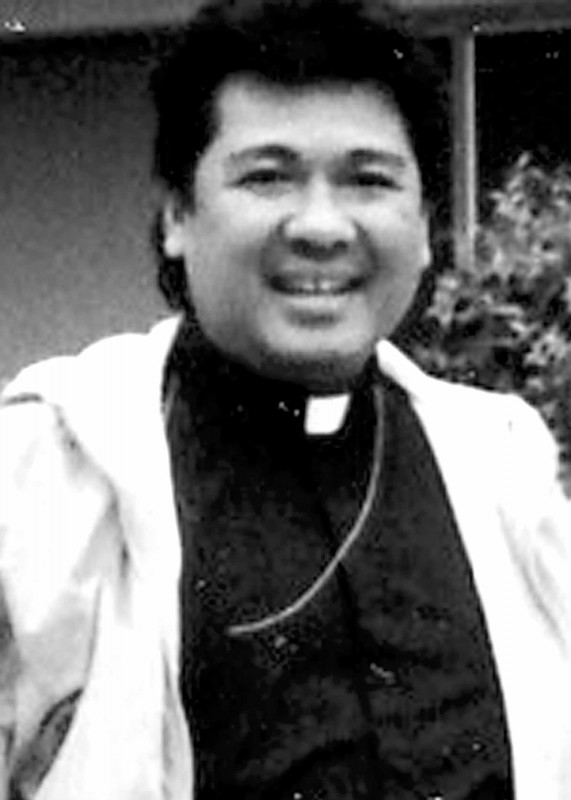 THE case of Fr. Jonathan Lao of the St. James the Apostle parish in Compostela town should be intriguing not only for the Cebu archdiocese but more so to the province's Catholic faithful who are not used to priests professing views that do not hew to tradition.
Lao recently instituted in his parish changes to the "Sugat" practiced by Cebuano Catholics for decades by taking the spotlight away from the Virgin Mary in the narrative of Jesus's resurrection. He insisted on using the "biblical version" that has Mary Magdalene discovering the empty tomb and seeing the risen Christ first.
The move is interesting because it seems to be in keeping with earlier complaints by the parishioners about Lao downplaying the importance local Catholics place on the worship of Virgin Mary and the saints, including the Sto. Niño. Meaning, he sounds consistent with his interpretation of the gospel.
Cebu Archbishop Jose Palma earlier quoted Lao as saying he is a "graduate of Rome," which is not unlike claiming superiority in theological studies over other priests not similarly situated. This seems to have given him the daring to be "different" as a parish priest.
What is puzzling is that Lao was not reported to have exhibited the same maverick streak in his previous assignments. These same complaints were not heard when he was chaplain of the Colegio de San Antonio de Padua in Danao City last year until his transfer in September.
He was accused of shooting a student who was allegedly trying to steal mangoes in the school compound. The case was settled amicably, but not before he was detained by the Danao City Police Office.
Which led some people to raise the possibility that Lao must have "seen the light" while in detention and that "light" is what he is using now to guide the faithful in his parish
But levity aside, the archdiocese should not tarry in resolving the controversy stirred by Lao as a parish priest. His maverick views strike at the age-old beliefs and practices of Cebu's Catholics and spark confusion instead of enlightenment, at least among his parishioners.
The Catholic Church hierarchy is feudal in structure and prides in the unity of its interpretation and teachings of the gospel. Having a maverick in its midst is always frowned upon. So when will the archdiocese move to solve  the Lao question.
Published in the Sun.Star Cebu newspaper on April 10, 2012.