August 23, 2002
To all my kind-hearted sponsors,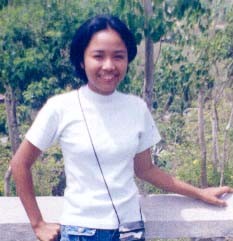 It's me again, Nobeya, I was very happy to receive a letter from you. I want to ask an apology that I haven't responded immediately. I have been very busy in school and in other activities outside school during the past weeks. Some of these activities include catechism (teaching children the basic prayers, religious songs and teaching them how to go to confession.) I was involved in this activity because I am a member PYCC (Pastoral Youth Coordinating Council) in our parish. Other things that kept me busy is the Clean and Green Program in which I am one of the organizer.
I don't know how to use the internet that's why I am writing you, but don't worry I will try my best to learn how to email. I also want to thank you for all the help that you had given to us all. You know if only we're near, I want to thank you everyday, but since we are far apart and making phone calls overseas is costly, I'll just send a letter every month. You know I always pray to the Lord our God that He will keep you and your family safe and guide you in whatever you do.
I always remember you, even if I can't recognize your face one by one. Sir, I am very inspired by your letter. Thank you very much for the inspiration. I will let my English teacher read that. I am very much excited to see you again this coming September. By the way my parents also wanted to say "thank you" for helping me, together with my fellow scholars. I also am sending you my picture, taken during our trip in Bogo, Cebu. I will stop only until here 'coz it's already 12:30 a.m. and I feel sleepy na . . . Once again, thank you and God Bless . . . I LOVE YOU.
Yours truly,
Nobeya
August 21, 2002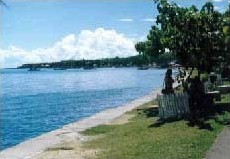 One positive result of the 9/11 tragedy is that people now takes travel precaution more seriously. Since then private and government offices are issuing travel advisory to their employees who travel outside U.S.
Only recently for U.S. federal employees traveling to countries classified "high risk" including the Philippines, either on official or unofficial trip, attendance in a terrorism seminar is mandatory, also for accompanying spouses. They are provided safety tips on how to avoid becoming victims of terrorist attacks.
Concerned as we are on the well-being and safety of our fellow Danawnaons, we have issued our own travel advisory appropriate for the Balik Danao travelers leaving this September to attend the City Fiesta celebration.
Although, Danao remains the most peaceful city in the country, if not in the world, still we find it necessary to warn Danawanons of possible situations that can be life-threatening.
August 14, 2002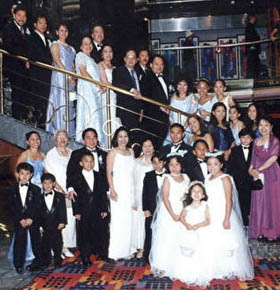 Way back in the Old Danao the residents of Baryo Kalubi-an had been stereotyped by most people back home as 'mga siga, tigas or hawak sa merkado".
If you were from Suba, you were crazy to walk around Baryo Kalubi-an after dark or you could be hanging and shouting 'tabang' up in the electric post or perhaps end up in the ihawan or slaughterhouse and made into a kasahos.
Barrio Kalubi-an is a very small area of town (barely two blocks), bounded in the west by Rizal St., on the east, the slaughterhouse, on the north, the public market and in the south is a creek, but is notoriously known as little Tondo.
August 14, 2002
Miss Gliceria 'Egler' Manipis, Grade 1 teacher of nearly 30% of former and current Danao City residents whose age range from 30 to 60, passed away in the morning of August 14, 2002 in Daly City. She was 83.
And probably nearly 50% of today's Danao professionals, in that age bracket, learned the rudiments of ABC and Arithmetic from Ms. Manipis. Many of them credited their success to this great lady and mentor.
Because of her devotion and personal commitment to equip and show kids the right path, especially during their formative years, Ms. Manipis forgot all other interest in life and has remained single all her life.
But she had no regrets because Danao folks remembered and loved her for what she did to the children of this city.
People who had been her pupils agree that never have they known any other teacher in the world as good and as effective as Ms. Manipis.
Although she has been known to be very strict and a tough disciplinarian, still Danao's professionals could only wish and hope that all Grade 1 teachers in the world were like Ms. Manipis.
She is happy now in the company of angels.
August 11, 2002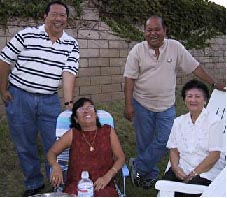 May taho nga gipadangat kabahin sa preparasyon sa umaabot nga Balik Danao Night nga kinahanglan i-klaro aron malikayan ang mga mis-understanding. May duha ka isyu nga kinahanglan atong klarohon.
Una. Gusto kuno sa DAUSA usa ray kandidata gikan sa Estado Unidos nga isalmot sa Balik Danao Queen Selection aron usa ra ang suportahan sa DAUSA batok sa mga kandidata nga gikan sa Manila, Davao, Agusan, Japan, Hongkong, ug uban pa.
Tubag: Bakak kini. Ang DAUSA dili mo-suporta ug bisan kinsa nga kandidata; mas maayo gani, free-for-all, ang tanan nga may gusto, libre nga mosalmot ug walay dapigan ang Asosasyon.
Ang tinguha sa Danao City Fiesta Committee mao ang fund-raising para sa mga proyecto para pag-paanindot sa Danao. Mas daghan ang mo-salmot, mas maayo hinuon.
August 10, 2002
Danao City (August 8, 2002) contributed by Danao's No. 1 Tsismosa
Si Man Adol "Libat" oppps "Manokon" diay, amahan ni Ernesto 'Botoy' Lucenas, namatay ug gilubong kagahapon.
Si Man Sisa, as in Duterte's Store and Sisa's Tableya, kadtong tindahan tupad sa kang Taling, corner Rizal ug Mabini, namatay na sab, mga duha na semana milabay.  Sa naglakaw ang pangadye, all you can drink sikwate ang gidalit.
Si Man Iko Enriquez,  bana ni Marcelina, ug uncle ni Endai Roble, magminyo kang Malda, nga usa usab ka biuda, kanhi asawa ni Pinong 'Bulhog' Toledo nga mipanaw na ning kalibutan.  Bisan tiguwang na si Iko, lipay guihapon kuno si Malda kay sakto man ug mata si Iko, iya uyab ug pamanhonon.
Grande kuno ang kasal, kay may anak si Iko nga naa sa Canada.
August 2, 2002
He Better Marry A Dalagang Bukid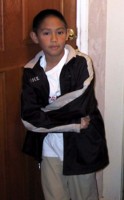 Parent-mandated marriage is a common practice, even in modern times, especially in remote villages in some third world countries, including the Philippines.
It is definitely resented and despised in more civilized and free societies. It's an infringement of basic human rights.
Yet, Filipino parents do wish, we can dictate our kids who, where and when to marry. How I wish my three kids will give me a free hand.
We generally don't trust our kids' intuition, in matters of the heart, so we attempt to exercise parental authority over their choice of a boyfriend or girlfriend.
In free America or even in the Philippines, it is somewhat unthinkable for parents to tell a son or daughter when and who they should get married to and live with for the rest of their lives.
Perhaps the most we can do, as parents, is make an effort to influence our kids to conform to our wishes, in some subtle ways.
August 1, 2002
"EATING THE HOUSE ONE BY ONE"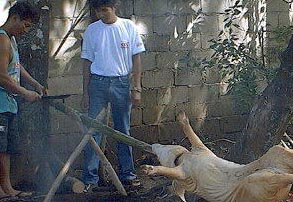 Ay, Señor San Roque, patron a Looc, how I miss the barrio fiestas. So do many other hard-boiled Danawanon who left town, eking out a living in places, oceans away from home.
They must be as nostalgic as I am comes month of May, the town's fiesta season. Way back, in the not so old days, when everybody in town knew everybody, my friends always had in their wallet a year-round `listahan' of barrio fiestas.
My sacristan-friend Nicomedes Parangan, my buddies Eduardito Valdez or Dario Reyes could recite the fiesta dates including the patron saints of all barangays, from Awihaw to Tubiga'g Manok. More Knowledgeable than the parish priest, of course.
Going to a barrio, it didn't matter, we had , a friend or not. At a fiesta no one went pasmo' because people literally opened their doors to everyone – even to strangers. If we had no close acquaintance, me and my buddies, all convento istambays, would go along with Padre Manalili or Nick Bacalla.