April 17, 2004
Researched by:
Narciso "Sisoy" Almerez
Danao City, Cebu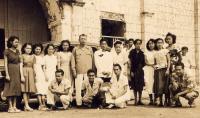 The American soldiers came to Danao on August, 1900 with Gen. Lawton as the commanding officer.
They had an encounter with the Danawanon soldiers, but because of their superior weapons the soldiers and the civilians including their families fled to hinterlands to spare their life. Danawanons felt a reign of terror.
The leader of the resistance movement in Danao, Capitan Candelario M. Cuizon fled to Hagnaya in his farm. The American officer ordered to demolish the big residential house of Tan Dayong in the corner of now C.M. Enriquez and B. D. Durano streets.
A wedding in old Danao
His big sugar plantation, his big Camalig Bato or bodega of muscuvado sugar in Taboc and several sugar mills were set on fire by the American soldiers. Because of the destruction of his properties and business he came down to the Poblacion and pledged allegiance to the American government.
Capitan Victorino C. Buot, the Presidente Popular of Danao at that time was captured and put to jail in Fort San Pedro, Cebu City. He was forced to swear allegiance to the American government.
Read more
April 6, 2004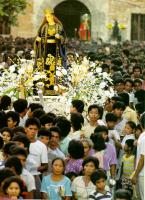 Holy Week or Semana Santa starts on Palm Sunday – Bendita sa Lukay. People from all over town would come to church bringing all sorts of palms leaves.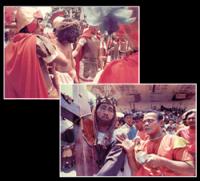 The mass on Palm Sunday was rather too long because of the reading of the Passion. This was followed by a blessing of palms and procession around the church. A few would faint.
Poblacion residents rarely carried a palm to church, they simply asked from the barrio folks who come to church loaded with lukay.
Religious processions were perhaps the most awaited event during the holy week celebration. The first around-town procession was on Miercoles Santo.
Nearly twenty carrosas would be in the Miercoles Santo Procession – called the Paso.