January 31, 2006
Si Haring Wati
(Author Unknown)
Dugay nang nagpuyo si Haring Wati sa ilalom sa yuta, apan usa ka adlaw niana mihangyo siya sa atong Ginoo nga unta mahimo siyang tawo aron makaalagad sa mga kabos.
Unya, pagkahimo na niyang tawo, nadato siya.
Paglabay sa panahon, gitawag sa atong Ginoo si San Pedro ug miingon:  "Dro, adtoon ta si Haring Wati ug tan-awon nato kon makaila pa ba siya nato."  Tuod man giadto nila si Haring Wati, apan wala na siya makaila kanila.
Miingon ang atong Ginoo, "Paimna intawon kog tubig."
Gitawag ni Haring Wati ang iyang sulugoon ug nagkanayon: "Hoy, tagai na siyag imnonon sa manok."
Miinom lang usab ang atong Ginoo sa tubig.  Pagkahuman, miingon siya kang San Pedro: "Dali, Dro, mamauli na lang ta, kay si Haring Wati wa na gyod makaila nato."
Namauli tuod sila ug nag-ilis ug maanindot nga sapot.  Tingpaniudto na pagkabalik nila sa ka Haring Wati.
"Maayong udto, 'Nyor." matod nila.
Pagkakita ni Haring Wati sa maanindot nilang sapot, iya dayon silang gipasaka ug gipalingkod. Giingnan ni Haring wati ang iyang mga sulugoon sa pag-andam sa lamesa, unya gidapit ang atong Ginoo ug si San Pedro pagdungan ug paniudto kaniya.
Gihukas dayon sa atong Ginoo ang iyang amerikana ug gibutang duol sa kan-anan.  Unya mao usab ang iyang gihimo sa iyang karsones ug sapatos, ug miingon siya: "Nan, amerikana ug sapatos ko, pangaon na lang mo kay kamo may gisilbihan ni Haring Wati."
Unya, giatubang sa atong Ginoo si Haring Wati ug miingon:  "Haring Wati. mihangyo ka kanako nga unta mahimo kang tawo aron ikaw maoy magbuhi sa mga kabos.  Apan tataw na kaayo nga dili gayud ikaw mohimo niana. Nan karon, balik ka sa yuta."
Si Haring Wati miluhod sa atubangan sa atong Ginoo ug nangayog pasaylo. Apan wala gayud mabalhin ang hukom sa along Ginoo.
Mao nga karon ang Wati nahibalik sa iyang gigikanan, ug usahay gani ginatumban ra siya sa mga lumalabay nga gadanghag lang.  (Click Read More for English Translation)
January 28, 2006
Photo-copied from a collection of Cebuano literatures at the University of San Carlos' Cebuano Studies, are some translated old Bisayan folk stories (authors unknown) and probably used by American Teachers during the early 1900's in teaching Danawanon kids the English language. Some of these collections will be featured in our website's "Lindog Bisaya" starting with "Ilagpot".
We hope that by exposing our children to old Cebuano literatures, they will somehow appreciate their own Cebuano heritage and be encouraged to learn the language of their parents.
****************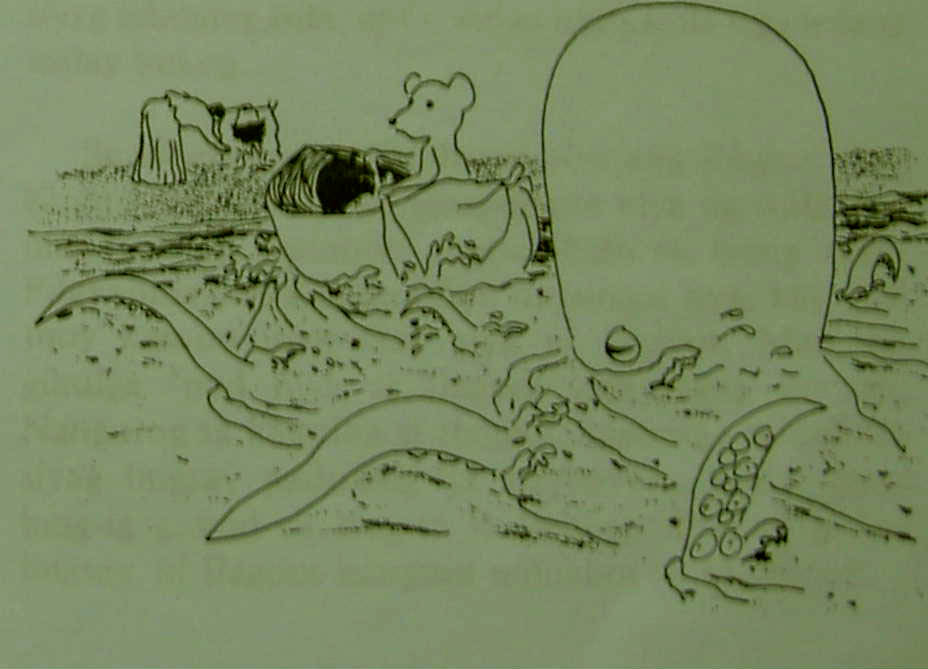 Si Ilagpot, Ang Mapangahason, Ug Ang Isdang Walay Bukog.
Sa Unang panahon, kaniadtong makasulti pa ang mga hayop, may usa ka ilagang mapangahason, si Ilagpot.
Usa ka buntag samtang nagsuroysuroy si Ilagpot sa daplin sa baybayon, nakakita siyag duha ka mangingisda nga mao pay pagpadulong sa lawod.
"Asa man mo, bay?" pangutana sa ukitan nga ilaga.
"Moadto mi sa lawod aron pagpangita sa isdang walay bukog," mitubag ang usa ka mangingisda nga mikidhat sa iyang kauban. "Lamian kayo ning isdaa kay wala may bukog," padayon niya.
"Motabang kog pangita, bi," matod ni Ilagpot.
"Nganong dili gud, basta may kaugalingon ka lang sakayan," tubag sa mangingisda.
Si Ilagpot midalig kuha ug bukong ug kahoy nga maoy iyang gihimong sakayan ug bugsay, unya miadto na siya sa lawod.
Didto sa lawod, gikahibalag niya ang malasugi.
"Asa ka man?" pangutana sa malasugi.
"Nangita ko sa isdang walay bukog."
"Ako diay?"
"Dili uy," nagpanglingo si Ilagpot. "Kadaghan nimog bukog, ah!"