November 14, 2013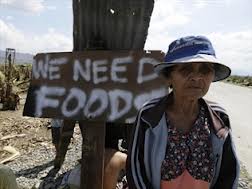 DAUSA President Eric Cabahug has been calling friends, relatives and DAUSA members to inform that the association is very much in the action of helping victims of the earthquake in the province of Bohol and typhoon Yolanda in Northern Cebu and Leyte, and is still accepting donations.
Barely two days after  Yolanda wrecked much havoc to Northern Cebu, Eric has instructed his brother to initiate relief efforts to respond on time to the needs of some mountain barangays in Borbon that were badly hit.
Likewise, some DAUSA members on their own initiative also went into action right on site and personally handed food to victims of Yolanda, like Timmy Laurente and wife Adlee who went to Bantayan and Ormoc on a boat, distributing sardines and instant noodles.
Memet Escario who happened to be in Cebu at the time of the typhoon, also responded on time and went to Bantyan Island, also handing food items.  Memet has appealed to friends in Los Angeles for donations as more and more people clamor for help.
Three days after the 7.2 Earthquake in Central Visayas, over 100 lbs. of  excess medicines, and surgical supplies, from the DAUSA Medical Mission that were supposed to be turned over to the Danao City Health and to the Danao General Hospital, were immediately shipped to Tagbilaran in response to the urgent appeal of Dr. Anita Jackson, and were turned over to the Botica sa Barangay ,  a church run project.
According to Mario Uy who is running the Botica sa Barangay, DAUSA's surgical supplies and antibiotics (donated by the Catholic Medical Mission Board) was of  tremendous help at a time when so much was needed while volunteers were attending to hundreds of injureds.
Should you desire to help, please send donations to our treasurer:
Martinette Dayondon
8893 Jefferson Dr.
Buena Park CA 90620