March 15, 2010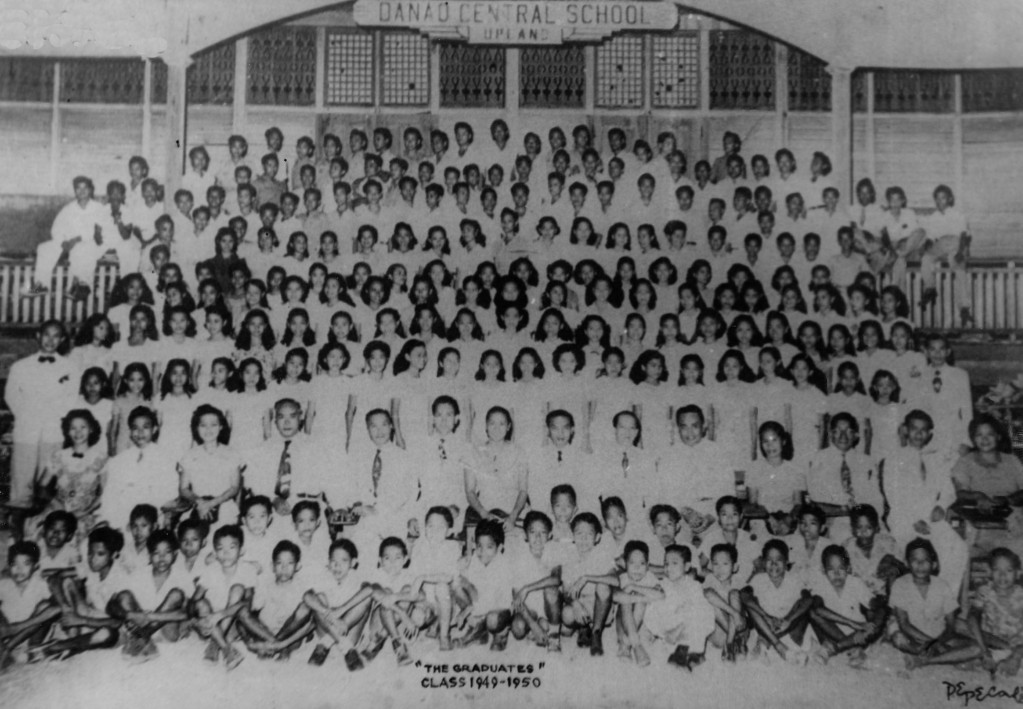 They were the young "WW II Vets" when they finished 6th grade at the Danao Central School – Upland (now D.T. Durano Elementary School in 1950.  They survived the ravaged of war as young kids and their schooling got disrupted for over 2 years.
The Class of 1950 will celebrate their 60th Elementary Graduation Anniversary sometime this year; final date and activities will be announced in due time as the leaders of the class headed by Msgr. Pascual Ypil are still finalizing their plans for a big celebration.
Some of the graduates in this photo were as young as 5 years old when the war broke out.  Their schooling were disrupted few days after the bombing of Pearl Harbor when the Japanese Imperial Army  also invaded the Philippine Islands, being an American territory at the time.  Classes were immediaely suspended when the Japs started bombing Cebu shortly before Christmas in 1941. 
The Poblacion residents of Danao evacuated to the mountains and children tagged along.  The came down back to the town proper two years later when the American liberators came to Danao driving the Japs away from the poblacion into the hinterlands of Cebu.  Elementary school re-opened after the the Japanese invaders surrendered sometime late 1945.
 Because of the nearly 3-year  "long vacation", the Danao Central School was overwhelemed with new enrollees when the school re-opened in 1945.  This resulted in a large class size in each section according to Nick Gonzalez, a member of this class.
Nick said there were not enough classroom to accommodate returning and new students.  Also, during the American occupation, schooling was mandatory; if a child was of school age and was not in school, parents could end up in jail. 
Among the prominent member of this class are Msgr. Pascual Ypil, Fr. Mariano Batucan, Dr. Leonara Barriga-Philipps, City Councilor Alice Barriga-Durano, Nick Gonzalez, Ben Durano, among many others. Since they celebrated their 50th anniversary, the class regularly holds a reunion in the month of December. 
(Photo is courtesy of Pamela Mayhew-Dos Santos who emailed the 1950 Graduates Class Photo to DAUSA.  Pam is not a member of the class, she just found this in the "kaban" of her Lola (2nd wife of the late Cesar Gorre, one of the teachers of the Graduates)
November 24, 2009
 Danao City Court Awards Joe and Stella the Adoption of a Twin Boys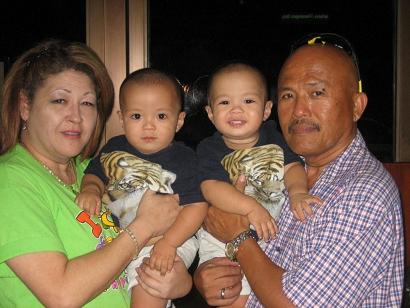 When my friend Joe Campo said to me a year ago, he was initiating a legal processs of adoption – for a twin toddlers –  my first reaction was "are you serious"!
     For sometime all we talked about was about our retirement – enjoy life as we get closer to our individual departure area.
    Joe Campo, a pillar of our association and always a generous supporter of the DAUSA Medical Mission is a U.S. citizen residing in Texas for over 30 years, happily married to Stella, a beautiful American-Mexican.  The couple has two married children and grandchildren.
    Soon, my good friend Joe will be a dual citizen – officially a senior citizen – as he turns 60 in a few m onths.  He is now entitled to some perks seniors enjoy, like a 10% discount at restaurants.
    But Joe is no ordinary 60 years old, as one having high blood pressure, high cholesterol, diabetes, arthritis or suffering from backaches,  etc.   My friend does not have any of those.  
    Except for the hair that was gone many years ago, he's fit, as if he's only half his age, even bikes long distance.  He recently participated in a 80-mile cycling fundraiser – from Freeport to Houston.
    A mutual friend of ours voiced his belief the twins could be Joe's own from another woman in Danao, perhaps from a young girl working at Mitsumi. 
    I said "that's impossible.  Joe would never do anything stupid to hurt his wife and children.  I knew him well". 
    Joe used to be an altar boy; we both studied at the San Agustin Seminary in Manila.  At first, he did want to become a priest, like his idol, Fr. Alfeo Manalili, but for some reasons he left after two years.
    He was looking for some adventures while still young and single; so became a seaman, a way he could travel and see the world.   Then he ended up in Texas where he met and married his wife, Stella.
    Joe narrated how the adoption thing happened and he laughed when I told him some of our friends believed he was the biological dad.
   "The twin boys were born Sept. 7, 2008, two days old when we arrived Danao on Sept. 9th, for the DAUSA Medical Mission.
   "The biological parents were jobless, having 3 daughters: 18, 16 and 12 years old.    The twins were delivered by caesarian at the Vicente Sotto Medical Center.  Although it is a government hospital, and said to be a free for indigent patients, yet medicines, surgical supplies, blood transfusion, etc. are not free.
    "So, that's where we came in, tried to help out and paid all the bills, so that mother and her twin boys could be saved and be home safe. The mother was 42 years old when she delivered two healthy boys. She is also blood related on my father's side  (first degree cousin).
    "We thought our rescue effort was over when mother and the twins got discharged from the hospital and came home.  Unfortunately, that was not the case.   At 42 years old, the mother's breast milk could not sustain two hungry infants with good appetite.
    "So, the Good Samaritan that I was, got into action again by providing them with powder milk to keep the infants nourished and as well as diapers. A month later the parents and grandparents asked us if we are interested in adopting the twins and without hesitation my wife agreed right away without even consulting me.
   "After knowing the facts I said to my wife, "don't you realize that we are going to start raising kids all over again in our golden years?"
   "A year had passed, we never felt any regrets adopting those boys.  Really who can say no to those angels.  At their age – Joseph Anthony and Mathew Philipp have given us so much joy and made Stella and me feel like a young Mom and Dad again.
   "Now, we are just waiting for the US Immigration to give us the okay to pick them up and bring them home.  For us it is not a long process but just too many papers to fill out and submit, and frankly preparing those of immigration documents is far more hassles than changing diapers."
    I have no doubt Joe will see his twin boys graduate high school, send them to college, and be at their wedding. 
    Then he'll retire from raising more kids at 90.
October 24, 2009
Noemi Laurente-Siegrist, a citizen and long time resident of Switzerland, came back home and built a beautiful house at the very spot she was born and raised in Suba, Danao City.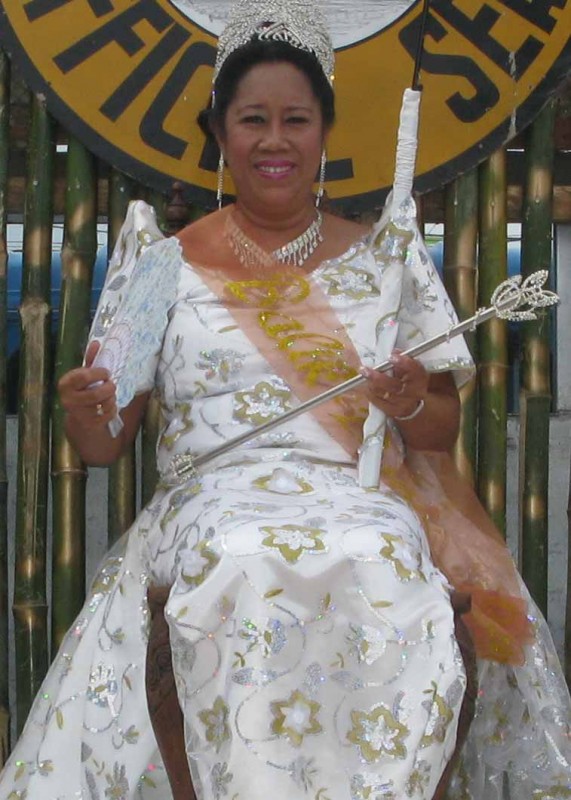 She was approached a year ago to be Reyna Elena 2009 for the City Fiesta celebration in Danao City; Noemi Laurente-Seigrist, a longtime resident and citizen of Switzerland, knowing it was for a good cause readily agreed and made a commitment to come back.
A month prior to the fiesta Noemi called inquiring if she could mail to the DAUSA treasurer her donation to the Santo Tomas Parish Church for her participation on the Reyna Elena fund raising pageant. We advised her to give it personally to the President of the Pastoral Council upon arrival in Danao.
A week later our DAUSA liaison in Danao, Ms. Jade Batucan, relayed a message from the Pastoral Council stating that the church would not sponsor any longer or get itself involved in Reyna Elena pageant.
Upon our arrival and during the Balik-Danao Welcome Lunch we learned that in lieu of the Reyna Elena fund raising event, the Balik-Danao Queen pageant would once again be held during the Balik-Danao Nite and the committee had convinced Noemi to participate telling her the proceeds would be go to the Fiesta Committees various projects.
Ms. Seigrist agreed and even volunteered to have her beautiful daughter, a belly dancer and instructor in Switzerland, to perform at the event. Two other DAUSA members were gracious enough to play along and join the Balik-Danao Queen at the Balik-Danao Nite, Crosine Roble of Long Beach and Becky Mercado of Temecula, California.
Expectedly, the Swiss easily won as the 2009 Balik-Danao Queen and the audience at the Danao Civic Center got a double treat with an awesome performance of a real professional belly dancer, by Naomis daughter Lucijah, holding the audience so quite and breathless to the end.
I wanted to write more about Noemi, but I havent talked to her much on a more personal level, digging more into her family life, her struggles, how and why she ended up into that beautiful country.
To be on the safe side and not dishing out wrong information, I asked Dr. Jackson to write what she knew about our friend from Switzerland because she had hanged out with Naemi more than me.
From Dr. Anita Jackson:
I first noticed Noemi during one of our post mission lunches in Tita and Sani's Guinacot farm, when Noemi served my husband Ben some food, drink and dessert while I was taking care of myself and not looking after my husband who was foreign to our customs at that time.
Right after the 2006 Medical Mission she went to Bohol with us for our Church wedding and made sure that she had pictures with Ben and me. She has been misunderstood as having flirted with some doctors. Poor Noemi! She is just caring to people, who she feels are deserving of her attention.
This year she assisted me when I was doing consultations and made it easy for priority patients who were truly sick to get prescribed medications. For example, she got a bottle of water for a
patient whose BP was extremely high (220/130) who I wanted to start medications right away and was observed and rechecked before he left. She gave her a year-supply of Ramipril.
Noemi pledged to donate not only to win the crown but to help (hopefully it was used for the benefit of the under-privileged.)
While not yet sure if she would win, she heeded to my advice to go to Ricky's house and have her measurements taken for a gown. Darling and I were sneaking to the restroom behind the stage so we can check if Noemi wins. It took a little while to count the money; so we waited. As soon as the canvassing was over, I approached Mr. Toledo.
He pointed to Siegrist of the tally sheet as the winner. Darling and I immediately pulled her out from the waiting area and helped her change to her "instant" beautiful gown for the coronation.
Then she went with me to Tagbilaran to deliver the medications left from the mission for the Botika sa Katawhan of which the Tagbilaran Association of California is a major supporter. It was during this trip to Tagbilaran where I knew more of Noemi.
She is married to Herbert, a Swiss guy, who loves to visit the Philippines. In Switzerland at her employment, she was chosen to train to make delicate life-saving cardiac-related things like artificial heart valves. This is a special God-given gift!
I learned that she is a great wife and mother. She gave and is still giving the best care to her husband who has had two kidney transplants, and built him a house in Danao which he considers best place for his rehabilitation.
She has raised her three children with strong values in life. Her oldest is daughter Lucia, the middle is Robert who are both on their own now. The youngest is Jun who is still home with Noemi and Herbert as a full time student taking Law courses. Robert is serving the Military in the Air Force and has dual citizenship.
Noemi has been consistent as a generous provider of her family in the Philippines as well as her own three children in Switzerland. She has worked hard to be able to send her children to the best school, and invested for their future.
She has advanced herself in Switzerland by taking comprehensive lesson in the German language and learning the trade of Heart Valve production and now is a trainer.
Noemi has made a booking to visit us here in California from Dec 13 to Dec 29, and will spend the New Year with her husband and two beautiful children one of whom (Lucijah or Lucia) we saw perform professionally and gracefully the Belly Dance at the welcome-luncheon at Mayor Boy and Tita Durano's home and Balik Danao Night.
September 1, 2009
(Since I personally know a few Danawanon families already spent a fortune for the filing of Canadian immigrant visa applications, yet still anxiously waiting for their interview dates, and many more are trying to get the money to do the same, I asked Romy Olivar to write his story, what made him bring his whole family to settle in Canada and how they struggled to adjust.  Romy graciously complied and is sharing his story, hoping to inspire fellow Danawanons, about his family's struggle – living their Canadian dream.  Monching)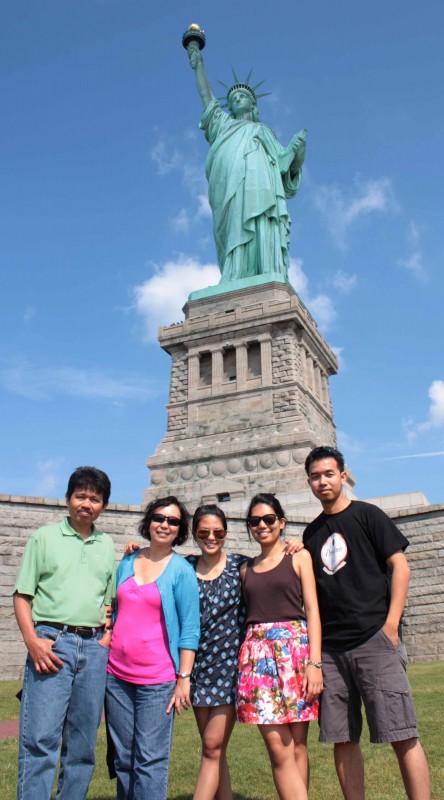 Joining National Power Corporation in the early 80's to practice my Electrical Engineering profession is a dream come true.  I told myself that this is where I want to spend the rest of my working career. But the atmosphere has changed drastically in the mid 90's as the move for privatization was gaining momentum. 
    Once split and placed into the hands of a private sector, the once mighty government controlled corporation became not so attractive and stable for employment anymore.  Taking into account that the children would be graduating in a few years time and faced with the prospects of unemployment added by the unabated graft and corruption in almost all sectors of society and the seemingly helpless government forced us to seek other options.
    With our plans finalized, we sent our immigration application papers to the Canadian Embassy on the latter part of year 2000. From some people I knew who immigrated to Canada at that time, processing took only six months to a year after which one would be ready to go.  Coincidentally, our application was filed during the infamous impeachment trial of the then Pres. Estrada and for some reason, processing turned out to be snail paced.  
    It was not until three years later that our application showed some progress.  Eventually, in the following year we had our interview at the embassy followed by physical examination after which came the waiting period for the release of our visas. 
    We were then ready to go by the middle of 2005 leaving behind our two children who, at that time, were graduating students of Silliman University in Dumaguete City.  Some of our relatives in Iligan could not understand why we have to move, leaving behind our stable jobs which were the envy of others, comfortable home and the little luxuries we already had in life. 
(Photo: The Olivar family visits New York)
   With only Iza in tow, our youngest daughter who just graduated from high school, we arrived in Canada on July 20, 2005. The first few days were spent scouting for Iza's school with only our friends both from work and school provided us the necessary assistance and guidance. In less than a month after arrival, I was able to find work in an automotive company doing final inspection work through the help of a friend.  
    My wife was also employed in a department store as a sales associate. Even though my wife and I had more than twenty years in government service, we realized that we would not land on the same job we had back home.  This time, reality DID bite. At the back of our minds, we continuously asked ourselves whether we made the right decision of moving here, considering that we are now in the middle stages of our lives.  The reality seemed so hard to accept.
     We chose to rent an apartment closest to the school where Iza was accepted to avoid bus waiting times during cold winter months.  Iza had her share of adjusting, too. Being a student leader back home, she was used to being active in school and surrounded by many friends. It was such a big change for her to feel so alone and all by herself in this foreign land.
    The first day had been terrible; she was snubbed by a fellow Fil-Canadian kid whom she expected to make her feel welcome after learning that they both came from the same country. Her first lunch ended up sadly in one of the cubicles of their school's washroom. Things did improve in the coming days after she was able to befriend some Filipinos in the lower year levels and after a month or two became part of their school's tennis varsity team.
    The first year had been very hard to adjust. So many times that the idea of going back entered our minds but Iza at this stage had made up her mind to stay. One of her arguments back then was that "the laboratory equipment that she only read in books in Pinas, could now be at her easy disposal ".  She then told us that she was only going home after finishing her studies. The following year, RJ and Queenie (our two kids that were left behind) joined us after finishing their degrees. 
    Finally, our family was complete and together we faced the ordeals of adjusting in a new environment with only by ourselves. We always instilled on their minds that this is the real world and they have to work hard in order to be successful in their respective fields.   
     After a year in high school, Iza got accepted at the University of Western Ontario located in London, a medium city in Southwestern Ontario which was an hour drive from our place. In her first year, she experienced living by herself and stayed in residence (dormitory in the Philippines). However, during her second year she was not eligible to stay in residence anymore so she was force to rent an apartment with a friend.  Eventually, we opted to move to London to save Iza the expenses she would be paying in apartment rental and food.  We also decided to buy a house since my two-year working experience in Canada qualified me to a real estate mortgage.
     It felt like starting all over again, buying furniture and some amenities for the house, making new friends and getting acquainted with the new community. We ended up quitting our jobs because of the travel distance and had to look for another job. The only good thing was, there were four of us helping each other on this journey. I used to joke to my friends that I would take on a coaching role for my children, but I ended up as a  playing coach and in a basketball game "first five" pa jud.
    After four years of struggle and still struggling, I am proud to say we survived what I think have been the critical part, also thinking that hopefully we DID make the right decision. We have adjusted to the ins and outs of living in the land of milk and honey (including surviving the cold winter). We had made a few visits to our cousins in Chicago, to our family and friends in New York and to my former high school classmates Roger and Haidee Remo in New Jersey. 
    RJ, our eldest son, is now working in line with his field in Computer Engineering.  Queenie, the second child (an NCLEX and IELTS passer in the US) is working as a Registered Practical Nurse and is considering to take the one-year bridging program to become a full-pledged RN in Canada; at the same time, looking at opportunities in U.S. God willing, our youngest daughter, Iza who is in her last year of the Nursing Program will be graduating next year.  
    With the blessing of the Lord Almighty together with the help and encouragement from well meaning friends and relatives, we are confident to surmount any obstacles along the way. (by Romeo Olivar)
August 30, 2009
(Ben Ypil's daughter finally found a good day care for 1st grandson Rafael, so his Apo-stolic mission finally ended.  Unfortunately, his other mission to end his single blessedness – was not "a mission accomplished".  All the single ladies he met  – Americans (white and black), Fil-Americans, Koreans, Cambodians, Chinese and Vietnamese, introduced to him by his Cebuano friends in the media 25 years ago,  all did not click with him.  So he decided to go back home.  He said he'll seek an audience with Cardinal Vidal to possibly become a priest in his old age.  Monching)   Ben wrote about his 6-month life in the U.S: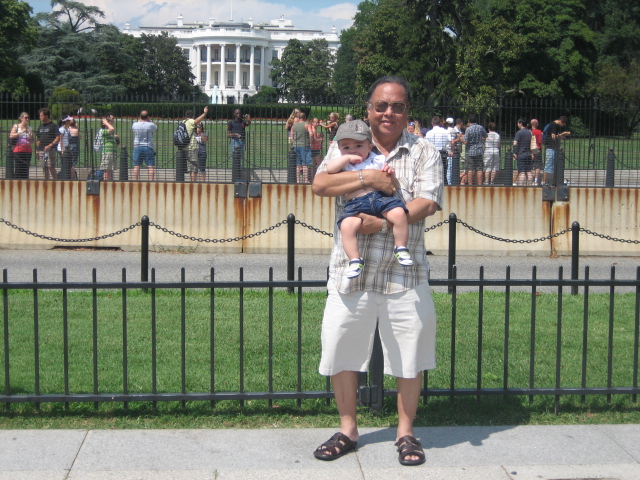 As I promised my good friend Monching, I'll write about my memorable experience as regards my visits to different tourist attractions and historic landmarks in U.S. cities before my apo-stolic mission here in Fort Wayne, Indiana would end and prior to my return trip to the Philippines on Sept. 2, Wednesday, next week.
(Photo: Ben was standing outside the White House for 6 hours waiting for a chance to be invited for a round of beer with President Obama)
"Tempus fugit," yes, how time flies! I didn't realize that my stay here would be that long (about six months since my arrival on March 24). As a holder of a ten-year multiple entry visitor visa, I am only entitled to a maximum stay of six motnhs unless extended by the U.S. immigration authorities. But I didn't bother anymore to request for extension since I have so many pending works to complete back home regarding my early retirement after I turned dual citizen (Filipino citizen and senior citizen) during my birthday on May 18 which, incidentally, coincided with the late Pope John Paul the 2nd's.
Except on weekends when, almost always, I'd enjoy my sabbatical from my apo-stolic work (read that babysitting my little bundle of joy) I'd be under a voluntary "house arrest" with my grandson Rafael during weekdays. If it's any consolation, (as my former Freeman boss and the inimitable Nito Jabat would kid me) I'm not placed  "incommunicado." And so, I still have the privilege of sending emails and calling my kith and kin which was my wont day-in and day-out, prompting my daughter and son-in-law to tease me a "call center agent."
This diversion, in fact, of burning the wires and sending emails as well as reading the national and local news back home (thanks to the internet and modern telecommunication technology) has kept me always abreast of the developments in our country and has made me less homesick, let alone made my stay here a lot more enjoyable and pleasurable.
Aside from Chicago which topped my visits, perhaps, due to the proximity to our place (only more than three hours by long drive and where not a few of my relatives are residing), I've gone on brief sorties to Missouri passing by Illinois and Iowa and, of late,  Pittsburgh, Wahington D.C.,(where the White House and Capitol Hill are located) Maryland, and Niagara Falls, (in Buffalo, New York side) again all by long drive.
I was, particularly, interested in Niagara Falls not because of its being a tourism jewel but, due to the nature of my previous jobs in the National Power Corporation (Napocor) and, recently in the National Transmission Corporation (TransCo). Unknown, perhaps, to many, Niagara Falls is being harnessed for hydro-power generation that provide not only cheap and clean source of electricity for Canada but also to some parts of the U.S.      
I was also gifted by my daughter Michelle and son-in-law Jojo as a reward for my volunteer service (yes, gratis et amore) with two roundtrip plane tickets to Boston which is so rich with historic landmarks and tourist attractions and where I saw the magnificent summer houses of America's old super-rich like the Vanderbilts and Astors, among others, in Newport, Rhode island when Bill Gates was still unheard of and the  JFK Library and Museum.
Finally, the last leg of my weekend visits was to Florida which is famousI for Disneyworld (more than 14,000 acres in land area) that I toured and its beautiful beaches. We motored to Sun Villa Drive in Vero Beach where I had a late lunch with my cousin and her hubby, Dr. and Mrs. Gemma Indolos-Mendoza. In all these two visits to Boston, my former colleagues in  the Cebu media Ed Recla and his family and Balt Quinain, Jr. and his wife. Dr. Regina Pongos played gracious hosts just to make my weekend jaunts very enjoyable and memorable.
August 5, 2009
Taga Danao ni Bay:
 U.S. Airforce Capt. Mae Castardo-Cunamay, RN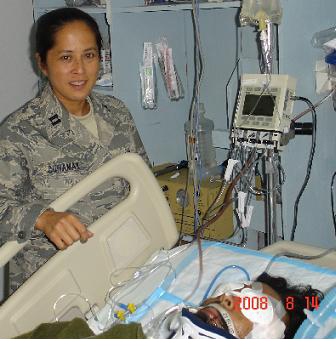 Mernamie 'Verna' Castardo-Cunamay, a DAUSA Member, back from tending horrifically wounded soldiers in a frontline Afghanistan field hospital,  relates to dausa.org her story and experiences while working for five months in Afghanistan.   
    I volunteered to enlist in the military service despite the good pay I was getting as a licensed Registered Nurse in Florida and California. 
    It just hit me one day that I should join the U.S. Air Force, do my share providing the best nursing care, that I can possibly perform for our soldiers in the battlefield. 
    It's no different from a successful attorney or businessman, leaving behind wealth and possessions, to become a priest or a monk. 
                                                                                        My husband was initially shocked and reluctant letting me go but he also felt and understood that it was some kind of a divine calling and that no- thing could have prevented me from going. 
    I underwent the same intensive training that every newly enlisted soldier must undergo, especially for Afghanistan deployment.  I work as an ICU nurse but also perform other duties as an Airforce officer.  I wear the same uniform (ABU) like other U.S. servicemen assigned here, and we also we also salute to our higher ranking officers.
    I am at the forward operating base of the Army known as FOB Salerno located at Khowst Province about 12 miles from the border of Pakistan.
    Khowst is the backyard of the Taliban.  Our hospital has four ICU Units and 4 wards.  Victims of suicide bombings, depending on distance from our hospital, are flown here by helicopters.  We worked for 8 hrs, 6 days a week with one "on-call" da.  But at any time we have to be ready for an any emergency but everyday there is an emergency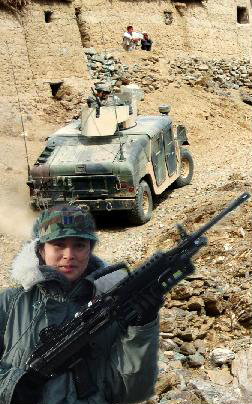 We provide care not only for our soldiers but also local nationals (Afghans) injured in ambushes, bomb, land mines, accidents or burnt injuries.  Burnt victims are quite common because there is no electricity and villagers used gas lamps and gas stove for cooking.
    Nearly every week rockets are fired in our base coming from the Taliban especially during full moon, but rarely hitting their targets, because they were always in a hurry.
   The Taliban have planted IEDs  on the roads in nearby villages, sometimes hitting our own vehicles.  Most victims are Afghans civilians, and we see mangled bodies, severe eye injuries, head injuries, and severed limbs.  It's really horrifying sights but you get used to it because of the frequency of its occurrence.   
   Family members who visit or keep watch on a patient at the hospital are all males, a male relative, a brother or father.
   Injured U.S. servicemen are flown immediately to Bagram Airbase for transfer to Germany, then to the U.S.  They don't stay long at our hospital after surgery, they are flown by chopper to an airbase and flown by plane to its destination for a follow up care. I had flown with patients twice with full body armor and a weapon.
      For U.S. servicemen everything is free – for all 33,000 of us here, our pantry looks like a Ralphs, we have unlimited drinks, except alcohol. I always carry a 9M anywhere I go, except to the shower or to the gym.  I cannot leave the base. 
      Last Aug. 18th, three suicide bombers blew themselves in out gate, one  killed more than 10 villagers on their way to work .
   That same night we were attacked by 15 suicide bombers but thanks to the army, no damage was done inside the base.
   Busy is an understatement when we have to take care of more than 20 patients with shrapnel wounds.
   Rocket attacks are common in our other bases some worse than others, kiling sometimes contract workers.
   The price of freedom is high. Things we take for granted most of the time.
   Everyday someone dies out there and knowing we nurses can be of service to them give a new meaning to this profession.
   Despite the emotional scars of nursing young soldiers and Afghan civilians blasted by bombs and weaponry, I would have no hesitation returning to Afghanistan. Service to our soldiers is a calling I cannot turn my back.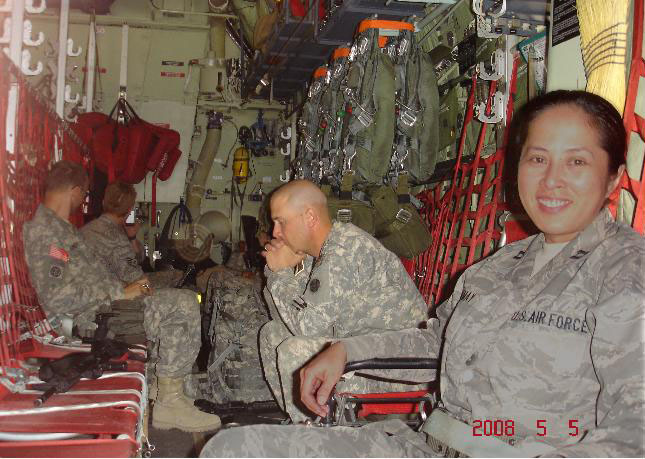 July 15, 2009
Girl, 18, Born Deaf, Now Lives Life Like Regular Teen
By Georgene Rhena P. Quilaton, Sunstar Cebu, July 15, 2009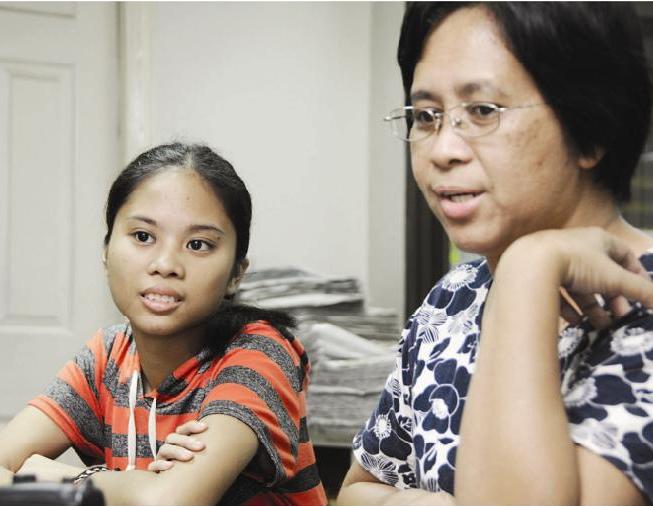 SHE may have been born deaf but Vania Monsanto, 18, had played the violin at an international conference in Manila and now dreams of becoming a nurse, chef or flight attendant.
      In time for the observance of the National Disability Prevention and Rehabilitation Week, Vania and her mother Sonnie want to spread a message of hope for those who are hearing impaired.
      Six years after a small device was implanted into her cochlea, Vania is now in third year high school and has been living the life of a regular teenager.
      Vania, the eldest of three, was diagnosed to be deaf at two years old.
      The diagnosis left her mother Sonnie, a chemistry instructor at the Cebu State College of Science and Technology, and father Victor, a seafarer, disheartened.
Vania Barriga Monsanto (left) with her mother Sonnie
       But with the financial help of Sonnie's aunt, Leonora Barriga-Phillips, a medical doctor based in the United States, Vania underwent cochlear implantation (CI), a technology, which according to Dr. Charlotte Chiong, became commercially available in the US in 1984.
      Chiong is a neuro-otologist and is one of only four Filipino surgeons in the country who can perform CI.
      She has operated on over a hundred Filipino patients, including Vania, since 1997. She said the success rate so far is 100 percent.
      For the first time in Cebu City yesterday, two patients underwent CI at the Cebu Doctors' University Hospital with the help of a team of Cebuano doctors with Chiong and Dr. Dina Reyes, also an otologist.
      Jascha Louise Duyo, 11, and Church Ventura, 4, became the first two Cebuanos to benefit from a more affordable operation.
      With her family around, Vania underwent the procedure on May 22, 2003 at the University of the Philippines-Philippine General Hospital.
      Chiong called Vania "an example of a patient whose family's commitment pushed the success of the implantation."
      Vania's abilities to hear spontaneously through her left ear and play the violin are phenomenal, considering she was implanted late, Chiong said.
      Doctors encourage early implantation or preferably from 12 months to two years old to produce the best and almost natural results.
     Chiong is pushing for the approval of the New Born Hearing Screening Test, a bill by Sen. Loren Legarda that promotes early diagnosis of hearing problems to ensure
early intervention.
     While more patients avail themselves of CI, Sonnie is at the forefront of support group meetings with parents of children with cochlear implants to share them her story of hope.
     Sonnie estimated that they spent more than a million pesos for the operation, the device and its processor, doctors' fees, medications, hospitalization and travel expenses during Vania's operation.
     But Chiong said a family's commitment ensures the success of a CI patient.
     "A determined family, including the extended family, produces the most successful kids," she said.
     Sonnie and Victor said they also made sure Vania's siblings understood what she was going through.
     The couple had opted to have Vania use a hearing aid and enrolled her at the Gualandi Preparatory School for the Hearing Impaired.
     In 1997, she was transferred to a mainstream school, MZed Christian School.
     She learned sign language on her own years later.
     To ensure full guidance, Victor stopped going on board international ships when Vania was five.
     He and Sonnie, who also resigned from work, decided to be with their three children through their formative years.
     Published in the Sun.Star Cebu newspaper on July 15, 2009.
May 14, 2009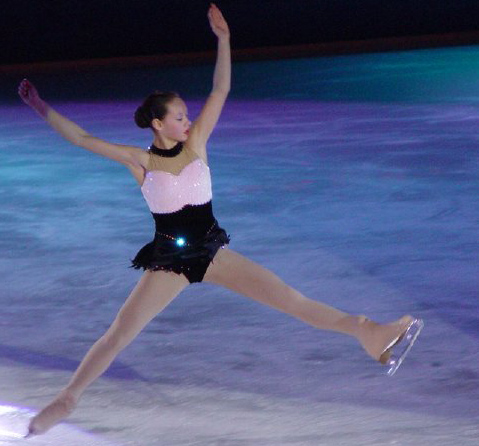 Danao City, better known in the world for making illegal near perfect copycats of Smith & Wesson revolvers, Colt 45 pistols or other automatic handguns, or where its long dead residents rise from their graves on election day, will soon be talked about in the world as the birthplace of the mother of the world's figure skating superstar.
Our Danawanon reporter in Washington D.C., Boyito Quiroz, recently brought to our attention that a daughter of a young mother from Sabang, Danao City has consistently won major figure skating competitions in the State of Massachusetts and on her way to grabbing the limelight in the nation's figure skating scene at a young age of 13.
Boyito Quiros reports to dausa.org: 
Her name is Keilani Lynn Rudderham. Her mother's name is Marilis "Bebeth" Quiros who is the youngest sister of my father. Ate Bebeth was married to an American of British descent, Larry Rudderham. They were married in Maslog, Danao 18 years ago.
They have two children, the older boy is David. The Rudderham family visited Danao around 10 years ago but Ate Bebeth went home recently when her father and my grandfather Isabel Quiros died few years ago.
 Below is an article published recently in Lowell Sun of Lowell, Massachusetts  
Tyngsboro teen skates her way into the U.S. Nationals
By Kevin Jacobs , [email protected]
BOSTON — The moment she glides onto the rink at the Skating Club of Greater Boston, it's clear that Keilani Rudderham is something special.
At only 13 years old, the Tyngsboro eighth-grader will be competing for a U.S. Figure Skating National Championship on January 18th. Rudderham recently won the New England Regional Championships and placed third in the Eastern Sectional Championships.
"That's everyone pretty much on the east coast and I came in third, so I qualified for the National Championships," says a cheery Rudderham. "I'm in the novice division. That's two levels below all of the Olympic champions."
Despite skating against girls as old as 17, Rudderham has been able to stand out. Off the ice Rudderham, tall and charismatic, looks like most girls her age. However, on the ice she looks more like a grown woman than a middle school girl. Elegantly and effortlessly carving up the ice, performing breathtaking jumps and complex combinations, Rudderham looks totally comfortable.
"I definitely love skating just because it's fun," said Rudderham, "My favorite move would definitely have to be the spiral."
Rudderham started skating at the age of two, inspired by watching her older brother play hockey. Although she started in hockey skates, by the time she was seven she was lacing up figure skates. It was then that she began training with private coaches, and she's been skating everyday since.
This will be her first time competing at the National Championships and it should help guide her towards the ultimate goal; competing in the Winter Olympics.
"It's my first National Championships so I'm just looking forward to having fun and trying to skate my best," said Rudderham, "In 2010 I won't be age eligible and I won't be at the right level yet, so 2014 is definitely my goal to reach."
She knows it won't be easy, but it's something she works hard to achieve. Her dedication to realizing that dream is evident by looking at her daily schedule:
6:00: Wake up & go to school
2:30: Leave school and drive directly to the rink
3:45-5: Stretch and skate
5:10-6:10: Work out
6:15-7:15: Homework
7:30-8:20: Skate
8:30-9:15: Drive home & homework
10:30: Bedtime
Most days she has less than an hour of free time, but what matters most is her time on the ice.
"It becomes habit, but I think we all know what happens when you become a figure skater, the sacrifices," said Rudderham, "but it's totally worth it."
May 11, 2009
Boyito Quiroz  recently contacted dausa.org expressing his appreciation for having this website that connects Danawanons with their loved ones, friends, relatives or  classmates of long ago, wherever in the world they may be. 
He said he came to America barely a year ago with his family in tow, including his parents, a privilege granted to foreign diplomats, U.N. personnel, including employees of World Bank where Boy and his wife work.   Boyito is from Sabang, Danao City where he finished his elementary and high school.  He studied for the priesthood at the CICM Seminary in Bacolod but later discovered he had another calling in life.
We requested Boy to write for dausa.org to share with fellow Danawanons what life is like for him and his family here in the U.S. or what led him to come to America.   (Monching)
My Own Big Family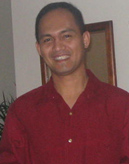 Most of the Filipino households are numerous.  This is not to exclude my parents. Both of them belong to a quite large family. My mother has 8 brothers and sisters and my father has 7.  When my grandfather Lucio Andrade passed away, there was a count of more than 50 grandchildren and great grandchildren. Much more,  in my Quiroz lineage. The barangays of  Maslog and Sabang in Danao City are filled with Quiroz descendants. There is a trace of Quiroz or Quiros to every family native in the area. This is just to show how fruitful the family tree where I belong.
 
However, this is not the case with my own immediate family. I have only one sister and no brother at all. For health reason, my mother was advised not to give birth anymore after my younger sister was born. If not because of that, I think I may have plenty of siblings as well.  Much more I realized that priesthood was not meant for me. If patience just took place, I could have been a missionary and a religious. There is no doubt that I will not enjoy and experience of being a family man, as celibacy is an inherent value and almost equivalent to priesthood.  
 
I usually introduced myself to new acquaintances and to old friends that I have 4 children. Most of the time,  if not always I received a "wow" response not because that I look younger to having four, hmmm.  Having been here in the US for one year, I understand and realize that it is extraordinary normal to have more than 1 child. This is not to mention the expenses related to child care and the needed quality time allotted to each child's development. I have not encountered these as I am lucky to have my parents helping me out taking care of the children and other household activities while my wife and I go to work on weekdays.
 
                                                            
Challenges
 
Just to live in the US is a challenge in itself. I can count hundreds or more reasons to be worried about. After 1 year of stay, the youthful myths that US is a country of honey and green money is fading. It was even aggravated that the economy is down and struggling and many faced unemployment. Even with hope, the future may seem hard and difficult. The job which I thought is just around was hard to reach. My father whom we expected to have been given his work permit found nothing yet in the mailbox. 
 
Another level of challenge pertains to growing-up children. As much I would like them to remember our values and speak our native tongue, they started to speak otherwise specially with my youngest. She understands Pilipino because she was born in Metro Manila but it sounds awkward anymore to hear her utter salamat or magandang umaga with an "h" in between the letters and with air coming from her nose. She seems not interested anymore to speak the dialect.
 
I should be adventurous to food as my children no longer like the food I usually cook and enjoy to eat  since I was young.  They prefer chicken and pasta. My "inun-unan" and tinuwang  isda  are always keep untouched.  
 
Blessings 
 
Rather than to be sad like the lifeless trees in winter, I always count our blessings. I remember five years ago when my wife and I were lining up early morning at the US Embassy in Manila carrying the documents we prepared for months. It turned out that we were only asked for 3 questions and told right away by the consul that she was not satisfied and stamped our passport with received which meant decline.  It is a blessing that we were able to come to America and not even asked to go to the Embassy. My parents and my wife's parents were given the same visa but did not experience lining up for the interview.
 
It is a blessing that there is a good public school system where my children continue to develop their talents. It would cost us half of our earnings, like we did back in the Philippines to have quality education. We no longer have to worry where to get the tuition fee at least until they finish high school.
 
Home is where my spirit smiles
 
There are still many obligations I need to shoulder and debts that have to be paid. But as they say, America is the land of opportunity and where labor is of great value.  I continue to strive to look for that opportunity and use my honest labor to advance in life. This is the new place where my family lives. This is the country that my children  grow and find their meaning.  I am confident this will be my new home for my spirit starts to smile as the summer is about to come.  (Boyito Quiroz, Washington, D.C.)
May 5, 2009
Mr. Benjamin Ypil is a good friend from Danao, a classmate at Santo Tomas School, ex-seminarian (good he left – being a potential embarassment to the Archdiocese – too irrestible to girls – according to him), former Freeman columnist, former PR of  Governor Gullas, retired PR Consultant of Napocor, a widower, now single and actively on the look out for a 2nd time around.  We asked him to write for dausa.org, and willingly he sent us a nice piece.
My Apostolic mission in the USA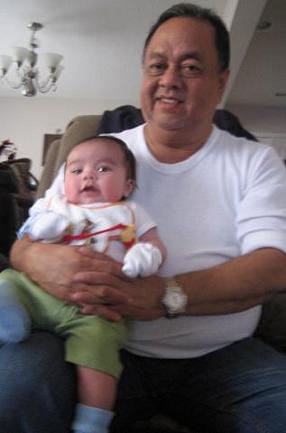 So, this is America! I left Cebu for Manila 5:20pm on March 24, a Monday, then took a connecting flight at 10 pm for Los Angeles which was my port of entry. My daughter in Fort Wayne, Indiana was worried sick because her friend whom she requested to meet me at LAX at 7:35pm (L.A. time) failed to fetch me at the airport arrival area.
Anyway, my daughter's friend was unable to recognize me. How could she when she was told that I had a moustache and a goatee with a  bulging tummy to boot? Except for the stored fats in my stomach,I had long shaved off my bigote and my bungot!
Thank God, the nature of my job back home in our country requires me almost always to be on land, air and sea travel! Otherwise, I would have been gobbled up and lost in the hustle-and-bustle of  the gigantic Los Angeles airport. Well, probably because I'm never ashamed and timid to ask people for assistance (blame it on my experience as a newsman and public relations practitioner) I can easily adjust and adapt to any emergency situation.
To make a long story short, I found myself at terminal 5 of the Delta Airlines where I stayed overnight and waited for my flight to Atlanta the next day. From Atlanta I took anotherconnecting flight to Indianapolis airport where I was fetched by my daughter and her hubby and their little bundle of joy and my grandchild,
Rafael.
The moment I saw Rafael my jet lag was gone! I realized I just logged a total of 18 hours and 40 minutes in my plane travel from the Philippines all the way to my final destination. At any rate, I'm here at Fort Wayne, Indiana on some apo-stolic mission (euphemism for babysitting for my grandson, my second and all boys).  I love Rafael as much as I hate the weather here. Although it's now the onset of spring but I got the taste of  snow on the second week after my arrival.
So, here I am now doing a l63, better known in ABS-CBN as "Bantay-Bata." On weekdays, Rafael and I are left at home while my daughter and son-in-law are out working. It is, more often than not, only during weekends that I am able to go out malling or dining. To kill my boredom, I contact my kith and kin here, thanks to Monching Barriga, my classmate during our michievous days in highschool at Santo Tomas in Danao whom Timmy Laurente, another classmate has called the immigration officer here in the U.S. But, of course!  Monching is virtually the walking directory of all Danawanons here.
So far, I've already gone to Chicago, just a three-hour drive from our place and visited my cousin Pablo Ypil and Edna. If not for this swine flu virus,  I would have already travelled to New York, Maryland and Washington D.C. But I couldn't risk the safety and well-being of the apple of my eye, Rafael for these tourist sites who'd necessarily go with us on these trips had they pushed through.
At any rate, I still have a lot of time to visit my friends and relatives. My return trip to the Philippines will still be on Sept. 2 in time for the fiesta in Danao. In my itinerary are places like Las Vegas. Los Angeles, Maryland, Florida and New York where the hubby of my niece and daughter of my elder brother Prudencio is the Philippine consul.
(Dinhi lang usa ko kutob kay ang akong boss nangayo na's iyang gatas. Monching wa na ko'y utang nimo ha!)