The next Kristi Yamaguchi- Keilani Rudderhman, half Danawanon
Thu, May 14, 2009 10:55 pm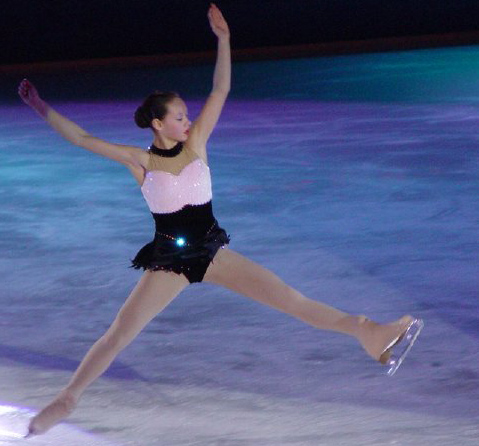 Danao City, better known in the world for making illegal near perfect copycats of Smith & Wesson revolvers, Colt 45 pistols or other automatic handguns, or where its long dead residents rise from their graves on election day, will soon be talked about in the world as the birthplace of the mother of the world's figure skating superstar.
Our Danawanon reporter in Washington D.C., Boyito Quiroz, recently brought to our attention that a daughter of a young mother from Sabang, Danao City has consistently won major figure skating competitions in the State of Massachusetts and on her way to grabbing the limelight in the nation's figure skating scene at a young age of 13.
Boyito Quiros reports to dausa.org: 
Her name is Keilani Lynn Rudderham. Her mother's name is Marilis "Bebeth" Quiros who is the youngest sister of my father. Ate Bebeth was married to an American of British descent, Larry Rudderham. They were married in Maslog, Danao 18 years ago.
They have two children, the older boy is David. The Rudderham family visited Danao around 10 years ago but Ate Bebeth went home recently when her father and my grandfather Isabel Quiros died few years ago.
 Below is an article published recently in Lowell Sun of Lowell, Massachusetts  
Tyngsboro teen skates her way into the U.S. Nationals
By Kevin Jacobs , [email protected]
BOSTON — The moment she glides onto the rink at the Skating Club of Greater Boston, it's clear that Keilani Rudderham is something special.
At only 13 years old, the Tyngsboro eighth-grader will be competing for a U.S. Figure Skating National Championship on January 18th. Rudderham recently won the New England Regional Championships and placed third in the Eastern Sectional Championships.
"That's everyone pretty much on the east coast and I came in third, so I qualified for the National Championships," says a cheery Rudderham. "I'm in the novice division. That's two levels below all of the Olympic champions."
Despite skating against girls as old as 17, Rudderham has been able to stand out. Off the ice Rudderham, tall and charismatic, looks like most girls her age. However, on the ice she looks more like a grown woman than a middle school girl. Elegantly and effortlessly carving up the ice, performing breathtaking jumps and complex combinations, Rudderham looks totally comfortable.
"I definitely love skating just because it's fun," said Rudderham, "My favorite move would definitely have to be the spiral."
Rudderham started skating at the age of two, inspired by watching her older brother play hockey. Although she started in hockey skates, by the time she was seven she was lacing up figure skates. It was then that she began training with private coaches, and she's been skating everyday since.
This will be her first time competing at the National Championships and it should help guide her towards the ultimate goal; competing in the Winter Olympics.
"It's my first National Championships so I'm just looking forward to having fun and trying to skate my best," said Rudderham, "In 2010 I won't be age eligible and I won't be at the right level yet, so 2014 is definitely my goal to reach."
She knows it won't be easy, but it's something she works hard to achieve. Her dedication to realizing that dream is evident by looking at her daily schedule:
6:00: Wake up & go to school
2:30: Leave school and drive directly to the rink
3:45-5: Stretch and skate
5:10-6:10: Work out
6:15-7:15: Homework
7:30-8:20: Skate
8:30-9:15: Drive home & homework
10:30: Bedtime
Most days she has less than an hour of free time, but what matters most is her time on the ice.
"It becomes habit, but I think we all know what happens when you become a figure skater, the sacrifices," said Rudderham, "but it's totally worth it."
Comments