Ben says, "Good bye America, I am outta here!"
Sun, August 30, 2009 7:47 pm
(Ben Ypil's daughter finally found a good day care for 1st grandson Rafael, so his Apo-stolic mission finally ended.  Unfortunately, his other mission to end his single blessedness – was not "a mission accomplished".  All the single ladies he met  – Americans (white and black), Fil-Americans, Koreans, Cambodians, Chinese and Vietnamese, introduced to him by his Cebuano friends in the media 25 years ago,  all did not click with him.  So he decided to go back home.  He said he'll seek an audience with Cardinal Vidal to possibly become a priest in his old age.  Monching)   Ben wrote about his 6-month life in the U.S: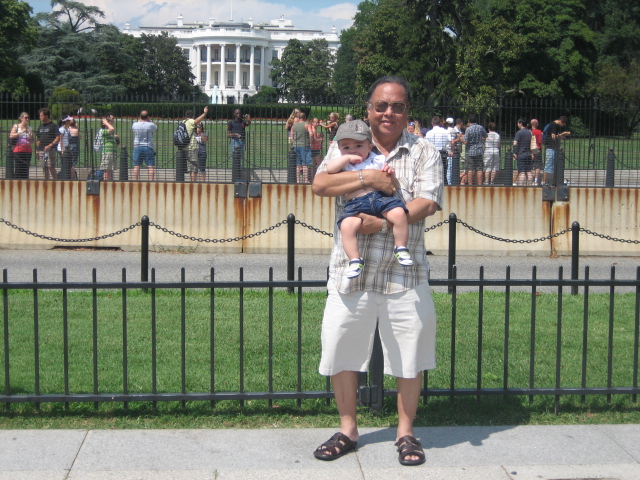 As I promised my good friend Monching, I'll write about my memorable experience as regards my visits to different tourist attractions and historic landmarks in U.S. cities before my apo-stolic mission here in Fort Wayne, Indiana would end and prior to my return trip to the Philippines on Sept. 2, Wednesday, next week.
(Photo: Ben was standing outside the White House for 6 hours waiting for a chance to be invited for a round of beer with President Obama)
"Tempus fugit," yes, how time flies! I didn't realize that my stay here would be that long (about six months since my arrival on March 24). As a holder of a ten-year multiple entry visitor visa, I am only entitled to a maximum stay of six motnhs unless extended by the U.S. immigration authorities. But I didn't bother anymore to request for extension since I have so many pending works to complete back home regarding my early retirement after I turned dual citizen (Filipino citizen and senior citizen) during my birthday on May 18 which, incidentally, coincided with the late Pope John Paul the 2nd's.
Except on weekends when, almost always, I'd enjoy my sabbatical from my apo-stolic work (read that babysitting my little bundle of joy) I'd be under a voluntary "house arrest" with my grandson Rafael during weekdays. If it's any consolation, (as my former Freeman boss and the inimitable Nito Jabat would kid me) I'm not placed  "incommunicado." And so, I still have the privilege of sending emails and calling my kith and kin which was my wont day-in and day-out, prompting my daughter and son-in-law to tease me a "call center agent."
This diversion, in fact, of burning the wires and sending emails as well as reading the national and local news back home (thanks to the internet and modern telecommunication technology) has kept me always abreast of the developments in our country and has made me less homesick, let alone made my stay here a lot more enjoyable and pleasurable.
Aside from Chicago which topped my visits, perhaps, due to the proximity to our place (only more than three hours by long drive and where not a few of my relatives are residing), I've gone on brief sorties to Missouri passing by Illinois and Iowa and, of late,  Pittsburgh, Wahington D.C.,(where the White House and Capitol Hill are located) Maryland, and Niagara Falls, (in Buffalo, New York side) again all by long drive.
I was, particularly, interested in Niagara Falls not because of its being a tourism jewel but, due to the nature of my previous jobs in the National Power Corporation (Napocor) and, recently in the National Transmission Corporation (TransCo). Unknown, perhaps, to many, Niagara Falls is being harnessed for hydro-power generation that provide not only cheap and clean source of electricity for Canada but also to some parts of the U.S.      
I was also gifted by my daughter Michelle and son-in-law Jojo as a reward for my volunteer service (yes, gratis et amore) with two roundtrip plane tickets to Boston which is so rich with historic landmarks and tourist attractions and where I saw the magnificent summer houses of America's old super-rich like the Vanderbilts and Astors, among others, in Newport, Rhode island when Bill Gates was still unheard of and the  JFK Library and Museum.
Finally, the last leg of my weekend visits was to Florida which is famousI for Disneyworld (more than 14,000 acres in land area) that I toured and its beautiful beaches. We motored to Sun Villa Drive in Vero Beach where I had a late lunch with my cousin and her hubby, Dr. and Mrs. Gemma Indolos-Mendoza. In all these two visits to Boston, my former colleagues in  the Cebu media Ed Recla and his family and Balt Quinain, Jr. and his wife. Dr. Regina Pongos played gracious hosts just to make my weekend jaunts very enjoyable and memorable.
Comments