Coming to America – Boyito Quiroz of Sabang
Mon, May 11, 2009 9:14 pm
Boyito Quiroz  recently contacted dausa.org expressing his appreciation for having this website that connects Danawanons with their loved ones, friends, relatives or  classmates of long ago, wherever in the world they may be. 
He said he came to America barely a year ago with his family in tow, including his parents, a privilege granted to foreign diplomats, U.N. personnel, including employees of World Bank where Boy and his wife work.   Boyito is from Sabang, Danao City where he finished his elementary and high school.  He studied for the priesthood at the CICM Seminary in Bacolod but later discovered he had another calling in life.
We requested Boy to write for dausa.org to share with fellow Danawanons what life is like for him and his family here in the U.S. or what led him to come to America.   (Monching)
My Own Big Family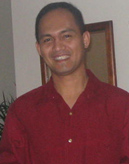 Most of the Filipino households are numerous.  This is not to exclude my parents. Both of them belong to a quite large family. My mother has 8 brothers and sisters and my father has 7.  When my grandfather Lucio Andrade passed away, there was a count of more than 50 grandchildren and great grandchildren. Much more,  in my Quiroz lineage. The barangays of  Maslog and Sabang in Danao City are filled with Quiroz descendants. There is a trace of Quiroz or Quiros to every family native in the area. This is just to show how fruitful the family tree where I belong.
 
However, this is not the case with my own immediate family. I have only one sister and no brother at all. For health reason, my mother was advised not to give birth anymore after my younger sister was born. If not because of that, I think I may have plenty of siblings as well.  Much more I realized that priesthood was not meant for me. If patience just took place, I could have been a missionary and a religious. There is no doubt that I will not enjoy and experience of being a family man, as celibacy is an inherent value and almost equivalent to priesthood.  
 
I usually introduced myself to new acquaintances and to old friends that I have 4 children. Most of the time,  if not always I received a "wow" response not because that I look younger to having four, hmmm.  Having been here in the US for one year, I understand and realize that it is extraordinary normal to have more than 1 child. This is not to mention the expenses related to child care and the needed quality time allotted to each child's development. I have not encountered these as I am lucky to have my parents helping me out taking care of the children and other household activities while my wife and I go to work on weekdays.
 
                                                            
Challenges
 
Just to live in the US is a challenge in itself. I can count hundreds or more reasons to be worried about. After 1 year of stay, the youthful myths that US is a country of honey and green money is fading. It was even aggravated that the economy is down and struggling and many faced unemployment. Even with hope, the future may seem hard and difficult. The job which I thought is just around was hard to reach. My father whom we expected to have been given his work permit found nothing yet in the mailbox. 
 
Another level of challenge pertains to growing-up children. As much I would like them to remember our values and speak our native tongue, they started to speak otherwise specially with my youngest. She understands Pilipino because she was born in Metro Manila but it sounds awkward anymore to hear her utter salamat or magandang umaga with an "h" in between the letters and with air coming from her nose. She seems not interested anymore to speak the dialect.
 
I should be adventurous to food as my children no longer like the food I usually cook and enjoy to eat  since I was young.  They prefer chicken and pasta. My "inun-unan" and tinuwang  isda  are always keep untouched.  
 
Blessings 
 
Rather than to be sad like the lifeless trees in winter, I always count our blessings. I remember five years ago when my wife and I were lining up early morning at the US Embassy in Manila carrying the documents we prepared for months. It turned out that we were only asked for 3 questions and told right away by the consul that she was not satisfied and stamped our passport with received which meant decline.  It is a blessing that we were able to come to America and not even asked to go to the Embassy. My parents and my wife's parents were given the same visa but did not experience lining up for the interview.
 
It is a blessing that there is a good public school system where my children continue to develop their talents. It would cost us half of our earnings, like we did back in the Philippines to have quality education. We no longer have to worry where to get the tuition fee at least until they finish high school.
 
Home is where my spirit smiles
 
There are still many obligations I need to shoulder and debts that have to be paid. But as they say, America is the land of opportunity and where labor is of great value.  I continue to strive to look for that opportunity and use my honest labor to advance in life. This is the new place where my family lives. This is the country that my children  grow and find their meaning.  I am confident this will be my new home for my spirit starts to smile as the summer is about to come.  (Boyito Quiroz, Washington, D.C.)
Comments