Capt Mae Castardo Relates Afghan Experience
Wed, August 5, 2009 11:05 pm
Taga Danao ni Bay:
 U.S. Airforce Capt. Mae Castardo-Cunamay, RN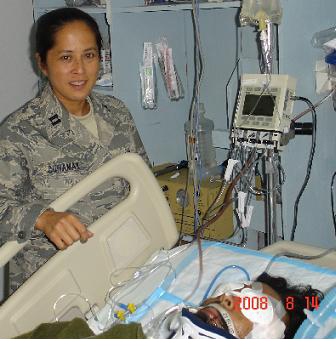 Mernamie 'Verna' Castardo-Cunamay, a DAUSA Member, back from tending horrifically wounded soldiers in a frontline Afghanistan field hospital,  relates to dausa.org her story and experiences while working for five months in Afghanistan.   
    I volunteered to enlist in the military service despite the good pay I was getting as a licensed Registered Nurse in Florida and California. 
    It just hit me one day that I should join the U.S. Air Force, do my share providing the best nursing care, that I can possibly perform for our soldiers in the battlefield. 
    It's no different from a successful attorney or businessman, leaving behind wealth and possessions, to become a priest or a monk. 
                                                                                        My husband was initially shocked and reluctant letting me go but he also felt and understood that it was some kind of a divine calling and that no- thing could have prevented me from going. 
    I underwent the same intensive training that every newly enlisted soldier must undergo, especially for Afghanistan deployment.  I work as an ICU nurse but also perform other duties as an Airforce officer.  I wear the same uniform (ABU) like other U.S. servicemen assigned here, and we also we also salute to our higher ranking officers.
    I am at the forward operating base of the Army known as FOB Salerno located at Khowst Province about 12 miles from the border of Pakistan.
    Khowst is the backyard of the Taliban.  Our hospital has four ICU Units and 4 wards.  Victims of suicide bombings, depending on distance from our hospital, are flown here by helicopters.  We worked for 8 hrs, 6 days a week with one "on-call" da.  But at any time we have to be ready for an any emergency but everyday there is an emergency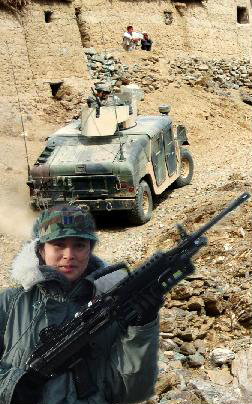 We provide care not only for our soldiers but also local nationals (Afghans) injured in ambushes, bomb, land mines, accidents or burnt injuries.  Burnt victims are quite common because there is no electricity and villagers used gas lamps and gas stove for cooking.
    Nearly every week rockets are fired in our base coming from the Taliban especially during full moon, but rarely hitting their targets, because they were always in a hurry.
   The Taliban have planted IEDs  on the roads in nearby villages, sometimes hitting our own vehicles.  Most victims are Afghans civilians, and we see mangled bodies, severe eye injuries, head injuries, and severed limbs.  It's really horrifying sights but you get used to it because of the frequency of its occurrence.   
   Family members who visit or keep watch on a patient at the hospital are all males, a male relative, a brother or father.
   Injured U.S. servicemen are flown immediately to Bagram Airbase for transfer to Germany, then to the U.S.  They don't stay long at our hospital after surgery, they are flown by chopper to an airbase and flown by plane to its destination for a follow up care. I had flown with patients twice with full body armor and a weapon.
      For U.S. servicemen everything is free – for all 33,000 of us here, our pantry looks like a Ralphs, we have unlimited drinks, except alcohol. I always carry a 9M anywhere I go, except to the shower or to the gym.  I cannot leave the base. 
      Last Aug. 18th, three suicide bombers blew themselves in out gate, one  killed more than 10 villagers on their way to work .
   That same night we were attacked by 15 suicide bombers but thanks to the army, no damage was done inside the base.
   Busy is an understatement when we have to take care of more than 20 patients with shrapnel wounds.
   Rocket attacks are common in our other bases some worse than others, kiling sometimes contract workers.
   The price of freedom is high. Things we take for granted most of the time.
   Everyday someone dies out there and knowing we nurses can be of service to them give a new meaning to this profession.
   Despite the emotional scars of nursing young soldiers and Afghan civilians blasted by bombs and weaponry, I would have no hesitation returning to Afghanistan. Service to our soldiers is a calling I cannot turn my back.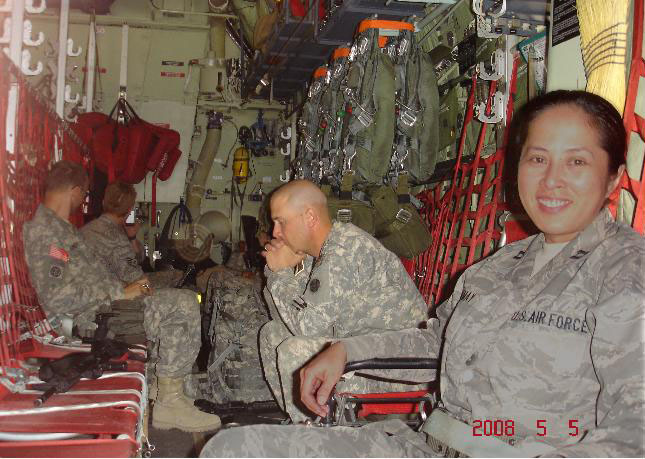 Comments