Coming to America – Mr. Ben Ypil
Tue, May 5, 2009 10:21 pm
Mr. Benjamin Ypil is a good friend from Danao, a classmate at Santo Tomas School, ex-seminarian (good he left – being a potential embarassment to the Archdiocese – too irrestible to girls – according to him), former Freeman columnist, former PR of  Governor Gullas, retired PR Consultant of Napocor, a widower, now single and actively on the look out for a 2nd time around.  We asked him to write for dausa.org, and willingly he sent us a nice piece.
My Apostolic mission in the USA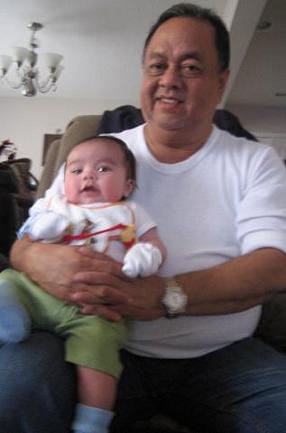 So, this is America! I left Cebu for Manila 5:20pm on March 24, a Monday, then took a connecting flight at 10 pm for Los Angeles which was my port of entry. My daughter in Fort Wayne, Indiana was worried sick because her friend whom she requested to meet me at LAX at 7:35pm (L.A. time) failed to fetch me at the airport arrival area.
Anyway, my daughter's friend was unable to recognize me. How could she when she was told that I had a moustache and a goatee with a  bulging tummy to boot? Except for the stored fats in my stomach,I had long shaved off my bigote and my bungot!
Thank God, the nature of my job back home in our country requires me almost always to be on land, air and sea travel! Otherwise, I would have been gobbled up and lost in the hustle-and-bustle of  the gigantic Los Angeles airport. Well, probably because I'm never ashamed and timid to ask people for assistance (blame it on my experience as a newsman and public relations practitioner) I can easily adjust and adapt to any emergency situation.
To make a long story short, I found myself at terminal 5 of the Delta Airlines where I stayed overnight and waited for my flight to Atlanta the next day. From Atlanta I took anotherconnecting flight to Indianapolis airport where I was fetched by my daughter and her hubby and their little bundle of joy and my grandchild,
Rafael.
The moment I saw Rafael my jet lag was gone! I realized I just logged a total of 18 hours and 40 minutes in my plane travel from the Philippines all the way to my final destination. At any rate, I'm here at Fort Wayne, Indiana on some apo-stolic mission (euphemism for babysitting for my grandson, my second and all boys).  I love Rafael as much as I hate the weather here. Although it's now the onset of spring but I got the taste of  snow on the second week after my arrival.
So, here I am now doing a l63, better known in ABS-CBN as "Bantay-Bata." On weekdays, Rafael and I are left at home while my daughter and son-in-law are out working. It is, more often than not, only during weekends that I am able to go out malling or dining. To kill my boredom, I contact my kith and kin here, thanks to Monching Barriga, my classmate during our michievous days in highschool at Santo Tomas in Danao whom Timmy Laurente, another classmate has called the immigration officer here in the U.S. But, of course!  Monching is virtually the walking directory of all Danawanons here.
So far, I've already gone to Chicago, just a three-hour drive from our place and visited my cousin Pablo Ypil and Edna. If not for this swine flu virus,  I would have already travelled to New York, Maryland and Washington D.C. But I couldn't risk the safety and well-being of the apple of my eye, Rafael for these tourist sites who'd necessarily go with us on these trips had they pushed through.
At any rate, I still have a lot of time to visit my friends and relatives. My return trip to the Philippines will still be on Sept. 2 in time for the fiesta in Danao. In my itinerary are places like Las Vegas. Los Angeles, Maryland, Florida and New York where the hubby of my niece and daughter of my elder brother Prudencio is the Philippine consul.
(Dinhi lang usa ko kutob kay ang akong boss nangayo na's iyang gatas. Monching wa na ko'y utang nimo ha!)     
Comments