19 DAUSA Scholars to Get their College Diploma March 9, 2004
Tue, March 9, 2004 4:32 am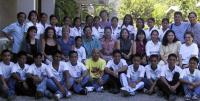 Nineteen beneficiaries of DAUSA's Adopt-a-Student Project, all selected from Danao City's barangay high schools, will receive their college degree diploma at a commencement ceremony, today March 9, 2004 at the Cebu State College – in Sabang, Danao City.
The 19 scholars were supported by DAUSA members Winston/Pat Osmena-Misa, Candy Canga, Manny/Melinda Derecho-Aquino; Ben and Dr. Anita Cal- Jackson and Fred/Nattie Almeda.
They were first to respond when the Adopt-a-Student Project was initiated sometime in year 2000 after a successful medical mission.
Sponsors must support the students' tuition and other fees until they finish their 4-year bachelors degree.
Below are the names of the 19 graduates, where they came from and their respective degrees: Bachelor of Elementary Education (BEED), Bachelor of Secondary Education (BSED) and Bachelor of Industrial Technology (BSIT):
Marcialito Batoon of Taboc-Looc, BEED; Belindo Cal of Barangay Langusig, BSIT; Haydee Camanse, Timobo, BSED; Renelito Cane, Manghilaw, BEED; Rufil Castro, BSED, Dungguan; Nobeya Colon, Maslog, BSED; Chito Gervise, Maslog, BSED; Anecita Lato, Cambanay, BEED; Algerry Laum, Poblacion, BSIT; Zosimo Lawas, Togonon, BSIT, Zenith Manulat, Baliang, BEED, Ma. Fe Mata, Taytay, BEED; Ryan Mata, Looc, BEED; Josefina Montes, Suba, BSIT; Jesiel Pareja, Manlayag, BSED; and Maria Lenalie Roto, Sandayong Sur, BSED; Catherine Tano, Cambanay, BSED; and Alfredo Tumampos of Looc, BSED.
Each 19 graduates will receive a cash bonus of P1,000.00 from DAUSA donors to be handed to them by Mrs. Rose Canga during their graduation ceremonly. Mrs. Canga serves as a DAUSA volunteer in the screening of scholarship applicants who must be top students of Danao's barangay high schools.
Meanwhile, two other DAUSA scholars will graduate this year, Joebert Ricafort of Guinacot, in Bachelor Science in Nursing from Cebu City Medical Center College of Nursing and Janice Lima from Cebu Northeastern College in Business Administration. Janice and Joebert are orphans and they graduated first and second honor in Suba Barangay High School in 2000. They got discovered by their sponsors during a school visit that by some DAUSA officers and U.S. based medical-mission volunteers.
Also, another two students from Danao's mountain barangay high schools who got scholarship awards from the E. R. Barriga Memorial Foundation will be graduating this month: Alma Polido of Ibo, Bachelor of Science in Nursing and Warren Perez of Masaba, BS Education. Dr. Leonora Barriga-Philipps is President and her brother Engr. Felix Barriga is Board Chairman. Dr. Barriga, an aunt DAUSA Web Master Celso Barriga, is consistently supporting Danao Association USA, Inc. in its projects for the people of Danao.
For as low as $250.00 for a 4-year tuition ($50.00 per year) you can help a barangay high school go to college and earn a degree. You will help not only the student but the entire family for an opportunity to change their quality of life.
Assisting in the screening of applicants is Mrs, Rose Canga, who serves as volunteer Danao Association USA, Inc. Adopt-a-Student Adviser.
Should anyone wish to be part of DAUSA's Adopt-a-Student Project, please contact DAUSA President Gemma Montegrande (Tel, 310-5391354) or DAUSA Treasurer Darling Dayondon (714-226-0336) or send email to DAUSA Vice-President Candy Canga ([email protected] ) and/or Ramon Barriga ([email protected])<br>
Comments