Barrio Fiestas
Thu, August 1, 2002 6:47 pm
"EATING THE HOUSE ONE BY ONE"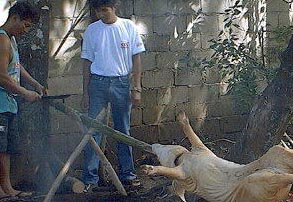 Ay, Señor San Roque, patron a Looc, how I miss the barrio fiestas. So do many other hard-boiled Danawanon who left town, eking out a living in places, oceans away from home.
They must be as nostalgic as I am comes month of May, the town's fiesta season. Way back, in the not so old days, when everybody in town knew everybody, my friends always had in their wallet a year-round `listahan' of barrio fiestas.
My sacristan-friend Nicomedes Parangan, my buddies Eduardito Valdez or Dario Reyes could recite the fiesta dates including the patron saints of all barangays, from Awihaw to Tubiga'g Manok. More Knowledgeable than the parish priest, of course.
Going to a barrio, it didn't matter, we had , a friend or not. At a fiesta no one went pasmo' because people literally opened their doors to everyone – even to strangers. If we had no close acquaintance, me and my buddies, all convento istambays, would go along with Padre Manalili or Nick Bacalla.
We would insist carrying the mass paraphernalia, to make ourselves appear as church alalays. Being with a priest earned us the right to be seated on the main table or be on the first batch at lunchtime.
We would get the best prepared dish, hot and fresh – served with humay (rice), regardless it was NARIC or RCA, so long it wasn't corn.
The ultimos had to wait until the priests and his party had their fill as well as the special guests from town, usually a police or a cartero. The less important guests or the ultimos would have to savor themselves with left-overs. It could be puro tambok', pork or carabao bones with lots of nangka or gabi or adobo-baboy-butihon served with mais instead of hurray.
After the mass we would be helping the priest in the baptism, writing down the names of children to be baptized and their godparents. In many instances, children only had their mothers – no ninong or ninong – so my name would appear on record as the godparent.
I must have been a ninong to over a hundred children just because Padre Bacalla said so. I feel sorry for those kids (must have their own families now). They never got a gift or had met their deadbeat ninong.
The last fiesta I've been to, probably 25 years ago, was in Santa Rosa – at the house of the late Benita-Muni. May they rest in peace. (Not sure though, if rest in peace is appropriate.) But am sure someone told me they're dead.
If I'm wrong, it is an honest mistake and I ask for an apology, and may the good Lord grant them many more years to live.
I was born and raised in Bunga, a sitio of Santa Rosa. Our farm house was situated right at the boundary of Ibo, by the riverside. I remember that everytime fiesta in Ibo came on the 3rd Saturday of October, Tatay Kekong would be telling friends in town that our house was part of Santa Rosa, so we had no hikay.
Came August 31st, the fiesta of Santa Rosa, my Tatay would, at this time, tell friends and relatives that our house was actually part of Ibo, so there was no kumbera. Bunga residents had no kapilya, so no fiesta. They would celebrate it at other people's homes. Wise.
Years later when we became taga-lungsod I rarely missed a fiesta in either Ibo or Santa Rosa. I would brag to friends I knew every family.
So, "let's go to Santa Rosa and "eat the house one by one", as the late Joe Rom used to say. Most barrio fiestas in town are observed and celebrated during summer break – when students are off school.
In my friend's listahan sa fiesta the summer *censored*bera starts in barrio Mantija, last Saturday of April.
The patron saint, according to my fiesta consultant, was and still is the miraculous San Vicente Ferrer.
Thirty years ago, there were no passenger jeepneys commuting to and from Mantija. Fiesta goers from the poblacion had to take a tricycle ride up to Guinacot only.
We hiked uphill, run downhill, and climb more hills, approximately for over two hours, under the scorching summer heat. On the way up Mantija we crossed a river four times.
Leaving early morning without breakfast (nagpagutom), we would be in the brink of collapse from fatigue and hunger once we reached the kapilya, hub of fiesta activity. Seriously, at this point, we could eat anything that looked like food.
My maternal grandparents being from Mantija, it was unnecessary to hold on to Fr. Manalili or Fr. Bacalla's sotana. Having many relatives in Mantija, the Giangans, the Cal families, etc. I could bring all my friends in town and be "eating the house one by one".
The first two meals at noon time was a warm-up. On our third lunch for the day, we would still be having the appetite of a Great Dane. Before proceeding to our fourth stop, which could be farther over the hill, we made sure we had cold beer or hard drinks or tuba ok lang.
By nightfall before the big baile or discoral started, we should have covered seven houses. After a few rounds of drinks, we then hit the bailehan.
Although our breathe (from bahal or Tanduay Rhum) could kill a mosquito, plus the dried singot from the hike, no deodorant and no bath in the morning, still we danced at the baile, sweet music, cheek to cheek with barrio bailerenas or dalagas.
The girls, many of them, also had a smell of copras anyway. So, there was no complaining of how anyone smell at the bailehan. The dance started early evening, ending at dawn after the coronation. of the barrio queen.
Hardly recovering from a headsplitting hangover, the barkada would be taking a trak-de-carga bound for another fiesta. This time to Lawaan, one of the town's remote far flung mountain barrio.
Our good friend Fredo Giango, whose parents Osting-Oping owned and operated the Lawaan Gaisano, would be our boss and guide, to another round of `eating the house one by one" in barrio Lawaan.
There were 15 of us in the group, that went fiesta hopping, entering a house altogether at same time.
We were welcome, because we were taga lungsod, college students and pretty good looking boys as well (sa among paminaw).
In Lawaan, we got there on besperas (day before fiesta) and left during liwas (day after). The host had to feed us for three days while drinking tuba day and night.
Had we stayed in Danao much longer, Osting-Oping would have gone bankrupt or Fredo disowned. From Lawaan, we rode back to town on a trak-de-karga – right atop a load of coal or sugar cane. Just a little after making a quick appearance at home, to let parents know we were still alive, we would be hitting again another fiesta. Tres de Mayo could have been fiesta-de-Santa Cruz in Manghilaw, but we skipped that, because according to rumors, the plato didn't get washed, just wiped with dirty cloth, `cuz atabays were dry. Besides, food in Manghilaw was always pansit-de-sibuyas, or at best, half-cooked meat, so guests can't eat much. One sirokan in town said so; it couldn't be true. Cuatro de Mayo, fiesta in Tabok Guinacot, San Vicente Ferrer, the patron saint. All residents are relatives, Tatay Kekong being from there, so I would be the hepe-de-viaje in this round of `eating the house one by one'.
There was a barrio or two that my barkada kept away from or never go to. One was Manlayag. When we were younger and ignorant we tended to believe a town legend that was disgraceful to the good people of Manlayag.
The story was pure hoax, but some people believed it anyway – that a number of families is Manlayag were ungo (witch).
The story went further that if you ate at the house of an ungo, you'd become an ungo yourself. At their fiesta the ungo host, according to rumor, would put a potion on your food. A few days later you would be salivating (laway way putolputol.)
Soon thereafter an egg would form inside your body. The moment the egg hatches and let grow into a wak-wak, as the legend went, you're a hard-core ungo.
In fairness to the good people of Manlayag, there was no basis whatsoever of this rumor. As to who started it, nobody knew; probably someone from Manlayag, so less people would go to their fiesta.
My barkadas have been so intrigued for years and eager to discover the power an ungo or wak-wak . If an ungo can live longer than ordinary mortals and can fly as they say, my barkadas will be willing subjects. I guess my friend, Lemuel Alcoseba, can hardly wait to be first in line.
Anyone from Manlayag? Please extend the invitation or we will just pretend to be church alalays again.
Comments