If Matthew Were A Bachelor, And He Were To Marry
Fri, August 2, 2002 9:16 am
He Better Marry A Dalagang Bukid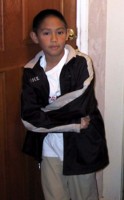 Parent-mandated marriage is a common practice, even in modern times, especially in remote villages in some third world countries, including the Philippines.
It is definitely resented and despised in more civilized and free societies. It's an infringement of basic human rights.
Yet, Filipino parents do wish, we can dictate our kids who, where and when to marry. How I wish my three kids will give me a free hand.
We generally don't trust our kids' intuition, in matters of the heart, so we attempt to exercise parental authority over their choice of a boyfriend or girlfriend.
In free America or even in the Philippines, it is somewhat unthinkable for parents to tell a son or daughter when and who they should get married to and live with for the rest of their lives.
Perhaps the most we can do, as parents, is make an effort to influence our kids to conform to our wishes, in some subtle ways.
Considering the high rate of divorce in the U.S. (over 50% of marriages end up in divorce after ten 10 years), we want to spare our children from the havoc of a broken marriage.
Hence, we feel we have a right to intervene in our kids' love affairs, for their own benefit, so we claim.
My wife, Darling, dreads the thought when one day our son Matthew brings home and introduce a tatooed punk for a date, with spiky and multi-colored hair, pierced lip and tonque, rings on the nose, in the eyelids and belly button, etc.
At the mere thought, she would she would mumble, "simbako intawon". Because of a fear that Matthew will one day marry a typical L.A. girl and later face the prospect of an emotionally and financially draining divorce process, Darling wishes our only son will choose to become a priest instead.
Bahala nag dili mosanay ang Barriga, as she always said. To allay Darling's paranoia I sometimes would joke that when Matthew is through college, I will encourage him to do volunteer work at a Danao barrio health center.
Who knows he'll find for a wife a young beata or a true-to-life Maria Clara, maybe in Manlayag or Manghilaw.
By marrying a Danawanon, the probability of a divorce is almost nil. Kay ang dalagang Danawanon, according to my Tatay is "buotan, mahigugmaon ug matinud-anon".
My Nanay added four more desirable qualities: maayong moluto, molimpyo, mohilot ug labaw sa tanan maayong modaginot.
I should have listened to them noong araw. But then as the saying goes, 'dili palad.' Not my fate.
Because I haven't lived or stayed in the barrios since I got married 24 years ago, I brought up the subject with a friend as he visits Danao more often than me.
He laughed, telling me to dismiss this crazy idea for I'd be frustrated. He was saying that the young Maria Claras of Danao I had in mind, are not only endangered species; they're gone – kaput. As extinct as the beautiful antolihaw that we loved to tirador when we were batang yagit in Dungga.
Obviously a pessimist, my friend said it is more likely that Matthew may come back with a sexy young Japayuki or worse a shabu addict instead of a young beata. Darling mumbled again, "simbako intawon, buanga ka".
My friend was telling me that with cable-tv almost in all homes, carrying prime channels such as CNN, HBO or MTV, and with shabu sold in many sari-sari stores along with saging ug camote, present day Danao girls, even in the barrios, are not that clueless as we thought. "Even a bibingka peddler or some lab-asera has a cell phone", he said.
There are no Maria Claras out there anymore, he said; Danao's dalagang bukid as young as 16 are being lured for a promised high paying jobs abroad, as "cultural dancers" in Japan, domestic helpers in Hongkong, Singapore or in Middle East or as GROs in Manila bars.
Thousands work like robots in assembly lines at Mitsumi in Sabang, living in cramped quarters. Young men and women together are packed like sardines in a room.
My friend further said, "surf the internet, use any search engines and type down Danao City, what you get are many photographs of Danao girls as young as 15 being peddled to phedophiles and dirty-old-clients of mail-order bride operators."
"Today you can find your Maria Claras in Taytay – sa sementeryo," my friend said in sarcasm.
Very sad, indeed, if true. I never believed entirely what my friend was telling me. I tend to surmise he was joking or trying to exaggerate to make a point.
What he said was cruel if not insulting to Danao's young ladies when it can be true to only a few. I've been out of touch too long, never stayed in Danao long enough, but my friend's portrayal of Danao's young women is a blatant disrespect.
I was in Danao lately, talked to people, and to be honest, very little has changed. Danao City currently has a population of nearly 70,000. There is no question there are a number of unfortunate Danawanons who fell prey to predators, generally due to economic necessity.
Assuming the number of single young women is approximately around 8,000, no more than 5% had become "cultural dancers in Japan", GROs in Karaoke bars or had turned drug addicts.
The few wayward children who are innocent victims of cir*censored*stances is a tiny percentage of the entire population. True, more and more may join their ranks unless the community does something about it.
At least there still remain over 7,000 nice young Danawanons who are buotan, mahigugmaon ug mati nudanon – endowed with desirable Danawanon traits and religious values that we all treasure and cherish.
Despite the ugly impression my friend had of our town's youth, I still promote the idea of sending our children back home – that they may learn and appreciate our rich cultural heritage and hopefully find someone special along the way.
My teacher once said the best place to find someone to marry is in your parents' hometown. I agree.
That's exactly how I'm going to tell my son how he can avoid the horrifying aftermath of a divorce, i.e. custody fights, child support, alimony, and of course, legal costs.
For same reason a growing number of Europeans and Americans come to Cebu hunting for a bride.
The Chinese, Korean, Armenian immigrants, etc. most of them send their children to their homeland to find a wife. We should too.
A family from India I know well still practices this age-old tradition of pre-arranged marriage for their children. It does work, I was told.
A 24-yr old pretty Indian office mate who came to the U.S. when she was 16, was happy when her parents arranged her marriage.
Judy had no boyfriend, no prospect in mind, not even a pen-pal. Yet she obediently went along with her parents' plan.
Contacting their relatives in India, Judy's parents announced that their daughter is ready for marriage and would be going home in six months for a big wedding.
She bought a nice and expensive wedding gown for herself and more gowns for brides maids, etc. The parents simply called some close relatives to scout for candidates as Judy's potential husband.
"Identify at least 5 college graduates, young good looking men," the parents told relatives.
"Send resumes with photographs", instructions continued.
In two weeks, bio-data with pictures of 8 candidates arrived, three engineers, a doctor, 2 medical technologists, a school teacher, an accountant and one with a master's degree in computer science.
All appeared to be good looking with ages ranging from 24 -31. Our friend was sport enough to show us the resumes and photos and even jokingly asked for our picks.
All have the same choice, 27-year old Steni, the one with a master's degree. Judy asked for a two-month vacation and flew to her hometown in India to begin the selection process and prepare a grand wedding.
From eight candidates she chose three to meet for a face to face interview and screening. Expectedly, she picked Steni.
A 2-week whirlwind courtship, followed. They strolled at the beach together, went horse back riding, motorbiking around town, disco dancing along with a coterie of relatives as escorts.
She avoided having sex before their wedding. She was 100% certain Steni wasn't gay or impotent.
There was a big wedding – eating and dancing for three days as was the custom in India.
After a month-long honeymoon, Judy reported back to work leaving her new husband behind. She filed an immigrant petition for Steni and in six months they were reunited.
Being a professional, Steni got a high paying job in a softwre company in Los Angeles.
The couple are real love birds looking very happy all the time.
I related this story over and over to my two daughters, 20-year old Mariel and Monette who is 19, hoping they would buy the idea.
"Maybe our relatives in Guinacot can do the same and recommend some good men in the barrio for you to choose from when the time comes," I told Mariel and Monette.
The reply is quick, "wake up, Dad, we're not in Afghanistan".
Comments