THE BEAUTIFUL PEOPLE OF 'BARRIO KALUBI-AN'
Wed, August 14, 2002 11:08 pm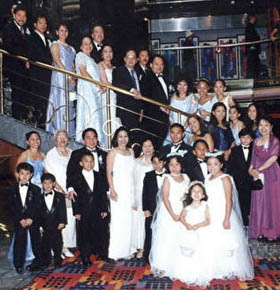 Way back in the Old Danao the residents of Baryo Kalubi-an had been stereotyped by most people back home as 'mga siga, tigas or hawak sa merkado".
If you were from Suba, you were crazy to walk around Baryo Kalubi-an after dark or you could be hanging and shouting 'tabang' up in the electric post or perhaps end up in the ihawan or slaughterhouse and made into a kasahos.
Barrio Kalubi-an is a very small area of town (barely two blocks), bounded in the west by Rizal St., on the east, the slaughterhouse, on the north, the public market and in the south is a creek, but is notoriously known as little Tondo.
Rudy Lofranco of Houston, Texas, once a regular istambay of Barrio Kalubian, said that during his time (in the late '70s or early '80s), the area had been renamed by the young as 'Barrio Kumo' because hardly a day passed without seeing a fistfight, especially when a baskeball game was played at a dirt court by the creek.
Officialy, it's not a barrio, rather part of poblacion. It's just a name that some people has given to the place, perhaps because there were lots of coconut trees in the area. In the same way Barrio Wakwak (a portion of Tabok Looc) got it's name, because some of its residents are said to be ungo.
The mention of Barrio Kalubi-an would bring to people's mind the faces of the meanest looking people in the entire island of Cebu, people who ate carabao guts for snacks, carabao balls for merienda and siete viernes (aged tuba) for breath freshener. They looked so mean that one freezes in fear just by glancing at them. Comparing them to Max Alvarado, Max was an altar boy. These Martian-looking toughies of Barrio Kalubi-an, the likes of Gumersindo and Duro Batulan, Borlos, the Buyog brothers, etc., their fathers and grandfathers, were characters the people associate with 'taga Kalubi-an.'
A story went that women of Barrio Kalubi-an were destined to be dalagang lagas, (old maids) because their men were so protective of their ladies, that no brave soul dared to pamisita or do any harana to their dalagas. The Kalubi-an ladies who wanted to lead a normal life had to move out and live elsewhere.
At the time when Danao was a sleepy town and the dead were voting during elections, some pretty young lasses of Kalubi-an, such as Isidra Batucan, Minviluz Derecho, etc, fearing they would end up dalagang lagas, just did the right thing – moved out and got married to someone outside of Danao, then later came back when their husbands seemed to have assimilated and got accepted.
Little they knew that beneath the shitty smell of the slaughterhouse there lived some great beauties right in the heart of Barrio Kalubi-an and men with big ambitions, who dreamed of a better a life for themselves and their children, raised them to be good Christians and taught them to appreciate the value of education. Some stayed in Cebu, some ended up in Manila and Mindanao while some came to America, living their American dreams.
So an announcement that people of Barrio Kalubi-an would be sponsoring a novena, promoting the devotion of the town's patron saint, spearheading a medical mission, contributing sports equipments and computers for Danao's barrio schools, would indeed raise some eyebrows, specially those snooty residents who looked down on people in this part of town.
It was easier to believe that people from Barrio Kalubi-an were promoting a spider derby (sabong sa kaka) or perhaps a balbacuwa eating contest, but never anything religious or works of charity.
Designated as Kapitan sa Kalubi-an is Eric Cabahug, youngest son of Isidra. Eric looks more as someone you see all the time in ABS-CBN's soap opera or in commercials, than someone who used to hangout with Borlos and Duro at the ihawan.
Eric is married to Monette Montesclaros, a registered nurse who belongs to one of Danao's illustrados – descendants of Paulo Almendras. Her relatives in Cebu who could not have known and haven't met Eric, must have been shocked, at first, to know that Monette, who could have been Binibining Pilipinas if she tried competing, just ended up marrying someone from, of all places on earth, Kalubi-an, a guy who must have taken much delight eating tungol sa kabaw, drinking siete viernes or someone who could look like Borlos.
Thanks to Eric, Gemma and their siblings, their parents and relatives, people's fear and misconceptions about people of Kalubi-an had been erased and the way people look at them, had totally changed.
May God bless this family and their clan that they continue to share God's blessings and touch other peoples lives.
Comments