July 5, 2002
[Note: Originally posted on Kaming Danawanon, Vol VII, No. 3 Jul-Aug 2001.]
To be called a 'cabo' in Danao can be unflattering, meaning vote-buying pagador or goons, but in Los Angeles County, they are virtuous men and women whose hearts bleed for their less fortunate brothers and sisters back home in Danao City.
DAUSA Cabos are taking the lead to reach out and make a difference.
July 5, 2002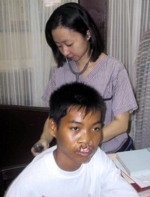 [Note: Originally posted on Kaming Danawanon, Vol VII, No. 5 Oct-Dec 2001.]
Dr. Halbert Capoy of Augusta, Georgia, president of Philippine-American Association of Georgia has pledged his association's and personal support to the yearly medical-surgical-dental mission in Danao City.
Dr. Capoy was born and raised in Carmen, but his parents originally came from and currently reside in Danao City. In a phone conversation with Monching Barriga, Dr. Capoy confided that PAMAG conducts medical missions in the Philippines once every four years and in different province each time.
"Hopefully, in 2004 it will be in Danao City", he said. Meanwhile, he will help the Medical Mission in terms of medicines and supplies and even plans to join the medical team in the Sept. 2002 DAUSA Medical Mission.
July 3, 2002
[Note: Originally posted on Kaming Danawanon, Vol VII, No. 3 Jul-Aug 2001.]
The Danao Association USA, Inc. has again mobilized some 15 U.S. based medical professionals to volunteer in the 4th DAUSA Medical Mission and serve the people of Danao at the Danao District Hospital on September 18 — 20, 2001.
The DAUSA Medical Missions had been a tremendous success since its inception in September 1998. It had served close to 4000 indigent Danawanons, including 36 cleft-lip and palate surgeries, and various other major surgeries such as thyroidictomies, hernias, ovarian tumors and approximately about 300 minor surgeries.
July 3, 2002
[Note: Originally posted on Kaming Danawanon, Vol. VI, No. 3. Oct-Nov 2000]
City of Danao says Thank You, Please Come Again
The City of Danao expressed its appreciation and gratitude for the unselfish efforts of many DAUSA Medical-Surgical-Dental and Educational Missions volunteers entertaining them with a sumptous dinner, dance and songs at the culmination night, ending the 3-day medical mission on Sept. 19-21 at the Danao City Gym.