Phil-Am Medical Ass'n. of Georgia to Support DAUSA Medical Mission
Fri, July 5, 2002 1:23 am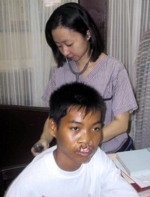 [Note: Originally posted on Kaming Danawanon, Vol VII, No. 5 Oct-Dec 2001.]
Dr. Halbert Capoy of Augusta, Georgia, president of Philippine-American Association of Georgia has pledged his association's and personal support to the yearly medical-surgical-dental mission in Danao City.
Dr. Capoy was born and raised in Carmen, but his parents originally came from and currently reside in Danao City. In a phone conversation with Monching Barriga, Dr. Capoy confided that PAMAG conducts medical missions in the Philippines once every four years and in different province each time.
"Hopefully, in 2004 it will be in Danao City", he said. Meanwhile, he will help the Medical Mission in terms of medicines and supplies and even plans to join the medical team in the Sept. 2002 DAUSA Medical Mission.
Dr. Capoy was in Cebu in July this year and was able to discuss his association's planned medical mission in Danao City with Congressman Ace Durano.
Meanwhile, the 2001 Medical Mission served over 2500 indigents from Danao and nearby towns; performed 7 cleft-lip, 15 major and 130 minor surgeries. (MB)
Comments