Featuring Old Bisayan Folk Stories with English Translation
Sat, January 28, 2006 4:17 am
Photo-copied from a collection of Cebuano literatures at the University of San Carlos' Cebuano Studies, are some translated old Bisayan folk stories (authors unknown) and probably used by American Teachers during the early 1900's in teaching Danawanon kids the English language. Some of these collections will be featured in our website's "Lindog Bisaya" starting with "Ilagpot".
We hope that by exposing our children to old Cebuano literatures, they will somehow appreciate their own Cebuano heritage and be encouraged to learn the language of their parents.
****************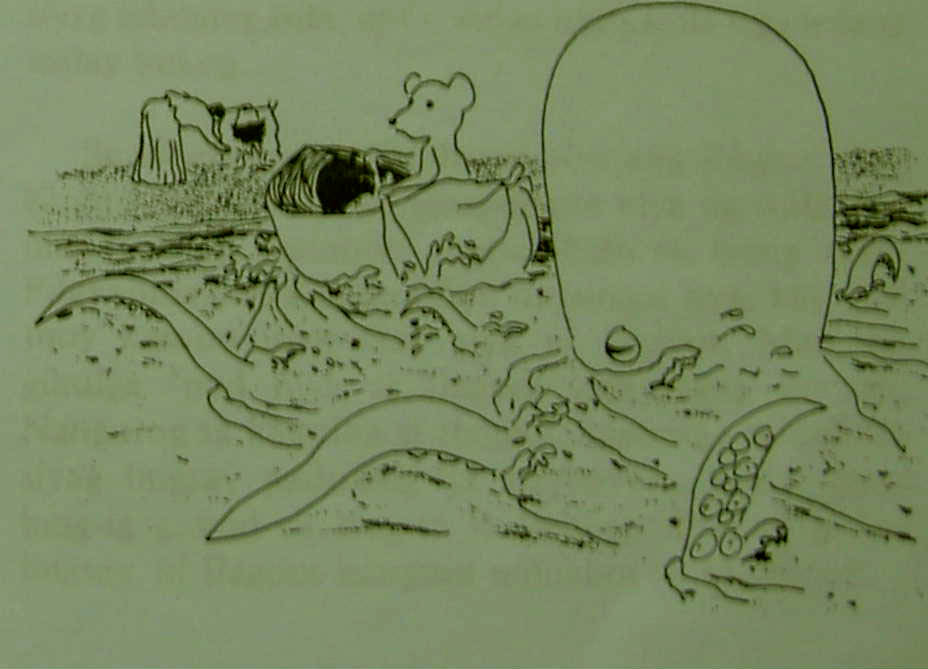 Si Ilagpot, Ang Mapangahason, Ug Ang Isdang Walay Bukog.
Sa Unang panahon, kaniadtong makasulti pa ang mga hayop, may usa ka ilagang mapangahason, si Ilagpot.
Usa ka buntag samtang nagsuroysuroy si Ilagpot sa daplin sa baybayon, nakakita siyag duha ka mangingisda nga mao pay pagpadulong sa lawod.
"Asa man mo, bay?" pangutana sa ukitan nga ilaga.
"Moadto mi sa lawod aron pagpangita sa isdang walay bukog," mitubag ang usa ka mangingisda nga mikidhat sa iyang kauban. "Lamian kayo ning isdaa kay wala may bukog," padayon niya.
"Motabang kog pangita, bi," matod ni Ilagpot.
"Nganong dili gud, basta may kaugalingon ka lang sakayan," tubag sa mangingisda.
Si Ilagpot midalig kuha ug bukong ug kahoy nga maoy iyang gihimong sakayan ug bugsay, unya miadto na siya sa lawod.
Didto sa lawod, gikahibalag niya ang malasugi.
"Asa ka man?" pangutana sa malasugi.
"Nangita ko sa isdang walay bukog."
"Ako diay?"
"Dili uy," nagpanglingo si Ilagpot. "Kadaghan nimog bukog, ah!"
Mipadayon ug bugsay si Ilagpot. Nakakaplag siyag lainlaing isda, apan walay usa kanila nga isdang walay bukog.
Sa kataposan, gikahibalag niya ang Kugita. Ang Kugita maoy isda nga ginapangita niya ug wala siya mag-usik ug panahon pagpahibalo sa iyang tuyo. Pagkahibalo sa Kugita niini, napungot siya, kay tiaw moy kan-on man diay siya ni Ilagpot. Mao nga gihulga 'pod niya si Ilagpot, mao nga midalidali siyag bugsay padulong sa baybayon. Wala 'gyod lung-ig gukod sa Kugita si Ilagpot. Pwerte gyong bugsay ni Ilagpot hangtod nahiabot sa baybayon.
Sa baybayon, may babaye diayng nagpabukal ug kinhason sa dakong kalaha. Sa pagdinalidali ni Ilagpot, giluksoan lang niya ang kalaha gikan sa bukong nga sakayan, ug mikaratil siyag dagan nga walay lingilingi.
Kaingon kaha sa Kugita nga si Ilagpot milukso sa sulod sa kalaha, mao nga milukso 'sad siya didto. Bida 'tawon niyang lisoliso kay pagkainit diay sa tubig! Hangtod nga nangulo-kulo ang iyang mga gaway. Pagkapula-pula na sa Kugita, giahon kini sa babaye uban ang kinhason kay tingpaniudto na man.
Ilagpot, The Adventurous Mouse, And The Boneless Fish
A long time ago, when animals could still speak, there was an adventurous mouse called Ilagpot.
One morning while Ilagpot was walking along the seashore, he saw two fishermen who were just going out to sea.
"Where are you going, friends?" asked the curious mouse.
"We're going out to sea in order to find the boneless fish," answered one fisherman as he winked at his companion. "Boneless fish are delicious," he added.
"May I help you find him?" asked Ilagpot.
"Why not, as long as you have your own boat," the fisherman answered.
Ilagpot immediately made a boat and a paddle out of a coconut husk and a stick. Then he went out to sea.
Once in the open sea, he met a swordfish. "Where are you going?" the swordfish asked.
"I'm looking for the boneless fish."
"How about me?"
"Oh, no" Ilagpot shook his head. "You have a lot of bones."
Ilagpot went on rowing. He met different kinds of fish, but not one of them was boneless.
At last, he met the Octopus. The Octopus was the fish that he had been looking for. He told the Octopus that he was after him. When the Octopus knew this, he got very angry, for it was no joke that Ilagpot wanted to eat him. So he threatened Ilagpot that he would drown him. Ilagpot trembling with fear hurriedly rowed toward the shore. The Octopus went after him. Ilagpot rowed as fast as he could until he reached the shore.
On shore, a woman was boiling seashells in a big pan. In his hurry, Ilagpot jumped over the pan from his boat of coconut husk, and ran as fast as he could without looking back.
The Octopus thought that Ilagpot had jumped into the pan, so he also jumped in. What a time he had twisting and turning in the hot water! At last, his tentacles curled. When the Octopus turned red, the woman scooped him out together with the seashells for it was already lunchtime.
Comments