September 27, 2008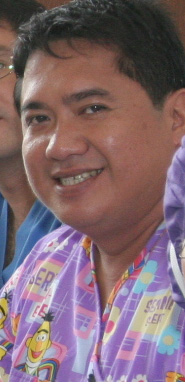 The Chuuk State Government thru Gov. Wesley Simina and Lt. Gov. Johnson Elimo  together with the FSM National Government under Secretary of Health  Dr. Vita Skilling  in a collaborative effort has confirmed that it has sent two prominent surgeons in the Western Pacific to  the prestigious world conference  :EHRLICH II –2nd World Conference on Magic Bullets Celebrating the 100th Anniversary of the Nobel Prize Award to Paul Ehrlich, Nürnberg, Germany  on  October 3-5, 2008.
Dr. Julius Caesar "Jojo"  Arsenal , a pioneer volunteer of the DAUSA Medical Mission, currently chief surgeon and Dr. Kennedy "Ken" Remit , chief of staff  /  co-surgeon both based  in Chuuk State Hospital  were sent to represent the country of FSM  wherein they are invited as  an oral  RESEARCH paper presentor in the said prestigious conference .
The research paper they wrote  about  slingshot injuries "filippin" to the heart in Chuuk were already presented before an audience in the Pacific Basin Medical Association Conference in 2005 and in Pacific Island Surgical Association in 2006.
Lately this research paper was presented before the officers , men and women of the USNS MERCY  Hospital Ship in  "Truk Lagoon " on August 31, 2008  in which both of them were commended for their humanitarian works under extreme working conditions .
There  were  a total of 4,550  research paper entries around the world  that  were submitted  to the prestigious conference and  only  30  research papers around the world that were invited to present including this  research paper from Chuuk State Hospital
The letter of invitation by Professor Dr. Fritz Sorgel , the conference chairman mentioned that to present at this prestigious conference will certainly represent the country before a global audience and it will add new information in serving the country's needs in treating various diseases . Also the conference commemorates the  awarding of the Nobel Prize to Dr. Paul Erhlich one of Germany's foremost researchers .
Little was known  in the entire Western Pacific that all these years from 1999 onward today these surgeons at  Chuuk State Hospital were performing open –heart surgery  for emergency trauma cases despite limited availability of surgical equipments/ facility  and poor working hospital conditions . They  admit  they perform the procedure by heart in order to treat and  save lives of Chuukese people  as so goes
their motto : Everybody Deserves to Live " . All of them were admitted at the Surgical Intensive Care Unit in the Surgical Ward of the said Hospital  a fter surgery , the first SICU / critical care unit in the FSM that has been existent for the past 8 years now  that save a lot of lives.