Tina Policarpio: DAUSA MEDICAL MISSION REFLECTIONS
Tue, October 9, 2012 8:43 pm
(Although not from Danao, Cristina Anne Policarpio, since she was little, was probably present in all DAUSA events since 1998,  always tagging along with her Danawanon godparents, Ninang Darling and Ninong Verne Dayondon.  Tina had actively participated in DAUSA fund raising activities, like selling raffle tickets to help the Medical Mission.
Her long time dream of  joining the Medical Mission in Danao City, Philippines eventually came to realization, when Mom and Dad finally gave in to her persistent request to go to Danao and join her Ninang and Ninong  to help out in the 15th DAUSA Medical Mission, conducted on the 3rd week of September, 2012).
We asked Tina to share her thoughts from that experience,) . . .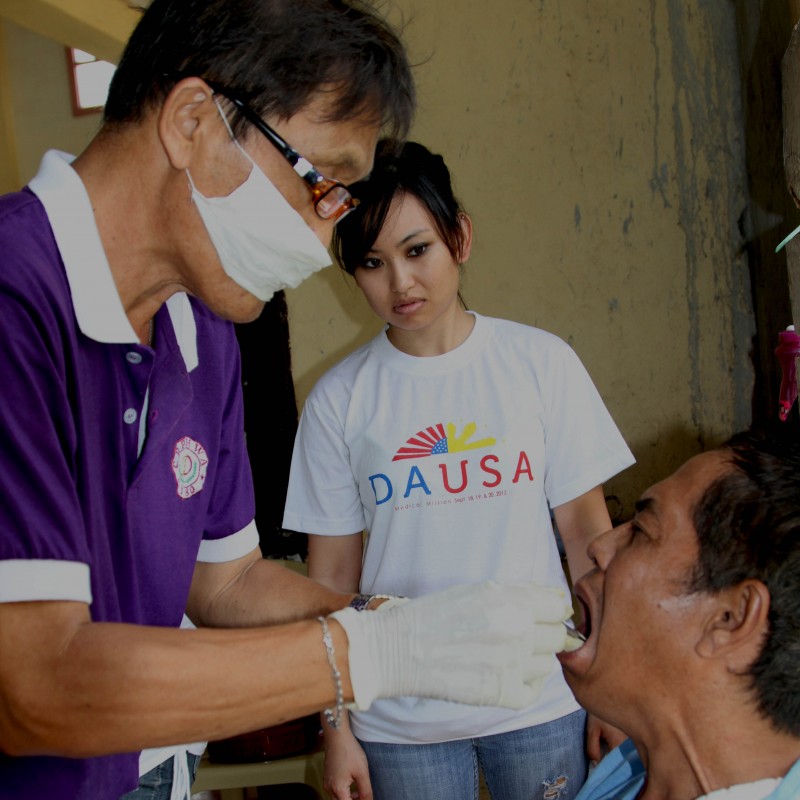 After twenty-one years, I was finally blessed with the opportunity to go back to a place I once called "home".  Having been born in Manila and residing there for the first six years of my existence,
I had little to no recollection of my life on the Philippine Islands.  Little did I know that the DAUSA medical mission to the Philippines in the Summer of 2012 would not only reintroduce me to a culture I left behind, but it also brought about an unfathomable amount of emotions that magnified my desire to extend help to this third world country.
I have been a member of DAUSA since I was little, attending the annual fiestas and fundraiser events that helped raise money for numerous medical missions.  I have seen how many hours of work go into preparing for the yearly trips, but I can honestly say that I never fully comprehended the action of "reaching out" until my recent mission experience.
During the first day of the medical mission in the Municipality of Borbon, I distinctly remember one patient I was able to assist with.  He was a man who looked to be in his late seventies who had an extremely high blood pressure along with asthma.  I kept track of his heart rate while assisting with his treatment with a nebulizer in order to help dilate his bronchioles.
The latter may seem like the simplest of all actions, but the gratitude he expressed through his facial expressions was enough to show me how grateful he was for the type of medical aid we made accessible for him.  One person alone gave me a sense of fulfilment that has left an indelible impression on me as a human being.
I cannot even begin to describe the emotions I felt throughout my whole medical mission experience; I was extremely humbled.  I remember seeing thousands of patients lined up in the early hours of the morning at the Danao Civic Center eagerly waiting to be seen by the volunteer healthcare professionals.
These same patients would wait throughout the day just to get a simple consultation or to be able to receive a small bag of vitamins; that alone was enough to show me how much they really relied on our help.
A large number of the patients were made up of the elderly as well as the sick babies and toddlers who were carried around by their mothers who seemed to need medical aid themselves.
Despite my inability to understand or communicate in the island's dialect, I saw the need of these patients through their eyes as well as the tones of their voices, and the tremendous amount of gratitude they had towards us as their caregivers was clearly seen in their luminous smiles.  It was definitely a bittersweet sight to see.
There were so many moments that caused tears to well up in my eyes just seeing and witnessing the type of lives the indigenous people of Cebu live.  Some of the patients looked so sickly and hopeless, as if they were just waiting for the day when they could finally be put to rest.
Organizations such as DAUSA really give impoverished individuals a sense of hope for a better and healthier tomorrow.  It is the smallest acts that we partake in, such as donating a few dollars or merely buying a raffle ticket, that make an impressively positive impact on the underprivileged families who live on the island of Cebu.
I will forever view this experience as one that has bolstered my own personal growth as well as one that has introduced me to a type of poverty-stricken life I only imagined to exist.  My short time in Cebu has encouraged me to continue to give back especially by participating in more medical missions.
I promote DAUSA's mission statement and commend its years of dedication in maintaining, preserving and pursuing a better quality of life.  (Tina Policarpio)
Comments