Candy Bags No. 1 Statewide Nursing Excellence Award
Sat, October 3, 2009 7:24 am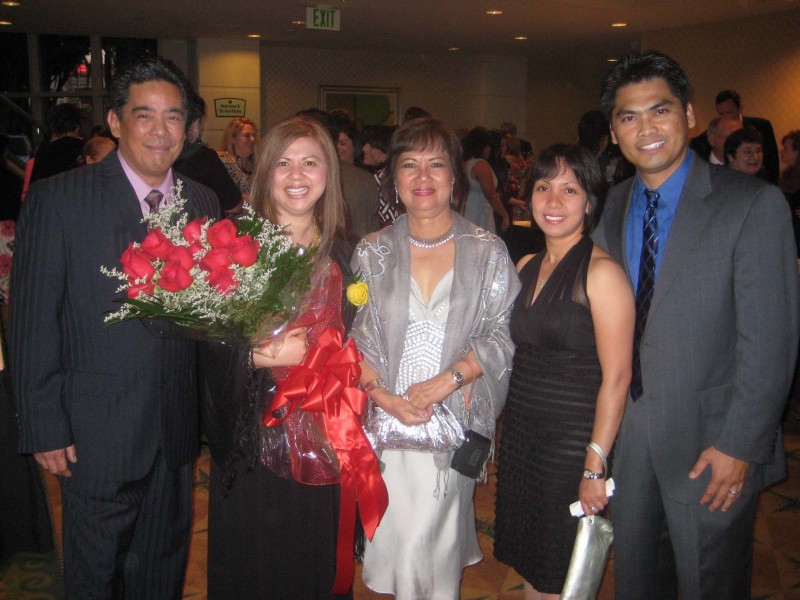 (Photo: Husband Cris Picar, Candy, mother Rose Canga,  classmates Annalee and Adolfo Famas of Cedars Sinai Medical Center at the Awarding)
From the Officers and Staff of Memorial Medical Center where Candy is Surgical Department Manager, Candy immediately received this congratulatory message: "Your hard work and tireless devotion to patient care makes this a well-deserved award. The commitment and dedication you have shown to your department has not only helped us achieve great recognition in four field, but has also made this an excellent place to work. From all of us at the Memorial Medical Center and the Sutter Health family, we congratulate you for being part of our team."
Earlier we have reported here that our very own former DAUSA Vice Priesent Candy Canga-Picar was selected as one of 5 finalists among 100's in the 2009 California Nurseweek Nursing Excellence Awards which made not only Danawanons but also the entire Filipino nursing community all over U.S. very proud.
At the Awards gala which held on Friday,September 25, 2009 at the Hyatt Regency Orange County in Garden Grove,CA, Candy was decared winner in the Management category and will be California's bet in the National level.
James E. Conforti, Chief Executive Officer of Memorial Medical Center, a Sutter Health Affiliate, in a Memo to all Hospital Staff, also issued this official statement:
"It is with much enthusiasm that I share with you that our Nurseweek finalist, Candy Canga-Picar, RN, was announced the winner in the Management category during the September 25th awards ceremony held in Garden Grove.
According to Ms. Judee Berg, Nurseweek Vice President of Nursing Communications and Initiatives, "hundreds of nominations were submitted".  The nominations are then forwarded to the selection committee, blinded of any names, locations and identifiers, enabling an unbiased review and selection of candidates based on the merits of their individual accomplishments.
Candy's accomplishments, which undoubtedly influenced her selection, include her 99th percentile ranking in patient satisfaction, placing the Surgical Department in eighth place nationwide; the 86th percentile ranking in staff satisfaction; and her overall ability to mobilize her staff to affect positive changes, whether it be in service, quality, people or finance.
Candy is Memorial Medical Center's ninth Nurseweek nominee selected to be a Nurseweek Excellence finalist.  This is an outstanding record, given the fact that 2009's event was Nurseweek's tenth Excellence Award ceremony.  Our nursing leadership team strongly believes that this remarkable accomplishment would not be possible without the tremendous collaboration among all departments that support nursing activity every day.
We are all proud of Candy's achievements and this wonderful recognition she has obtained, not only for herself, but for the entire Memorial Medical Center.
Please join me in congratulating Candy!!"
Comments