Thu, September 24, 2009 1:23 pm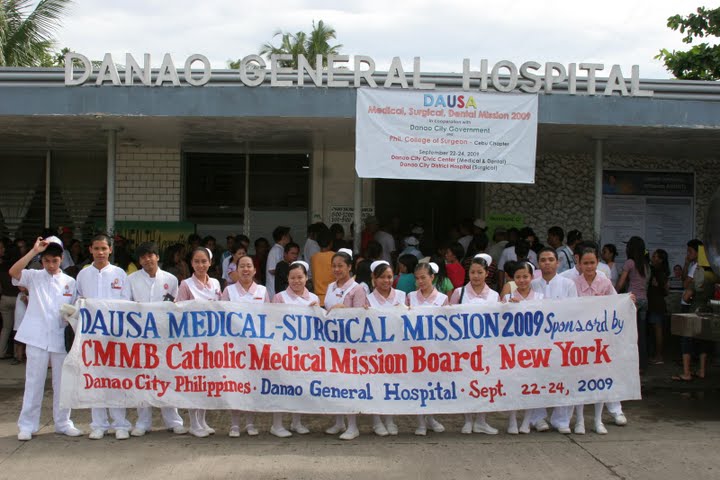 New York based Catholic Medical Mission Board supports the DAUSA Medical Mission
The 12th DAUSA Medical Mission held simultaneously at the Danao General Hospital and at the air-conditioned Danao City Civic Center drew a huge crowd seeking help from volunteers for consultation and free medicines. 
Over 20 DAUSA members and officers led by the new DAUSA President Marietta Palos and Chief of Medical Mission Dr. Anita Cal-Jackson actively actively helped out doing their share in making the 2009 Medical Mission another huge success.  
The DAUSA Medical Mission has always been a big success, since it started in 1998.  It has become an institution and eagely awaited by people who cannot afford to go to Cebu City for treatment or to any private medical clinics, especially those needing surgical interventions.
A team of surgeons from Cebu Doctors Hospital, this time led by Dr. Marlo Cal Batucan, tirelessly worked until late in the evening to meet their own target of doing life-saving procedures for some 30 patients lined up for major surgeries during the 3-day period.  Although there were some hitches that delayed operations due to malfunctioning anesthesia machine, yet they made it up by working until midnight after it got fixed.
The 12th DAUSA Medical Mission got the bulk of medicines from the Catholic Medical Mission Board of New York, which donated 980 lbs of medicines, and some from IMA World Health of Maryland and MAP International of Georgia.
Meanwhile, all volunteers will be treated at noon today, Thursday,  to a "Lunch at the Farm" in Taboc, Guinacot, Danao City, hosted by the Barriga and Tomayao families.   
Also, tonight, September 24, 2009, the City Government of Danao led by Mayor Ramon Durano III and other city officials will tender a  fellowship dinner and entertainment for all medical mission volunteers at the residence of of Mayor Durano.   (Monching)
Comments