Si Ma'am Nangusi – Teacher denies harming student
Fri, June 12, 2009 9:29 am
By Justin K. Vestil, Sunstar-Cebu, June 13, 2008
    AN education official yesterday defended a Danao City teacher accused by parents of using "harsh" corporal punishment on her students.
   The teacher, identified as Nestoria Quitariano, has denied allegations by parents that she harshly punished her Grade 1 students in Cambubho Elementary School.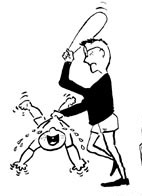 Dr. Evangiel Luminarias, Danao City division superintendent, said Quitoriano denied poking a student and causing the injury on a muscle behind her ear.
    The seven-year-old girl (name withheld for being a minor) earlier told Sun.Star Cebu that Quitariano poked the back of her right ear because she did not know how to read or write.
   The girl's mother said she has been complaining of pain near her ear after the incident.
Quitariano, however, said in her report that she did not lay even a finger on the student, whom she described as difficult to teach.
Difficult students
   "Sipat man kuno ning bataa. Kung patindugun, dili mutindug. Pero kung palingkuran, mulingkud man (This child is difficult.
    She won't stand if asked to stand but she'd sit down when told to sit)," said Luminarias, quoting Quitariano's report.
    Luminarias said that when she went to Barangay Cambubho to settle the conflict, she saw no bruises behind Cristina's right ear, which she reported to have been poked by the teacher.
   In her report, Quitariano admitted using a rolled-up cartolina to punish her students.
Luminarias said she didn't expect any complaints from the students and their parents because their conflict with Quitariano was immediately settled during the meeting.
   In that meeting, the teacher promised she won't use corporal punishment to discipline her students.
   Luminarias said she can't afford to remove Quitariano from the class, as demanded by parents, because there was no one to replace her.
   She said Quitariano is an experienced teacher who taught Grade 1 students in four barangay public schools in Danao City.
   Luminarias said Quitariano is paid by the local government unit.
Dr. Recaredo Borgonia, Department of Education (DepEd) 7 director, told Sun.Star Cebu yesterday that despite receiving Quitariano's report, he would be sending a team from the regional office to conduct a separate investigation on the incident.
    Borgonia made the decision after hearing that more kids refused to return to class if Quitariano stays as their teacher.
   The parents of a seven-year-old boy from Sitio Kalabasa in Barangay Cambubho earlier told Sun.Star Cebu that their son refused to return to school after Quitariano harshly reprimanded him for not knowing how to read and write.
   Another parent also told Sun.Star Cebu that their six-year-old daughter burned all her school supplies because she didn't want to go to school with Quitariano around.
   Borgonia said Deped guidelines expressly prohibit corporal punishment, even if students become too difficult to discipline.
Comments