Kay si Ma'am Mangusi, Mga Bata Di na Mo-eskuyla
Tue, June 9, 2009 3:05 pm
  The story of Danao's "brutal teacher" that we posted the other day, continues … Thanks to SunStar. (monching)
  CEBU CITY – June 10, 2009 – Parents of Grade 1 kids in Danao City were urged to seek the help of their local social welfare worker on allegation that their kids suffer in the hands of their public school teacher.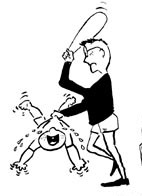 In an interview with Sun.Star Cebu Wednesday, Rosemarie Gonato, resident psychologist of the Women and Children Protection Center of the Vicente Sotto Memorial Medical Center (VSMMC), said harsh situations, such as a teacher severely punishing them, can cause long-term psychological damage to children.
  Parents of several students complained against the harsh punishment of students allegedly by a certain "Mrs. Quitaraño," a newly-assigned teacher of the Cambubho    Elementary School in Danao City.
  At least 20 Grade 1 kids complained that their teacher would severely punish them because they couldn't read and write well.
  The parents, in an interview with Sun.Star Cebu, complained that some of their children don't want to go to class anymore because they fear their teacher.
  One child allegedly burned all her school supplies just so she couldn't go to school anymore.
  After reading the report in Sun.Star Cebu, Gonato advised the parents to approach the Department of Social Welfare and Development (DSWD) and report the incident to authorities.
  Gonato said any teacher's harsh punishment on the students will not only affect the children's perception of school, but may also scar them for life.
  "If this (harsh methods of punishment) will continue, the children may suffer from anxiety that may hamper their learning process," said Gonato.
  Gonato also said that if the incident happens again, then the psychological damage on the children might become long-term, leading to mental trauma.
  Gonato advised education officials to look at the teacher's psychological history to understand her behavior when it comes to teaching her students.
  In an interview with Sun. Star Cebu yesterday, Dr. Recaredo Borgonia, Department of Education 7 director, said he has talked to Danao City education superintendent Vangiel Luminarias about the case.
   Borgonia said he ordered the superintendent to investigate. He also gave Quitaraño until today to submit a report to explain her side of the incident. (JKV of Sun.Star Cebu)
_____________________________________________ 
 DUHA ka mga tinun-an sa grade 1 sa Cambubho Elementary School sa Danao City wa na mobalik pa pagtungha.
  Kay sila ug ang ilang mga classmate nangahadlok sa ilang magtutudlo nga giingong mamunal, managpa ug mangusi kon di sila kahibaw mobasa.
  Ang grade 1 teacher sa Cambubho Elementary School, sa may sitio Kalbasa, Barangay Cambubho sa dakbayan sa Danao gikahadlukan sa labing minos 15 niya ka mga tinun-an.
  Gipugngan ang ngan sa maestra, kinsa bag-o pang nagtudlo sa mao nga tunghaan.
  Ang brgy. Cambubho dunay 26 ka kilometros nga gilay-on gikan sa kinapusoran sa lungsod.
  Asoy sa mga tinun-an ug mga ginikanan, nga niadtong Hunyo 1 sugod sa klase, nagsugod sab ang pagpakita sa kamaldita niining maestra.
  Pabasahon ang mga tinun-an og iningles nga basahon ug kon di kahibaw, bunalan og kartolina nga gilukot.
  Si Cathy, 7, nisugilon sa Sun.Star Superbalita nga magul-anon siyang niuli sa udto sa unang adlaw.
  Nianang hapon wa na siya mobalik sa tunghaan kay wa na gyud siya makaaguwanta sa gihimo sa maestra.
  Siya nipasangil nga gituslok og maayo ang iyang dunggan hangtod nga kini nihubag kay naigo ang iyang ugat.
  Dugang pa niya nga wa siya masayod kon unsa ang iyang sala nga nabuhat sa maestra.
  Si Wilma Giangan, 29, iyang inahan, niadto sa tunghaan kagahapon kuyog sa ubang mga ginikanan sa mga lain pang bata aron ikaestorya ang maestra kabahin sa giingong pagpanapat sa ilang mga anak.
  Apan, matod ni Giangan nga nanghimakak kini sa pasangil batok kaniya.
  Nisulti kini kaniya nga ang iyang anak di gyud kahibawong mosuwat sa ngan niini.
  Apan si Cathy nihagit sa maestra nga iyang pakit-on sa iyang atubangan nga kahibawo siyang mosuwat sa iyang ngan.
  Si Christian, usa sa mga tinun-an, wa moeskuwela sukad sa miaging semana.
  Sa unang adlaw ra siya mitungha ug wa na mobalik pa tungod sa iyang kahadlok.
  Samtang si Melody Garson, usa gihapon sa mga tinun-an, niingon nga iyang gisunog ang iyang usa ka pad sa papel kay di na ganahan moeskuwela kay mahadlok siya sa maong maestra.
  Apan gidala siya og balik sa iyang mama sa tunghaan.
Gisuwayan ni barangay captain Renario Durano og husay ang maong kaso apan matod sa teacher-in-charge sa maong tunghaan nga si Mr. Calipay nga husayon lang kini nila sud sa eskuwelahan.
  Niabot ang maong kaso kang Dr. Evangel Lurnarianos sa Department of Education (DepEd) dihang ilang gibisita ang maong tunghaan.
  Giingong nitambag kini nila nga obserbahan lang una ang magtutudlo ug kon mousab pa, ikiha na kini.
"No comment" ang ubang maestra sa tunghaan kay alang nila nahilot na ang kaso apan sa mga ginikanan sa mga biktima andam sila mokiha kon mabun-og ang ilang anak.
  Matod nila nga nisaad ang maestra nga paningkamotan niya nga di na gyud kini mausab.(Ray Francis A. Gamban-USJ-R Intern – SunStar Superbalita, June 9, 2009)
Comments