Born again: A child's 9-year journey to a new life
Sat, November 10, 2007 6:40 pm
By: PHIL STRICKLAND – For The Californian
(DAUSA Editor's Note: Merylou underwent a 12-hr surgery on Thursday, November 10, 2007, at the Children's Hospital of Los Angeles involving 9 medical-surgical specialists led by a prominent plastic surgeon, Dr. Mark Urata. She is still confined at the hospital. Monching)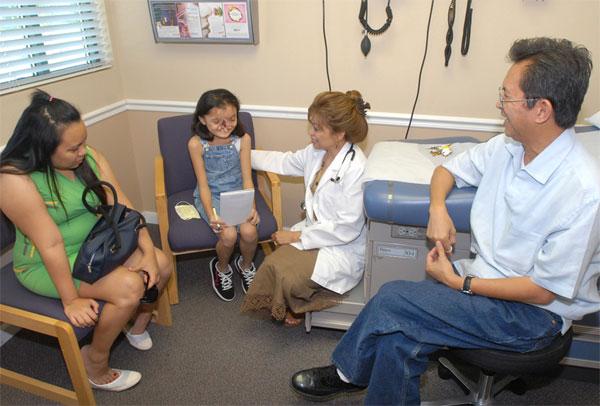 Merylou's eyes, bright, even enchanting, as they can be, aren't the first thing you notice about her.
What you first notice is that where there ought to be a child's smile is instead a freakish card dealt her at birth. Between Merylou's eyes, brow to chin, is a deep opening that is her mouth, cleft palate and all.
It's not easy to look at, which accounts for the ever present, rarely removed, white surgical mask that hides from the world the 12-year-old Filipina's affliction.
The surgery necessary to even begin to make some difference in her appearance is nonexistent in the Philippines. And, even if it were, Merylou's family —- her mother sells food in the streets of their squalid slum and her father paints when there is work —- couldn't begin to afford it.
A turning point in Merylou's life came more than nine years ago when her mother Merilyn took her to a clinic in Danao near the one-room shack where she lives with her mother, father Rosendo, an older brother and a younger sister.
It was there that Merylou Barriga and the members of the medical mission team from Danao Association USA, a nonprofit organization composed of Filipinos who have emigrated to the U.S., first came together.
Among the Filipino immigrants in America volunteering their time for the mission that September in 1998 were Dr. Anita Jackson, a Temecula physician who is Merylou's primary doctor in this country and was chief of the medical mission, and Ramon Barriga, a state-employed legal secretary who is no relation and lives in Winnetka, and was then president of DAUSA.
Jackson and her fellow volunteers immediately set about trying to find help for Merylou.
It proved to be a daunting task, said the Temecula doctor.
Treatment was sought in Japan and South Korea, but "for one reason or another, it just wasn't available," Jackson said.
"At long last," she said, what began that day now will play out in a series of major craniofacial reconstructive surgeries to be performed on Merylou at Children's Hospital Los Angeles thanks to the determination of DAUSA members, assistance from the International Craniofacial Children's Fund at the hospital and Mending Kids International, and the generosity of others from whom help was sought.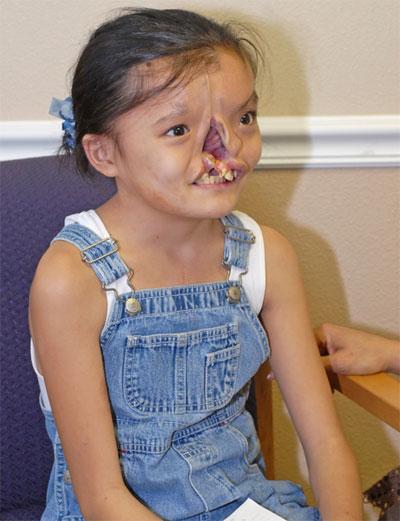 A child alone
Accompanied by Barriga, father of her host family for the year or so she'll be under the knife and bone saw in Los Angeles, Merylou was at Jackson's office in July where she agreed to "talk" with a stranger.
Translated from the sounds intended to be her native Tagalog by Jackson, Barriga, and Carmela Domaboc, 23, her chaperone and tutor, Merylou responded to most questions with a "yes" or "no."
Her eyes convey more deeply her feelings, alternately bright and playful or sad and reclusive. She said she wants to go back to school, wants to be Hannah Montana when she grows up and wants to work with children.
And, she said, her demeanor turning to a sad, downcast gaze, she doesn't like being around strangers because "I look different."
School is one thing she "really" misses, she said, even though the boys can be cruel in their teasing.
"Merylou is no pushover," Jackson said. "She really gives it back to the boys," an acknowledgement that set Merylou to beaming.
But when the torment failed to lessen and her mother no longer could bear to watch her child suffer the cruel taunts, said Jackson, Merylou's mother took her out of class. She had not yet reached the third grade.
That, combined with her indoor existence —- she rarely ventures out, says Domaboc —- has resulted in her developing to about the level of a 6-year-old, said Jackson and Barriga.
Her few playmates, said Domaboc, are the members of her extended family who come by to see her.
Until now, Merylou's only contacts with the world outside her slum have been members of the medical mission and the family television, which must be jostled and "you know, kicked," said Barriga, to make it get the one available channel.
New face, new life
In the U.S. since May, the drainage ditch next to her family's shack they use to "answer the call of nature because they don't have a bathroom," said Domaboc, is a world away from the Disney Channel she devours at every chance.
And, though fears of infection thus far have kept Merylou from the large crowds at amusement parks and other attractions, her host family has taken her on day trips to see Southern California and she has developed quite a taste for fast food, Barriga said.
But for Merylou, being plucked from unimaginable conditions and set down in the country of Hannah Montana has not turned her mind from the business at hand and the thing to which she most looks forward, the surgeries.
The severity of Merylou's case is unheard of in this country, said Dr. Mark Urata, who leads the team of surgeons at Children's Hospital that will give Merylou the opportunity to live a more normal life.
"I'm not saying we have the best health care in this country," he said, but "a child with this condition does not get to age 12 untreated."
Already, the first step, dental surgeries to deal with extensive, untreated infections, has been completed, said Urata, who numbered the physicians who will be involved in her treatment at about 20.
Beyond that, he said, 50 or more nurses, therapists and social workers will work with Merylou to help heal as many aspects of her life as possible.
The first of the major surgeries, the complications of which could include blindness, brain damage or death, said Urata, is expected to be a 12-hour operation where bone at the front of her skull will be removed so that the two halves of her face can be brought together, giving her eyes normal placement and the surgeons a canvas on which to create her face.
This surgery, originally scheduled for late September, had to be postponed until this month because of the difficulty in scheduling the various specialists. The delay, said Barriga, has not dimmed Merylou's optimism. She maintains a "very good disposition," said her surrogate father.
That surgery will be followed by others lasting four or five hours, Urata said, each carrying with it the potential for severe consequences as well as profound life enhancement.
Even though Merylou knows it will be a long way to her new face, said her chaperone, it is not the months of pain that prey on her mind.
"She's very excited about the surgeries," Domaboc said. "She is looking forward to them, but she misses her family."
Merylou's parents visit a relative in the Philippines who married an American to use her computer for video chats, but even so and even with the prospect of a new life and the glitter of Southern California, Domaboc said it is plain to see that the separation is painful for the 12-year-old.
But, through the physical pain and the longing for home, Merylou holds to the "dream" her "angels" have brought her.
That dream, she said, eyes glistening, is "I'll be normal."
Comments