Two Indigent Danao Kids Coming to L.A. for Surgery
Sat, April 7, 2007 9:37 pm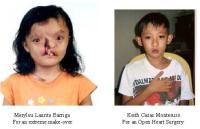 Two DAUSA Medical Mission indigent patients whose cases were extremely delicate for local hospitals to handle, are finally coming to the U.S. on May 19, through the assistance from Mending Kids International.
Merylou Laurito Barriga, 11 years, old has an extreme facial deformity. The girl was brought by her parents to the DAUSA Medical Mission every year since it started in 1998.
DAUSA's partner, the St. Martin de Porres Catholic Medical Mission Guild, tried helping little Merylou through referrals to Hongkong and South Korea hospitals, but their efforts were unsuccessful.
Keith Casas Montesuso, 8 years old, has multiple heart defects, in and out of hospitals in Cebu, and still in fragile condition, because his case requires open-heart surgery which could cost well over a million pesos at Cebu Doctors Hospital, and more, if done in Manila.
Sometime last year we sent an urgent appeal to Mending Kids International, a charitable non-profit organization based in Valencia, California.
MKI is known for helping kids from all over the world whose medical conditions could not be helped in their home countries.
Among those that MKI had helped were a conjoined twin from Guatemala. (This was in the news, maybe 2 years ago, a rare case of twins joined in the head and separated successfully).
We sent all medical records of Merylou and Keith and MKI forwarded them to hospitals in Los Angeles appealing free surgery for these two Danawanon kids.
Cris Embleton, MKI Executive Director, informed DAUSA both request got approved and would be sponsored by 2 different L.A. hospitals.
According to Ms. Embleton Merylou's maxillo-facial surgery will be at Los Angeles Children's Hospital while Keith's open heart surgery at Cedars' Sinai Medical Center.
At this point, MKI is working on the children's U.S. visa. They have been bringing in children from Philippines to California in the past and getting a visa for kids has been a routine task to MKI without.
MKI has notified DAUSA that Merylou and Keith could be coming over sometime next month, possibly by May 19.
MKI has tapped Philippine Airlines to provide plane fare for child and an companion either a parent and/or an accompanying nurse. MKI does not provide financial assistance for expenses incurred during their trip and/or stay in Manila for follow-up of their visitor's visa at the U.S. Embassy.
Merylou already got a passport and other travel documents. (Sometime last year some generous DAUSA members contributed a total of $100.00 for this purpose). Keith still has to get a passport and travel documents with DSSD.
The host family shoulders room and board for the child and his/her companion during the entire duration of their stay in California and will be responsible for driving patient to and from hospital. Danny and Endai Roble have been accredited by MKI to be a host family, and they will be hosting Keith upon arrival.
Another DAUSA couple former association president Monching and Darling Barriga, also an MKI host family, will have Merylou at their home. Their stay in Los Angeles with their host families could last for as long as 6 months until they are sent back to Danao.
We need your help to assist both Merylou and Keith for their trip and stay in Manila. Once, they are here in California, Danny/Endai's and Monching/Darling's family, will take care of both kids. Should you desire to help Keith and Merylou (any little amount will be greatly appreciated), please mail your check payable to DAUSA to: Martinette Dayondon, 8893 Jefferson Dr. Buena Park CA 90620.
Anita Cal-Jackson, M.D.
DAUSA President and
Chief of Medical Mission
Comments