Large Crowd seeking Help Overwhelms DAUSA Medical Mission
Tue, September 27, 2005 5:09 am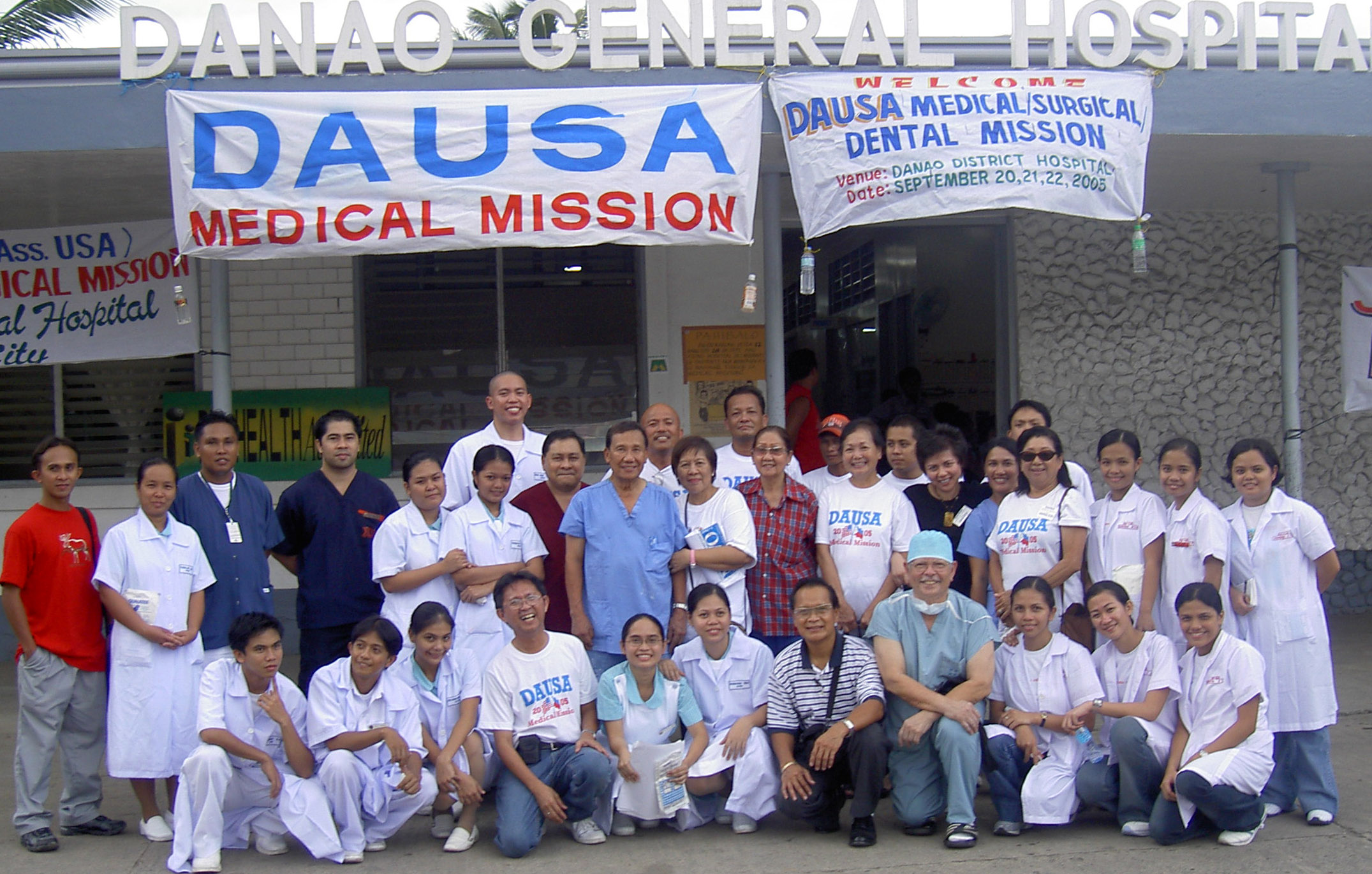 A large number of indigents wanting surgical procedures, medical check-ups and free medicines overwhelmed U.S.-based and local medical volunteers during the 3-day DAUSA Medical-Surgical & Dental Mission conducted September 20 – 22, 2005 at the Danao District Hospital.
The DAUSA Medical-Surgical and Dental Mission is jointly sponsored by the Danao Association USA, Inc., the City of Danao, Danao District Hospital and the Philippine College of Surgeons, East/Central Visayas Region.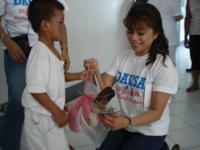 Newly elected DAUSA President, Dr. Loretta Montesclaros reported that on the first day of the 3-day medical mission, over 1,000 people showed up at the hospital with various ailments, children as young as 3-month old with fever, to 85 year-olds seeking free medications for diabetes and/or hypertensions.
Chief of Medical Mission Dr. Anita Cal-Jackson, who heads the medical mission team since its inception in 1998 reported that 23 major, mainly thyroidictomy cases, and over 200 minor surgeries were performed.
Dr. Jackson gets a chicken and bunch of bananas from boy-patient
The Philippine College of Surgeons led by its current President Dr. Gregory Canga and Dr. Joselito Almendras, and other prominent surgeons from Cebu did all the major surgeries.
U.S. based volunteer-surgeons, Dr. Florentino Lleva of Wisconsin and Dr. Julian Banzon, as well as volunteers from Cebu Doctors Hospital and Dr. Endino, a resident doctor of the Danao District Hospital, performed the most number of minor surgeries, mainly cysts removals.
Prior to the medical mission, the screening of patients were conducted by local physicians, such as Dr. Elizabeth Aguilar, a cardiologist at the Perpetual Succor Hospital and by doctors at a government hospital in Cebu City.
DAUSA ties up with 2 church-based non-profit organizations, the MAP International (Medical Assistance Program) and the I.M.A. (Interchurch Medical Assistance), Inc. as well as with Americares as main suppliersof prescription medicines and surgical supplies.
Another major source of medicines are Dr. Vic Oyas, generally pediatric and Dr. Anita Cal-Jackson, for adult and geriatric meds while Mrs. Natividad Durano-Almeda is a major solicitor for surgical supplies.
Medicine Donation Coordinator Cecilia Barriga, R.N. also was able obtain substantial supplies of medicines from medical doctors practicing at the Northridge Medical Center.
Every year a number of U.S. based Danawanons, both physicians and registered nurses, join the annual DAUSA Medical Mission.
Dr. Belino Iway, an internist and his wife Dr. Oliva Iway, a psychiatrist, long time medical practitioners in the State of Kansas, led this year's fresh volunteers.
Four R.N. friends of Fred and Natie Almeda, though not from Danao had joined again after experiencing last year's medical mission and committed themselves to be back every year.
Meanwhile, the Free Dental Clinic, headed by Crosine 'Endai" Roble, with a borrowed 5-Dental seaters Dental Mobile Clinic from the City of Cebu, served over 300 people,
Dental services, mainly tooth extractions, were provided by Danao City Health Dentists led by Dr. Luther Laude , as well as by private dental practitioners who left their dental clinics to volunteer, including Dr. Marivic Lao and Dr. Marissa Cola-Lopez.
Aside from free dental service, complete pain medication and anti-biotics, patients also got free tooth brush and tooth paste, Endai Roble reported.
Dr. Greogry 'Koko Canga, a perennial surgeon-volunteer, also has his mother, Rose, a registered nurse and younger sister, Candy Canga, a California R.N. very actively involved in DAUSA Projects.
Rose Canga is DAUSA Scholars Coordinator and adviser in Danao while Candy, a surgical department manager of Sutter Medical Center in Modesto, is Adopt-a-Student Project Manager along with Martinette Dayondon. She gave a very inspiring speech during the DAUSA Scholars Fellowship Lunch held at the Cebu State College – Danao Campus.
Also during the medical mission, a number of DAUSA Volunteers, visited the Danao City Jail and served over 200 inmates with a hearty lunch and goodies.
The yearly "I was in Jail and You Visited Me" Project is sponsored by Marieta Palos and Bobon/Genie Castillo.) Candy Canga also gave out toiletries (soap, shampoos and toothpastes including sanitary napkins for 14 females inmates.
At the medical mission culmination night held at the RD House in Guinsay, Danao City, attended by Congressman Red Durano and all Danao City Officials, DAUSA President Montesclaros promised to be back next year with a bigger number of volunteers and more supplies to serve more of the less fortunate Danawanons.
(Monching)
Comments