DAUSA Cycling Team Shines in the 2005 L.A.-Long Beach River Ride
Tue, May 17, 2005 7:19 am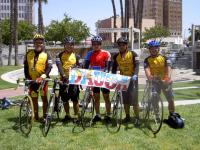 After finally owning the state-of-the art cycling gear: $3,500.00 race bike, $300 for uniform, $250 Adidas rubber shoes and a $250.00 for a pair of sunglasses, the DAUSA Cycling Team made its first public appearance in the 45-mile Long Beach-Los Angeles River Ride held Sunday, May 15, 2005.
According to Team Captain Mayor Leonie Abella "the 45-mile River Ride is just a stepping stone towards our goal of qualifying for the 5-day 2000-mile Tour of California – or perhaps the U.S. Tour, who knows."
"Our team is in good shape, everyone is progressing fast and we are satisfied with our team's performance, DAUSA Cycling Team Manager Leo Montegrande said ."
Leading the pack of the 15-Member DAUSA Cycling Team are Rev. Fr. Eric Cabahug (pari sa Aglipay), Verne "Mr. Cute" Dayondon, (soon to sign a contract as product endorser for Oakley), Barangay Captain Jojo Batucan of Kalubihan and DAUSA's most promising champion-in-the making Beboy "Spiderman" Ceballos ,
Some financiers (their wives) confessed, "dili na mi maka "Santa Claus" karong pasko, sorry na lang sa mga paryentes sa Danao.
"Sardinas na lang tingali o di ba ukay-ukay ang among i-pinaskuhan, kay kadako ba sa gasto niining DAUSA Cycling Team."
Comments