WORLD WAR II HERO: CAPT. AGRIPINO CASIA OF DANAO
Fri, April 29, 2005 2:04 am
(Editor's Note: While browsing some reading materials at the Cebuano Studies Center of the University of San Carlos during my recent visit – I came across an old book – THE CEBU PATRIOTS IN ACTION – published in 1946 and authored by Cayetano Villamor, a guerrilla officer during the war. Only two Danawanons were written about and cited as war heroes. Prominently featured in a more lengthy article was Col. Alejandro Almendras, described as a great military strategist. A lesser known Danawanon hailed as a war hero was a certain Capt. Agripino Casia. He died in combat bravely fighting against the Japanese invaders. I never heard of him until a week ago while visiting the USC Library and opening a book that was nearly disintegrating.)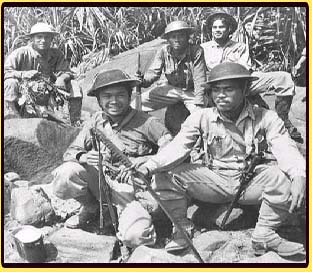 The late Captain Agripino D. Casia, 36 years old and married was a resident of Danao, Cebu and was a teacher by profession. He was a Normal School graduate.
He underwent the two-month teachers' trainee instruction in 1938. Then he became the Commandant of the pre-military training in Compostela Elementary School from 1936 to 1941.
He became a Probationary Third Lieutenant. He also attended the Reserve Officers' Training School at Canlubang, Laguna, in 1940. In 1941 while at Camp Lapulapu he was the commanding officer of the combat company.
In 1940 Agripino Casia was a commissioned Lieutenant. On December 31, 1941 he was inducted into the USAFEE as 2nd Lieutenant Infantry.
Lt. Casia was assigned as Junior Officer of the headquarters and headquarters company. Visayas-Mindanao force. He also became the Junior Officer of the 302nd Quartermaster company stationed in Bogo, Oriental Misamis.
Lt. Casia did not have battle engagement with the enemy by reason of his assigned before the Japanese invasion. He never surrendered to the enemy.
In December 1942, he joined the resistance movement as 2nd Lieutenant. On March 15, 1943, he was promoted to 1st Lieutenant and to Captain on October 21, 1943.
During the guerilla he was assigned as Junior Officer of Sector 19; Junior Officer of "C" Company, Northeastern Cebu Sector; Acting Executive officer and adjutant, 1st Battalion of the Northeastern Cebu Sector; and Executive Officer and Adjutant, 88th Infantry Regiment.
As a patriot he participated in the following engagement with the enemy attack of Danao garrison from January 7 to 8, 1943, under Col. Baura and Col. Sanchez; attack of an enemy launch in Carmen from January 11 to 15, 1943; Gilagila battle from March 5 to 9, 1943 and Catmon-daan battle on May 4, 1943.
Captain Agripino D. Casia, the brave and courageous patriot, was killed in Sogod, Cebu, in a bloody encounter with the enemy. He died a hero. .
FEEDBACK
From: Felixberto Buot, Ph.D.
Oakton, VA
Capt. Casia's surviving family lives in Suba, one of our close neighbors. I grow up with his surviving children and have fun memories of our childhood.
'Boy' their oldest son and I applied to the 'West Point' in Baguio, but did not proceed all the way; then we went on our separate ways. I decided to pursue mechanical engineering at CIT and I believe Boy went on to a Marine officer school.
Just my 1c contribution to history.
Felix
Comments