Oldest DAUSA Member dies in Consolacion, buried in Liloan
Fri, April 1, 2005 4:01 am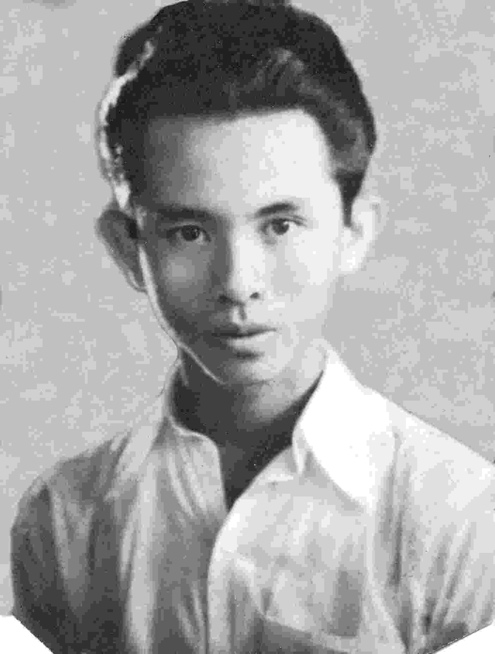 Francisco 'Kikong' Barriga, who died March 29, 2005 at the residence of his daughter Tita Barriga-Tomayao in Consolacion, Cebu, was buried Saturday, April 9 at the Manila Memorial Park in Liloan. He was 88 years old.
A concelebrated funeral mass offered for Francisco's eternal rest was officiated by 5 Danawanon priests at the Santo Tomas Chuch, on Saturday, April 9.
The Knights of Columbus Choir of San Narciso Parish Churh of Consolacion was invited to Danao to sing at the funeral Mass.
Over 600 friends and relatives filled the church and after the mass joined a long convoy that followed the funeral car towards Liloan.
Kikong was perhaps the oldest DAUSA member who in January 2002 decided to go home and settle for good in Danao after his wife, Bening died in Northridge, California.
He suffered a stroke sometime in May last year and remained bed-ridden for nearly 11 months. From Perpetutal Succor Hospital he was transferred to Tita's residence in Consolacion where some children and grandchildren took turns providing him the best and most comforting nursing care.
Kikong was found not breathing and cold while he remained seated on his wheelchair watching TV early evening of Tuesday, March 29, by two grandaughters (both nursing students) who took care of him that day.
According to JiJi and Jenjen Tambago, their Lolo died so peacefully without any sign of struggle or pain.
Kikong's body laid in state at the Cosmopolitan Funeral Homes at Nivel Hills, Cebu City for over a week and was transferred to Danao City for a 2-day wake at his home prior to internment.
A FAREWELL MESSAGE
Ang Banay ni Tatay Kikong-Mama Bening, dakong mapasalamaton kaninyong tanan sa pagduyog sa among kasubo. Salamat kaayo ning paghatod sa among amahan dili lang ngadto sa iyang lubnganan, apan usab, sa pag-panaw paingon sa kinabuhing walay katapusan.
Sa mga kaparian sa Danao, mga kantores, the Knights of Columbus Choir of San Narciso Parish, Consolacion, daghan kaayong salamat. We are grateful and greatly appreciate your show of support.
To all our friends and relatives, thank you. The outpouring of sympathies, your prayers are just too overwhelming and very comforting to our family at this time of great sorrow.
To all my sisters, brother, in-laws, nieces and nephews, close friends and relatives, I share in your grief. Like me, I know you also miss Tatay. We miss his jokes, his laughter and the bits and pieces of his life-story that he told us one thousand and one times.
But we should not grieve over his passing from this world. We know that our Tatay is up there with God, now enjoying the company of angels and saints in life eternal – free from all earthly pain and sufferings.
Tatay has lived a full life. Saksi kita sa iyang mabulokong kinabuhi nga gilamasan sa labihang kapait nga pag-antos.
Nearly all his life – our Father toiled the land, sweated it out as a carpenter – from sunrise to sunset – so his children may get the education that he could only dream of.
Kining tanan iyang giantos, uban sa hugot nga pag-ampo, para matagamtam sa mga anak, mga apo ang kinabuhing puno sa kalipay ug paghigugma.
I pray to God that each one of us will continue to emulate his example, pass on to our children and grandchildren the legacy that Tatay and Mama left behind. The legacy of having strong faith and love of God, and entrusting everything to his Will.
Tatay and Mama, now both in Heaven, no doubt are watching over us. All they want from us children is to keep that faith burning in our hearts. With faith continuously on fire, a glow will shine which our spouses, our children, our grandchildren and all the people around us, can see and emulate.
During their lifetime Tatay and Mama planted and lovingly nurtured a beautiful tree. Usa na kini karon ka dakong kahoy. This tree is our FAMILY. Ang Banay ni Kikong-Bening. 10 children, 10 spouses, 61 grandchildren and great grandchildren, now branching out in Masbate, Manila, California, England and in the Middle East.
Let us all share the responsibility of keeping this tree alive and growing – that it may expand its shade and bear good fruits. We pray to God that this Tree will be a source of comfort to anyone wanting to take refuge in its shade and eat its fruits.
Atong iampo, panghina-oton ug panalipdan nga walay anay nga mokotkot kaniya. We must strive and make extra efforts that this tree will bear good fruits, produce good seeds and then multiply to live on for many more generations.
Tatay over your body here and your soul now in heaven, we make this promise. We'll norture and take care of this Tree.
Monching
****************************************
EULOGY
Ma. Carmela Barriga-Domaboc .
My grandfather was a very hardworking man. I could never imagine how in this world he could manage his ten children finish their degrees. Yes, he was a good father. Mom always tell me how lolo valued work.
How he valued education which he himself was hindered of. I always seem to ignore those teachings until that first day when lolo's body was transferred to Danao. I wouldn't say it was a total change of heart. All I can say is that I felt so ashamed of myself how less I know about my very own grandfather.
How he worked rain or shine just to save up every peso for his children. How he ignored the aches and pains that he felt just to make his children first. How he give his children his unconditional love that made him forget abut his own self interest just to make sure he could give a better life for his children.
In short, lolo sacrificed his own wants for himself for his children. If only I could turn back the time, I would have listened to all the things that he told me. I wouldn't care how many times he tells me about the story of Takyo very good, his joke about Moning who went to cado to buy matis, his naughty acts, the way he sings to the rosas pandan, the stories about how the family surpassed each trial when my mom went to jail and simply just he way he calls me Karmila.
Now that my lolo is gone, my heart crushes every time I could recall the times that I have wasted of not being with him. The opportunities I didn't grab of not serving him until his very last breath. I did not grow up with my own father but I never missed a father image because lolo was there to make up as his replacement.
I can still clearly remember how we use to fight over little things. About the two peso worth fish balls that he buys for me every dismissal time, about his mistaken ride of route 04C instead of route 04B which made us walk to school.
I will always miss those memories with my lolo. I felt relieved that his hands doesn't have to be leashed for him to avoid touching his feeding tube and that he doesn't have to be stuck up on his wheelchairs and bed. But I also felt a feeling of great lost knowing that I will never be able to see him again.
He won't be able to see me get my diploma when I get to graduate in another country. He won't be able to see me walk down the aisle when I get married and he won't be able to see how my future children would look like.
Lolo not just left me with sweet memories. He is one of those people who gave grace to my existence is this world. He left me a legacy. Lo, I know you are watching over me… over us… the Bening-Kikong clan. I just want you to know that I am so grateful that you are my grandfather.
I will not be able to enjoy the leisure that I am experiencing now If you didn't give your sweat, blood, tears and sacrifices for my mom and your ten other children. Thank you lo, I love you very much. From the bottom of my heart and from the deepest of my soul, I will always miss you… I will forever miss you. Goodbye for now.. see you again sometime.
****************************************
Messages from friends and relatives:
Sorry about your Tatay Kikong moving on. He had a an excellent life and a proud father to you all.
May he rest in peace and my prayers for his soul. May God bless each and everyone of you in your days of sorrow.
Take care
Minda, Tiffany & Lorraine
Canada
******************
Condolence from our family. He did lead a very good life after successfully raising all of you. What an accomplishment.
Ricarda (Candy) C. Canga, RN, BSN, MBA
Nurse Manager
Surgical Unit, Memorial Hospitals Association
Modesto, CA 95355
***********************
Sorry to hear about the passing of your father. Our prayers are with you and your family. May He Rest In Peace.
Gemma Montegrande & Family
Harbor City, CA
************************
nmy deepest condolence…our prayers are with you.
Doris Dolores
Valencia, CA
************************
Our heartfelt condolences on the sad demise of your father. Praying for the eternal repose of his soul.
Regards,
Zenia Matela-Rodericks and family
Kuwait
*******************
Sorry to hear about the loss of your family. We will pray for the soul of your Tatay. Our deepest and sincere sympathy.
Love and Prayers,
Connie and Greg
Sydney, Australia
******************
our sincerest condolences and prayers for Noy Kikong. I'm sure he is at peace with his Creator.
Melo Parot
PNB Cebu
**********************
Our prayers and condolences; was informed by Inday last Wednesday afternoon; may Tatay Kikong rest in peace.
bicbic & family
Manila
**********************
our prayers for Tatay Kikong's peaceful and eternal rest. Sincere condolences from Naoko and me.
Best regards.
William Barriga
Geneva, Switzerland
**********************
We offer our heartfelt condolence to your family and prayer for the soul of your Tatay Kikong.
Sincerely yours,
Oscar Lequit
Ho Chi Minh City, Vietnam
**********************
My family and I would like to express our sincerest condolences to you and your family. Your father has lived a full life and is now in better hands.
As a strong person that I've known you to be, I hope you can make everyone else in the family accept God's will.
Joining you in prayers,
Flor Lualhati-Abanto
Bangkok, Thailand
**********************
Our heartfelt condolence. We will wait for further announcements.
Jojo Narvaez and Family
Philippine Airlines
Mactan, Cebu
***********************
Our deepest condolences to you and everyone in your family. I've told Papa and Mama already. We are all praying for the eternal rest of Tatay Kikong. I dont know what to say…
God bless you and your family. Hoping to see you sometime soon.
Love,
Joanne Barriga
Marian College
Quezon City
************************
I'm so sorry Ramon. You and your family have my deepest sympathy.
Jackie Marenstein
Calabasa, CA
**********************
We would like to offer our deepest sympathy and condolences. May he find peace, serenity and everlasting happiness in the hands of our father Almighty.
Our thoughts and prayers are with you and to Barriga family.
Verne/Darling and Family
Buena Park, CA
************************
My condolences to you and your family. Your dad is in the hands of god now, I will keep him in my prayers, and there shall be nothing but happiness for him hereafter.
Mandy Liao
Monterey Park, CA
*************************
I'm so sorry, Ramon, for your loss. If there is anything I can do for you, please let me know.
Morton Steinman
Encino, CA
*************************
I am so sorry for your loss. I will pray for your father and your family.
Judi Neal
Burbank, CA
*********************
My condolences. Your father is in peace now and happy, I'm sure. Please have a safe trip.
Clifton K. Sheng
Attorney for State Compensation Insurance Fund
*********************
May your Dad rest in Peace.
Please accept our sincere condolences.
Dr. Alice Agasan & Family
New York
*****************
Our heartfelt condolences to your family. Will include your father in our prayers. May his soul will rest in peace in the kingdom of GOD.
Nolie M Damole Jr.
Los Angeles, CA
******************
CONDOLENCE. May he rest in peace. We will pray for the eternal repose of his soul.
Terri Mayordo
Yellowknife, Canada
*******************
So sorry to hear about your father. My prayers are with you and your family.
Take care and God Bless!
Jeannette Walasik
Los Angeles, CA
********************
Oh, Ramon, I am sorry to hear the bad news. Dont worry about the office work. You should stay with your family in Philippines for a while to comfort their hearts.
Pray for you and your family.
Marjorie Hung-Lau
La Canada, California
**********************
My sincere sympathy goes to the whole family. May you all find peace and comfort in the thought that he is finally joining his Creator and will forever rest in peace with Him.
With my prayers.
Lorna Dean
Redding, California
**********************
Celso and I are send our condolences and prayers. I will ask the Sister of Presentation of Mary to offer a prayer for him. Know that he will be resting peacefully and be with our Father in Heaven.
Take care and have a safe trip to the Philippines.
Dey and Celso
New Hampshire
***********************
My condolences to you and your entire family. Our prayers are with you. Take care
Arline Alfonso
Glendale, CA
***********************
My condolences. My prayers for his eternal rest. Also for all the members of your family in your hour of grief. Take care.
Julie Cagalawan
Canoga Park, CA
************************
My most sincere condolence Monching. May he rest in peace.
Dr. Felix Buot
Virginia
***********************
Sorry to hear of this piece of sad news. I will say Mass for your Father tomorrow here at the VA Medical Center at 11:30 A.M. My condolences to you and everybody in the family.
Fr. Jonathan Lao
Chaplain
Veterans Administration Hospital
Washington, D.C.
*************************
My sincerely condolences to you and your family. I pray that our Lord will you and your family the strength to go through this time of sorrow.
Marirose Martinez
Glendale, CA
*************************
I'm with your family in prayers in the death of the patriarch. Take courage and my deepest sympathy. The Risen Lord indeed will raise him up and lead him to the green pastures of heaven.
Fr. Philip Borla
Mongolia
**************************
Sorry about the passing of Mano Kikong. Our deepest condolence goes out to all of you. He will be in our prayers. Take care.
Ben-Chita and Trining's families
Oregon
**************************
Sorry to hear the passing away of your father. I will pray for the repose of his soul.
Please take comfort with the thought that he is now SAFELY HOME with our HEAVENLY FATHER enjoying everlasting happiness.
With prayers,
Janet Macasero
Ft. Lauderdale, Florida
***************************
Our deepest condolences on the death of your beloved father! He was a good man and an ideal father. While his loved-ones are crying, he is probably smiling, up there, for a life well-lived having raised loving and successful children.
Flores Family
Danao City
*******************************
Our deepest sympathies on your father's passing. May his soul rest in peace. We know he's in good hands now & happy where he is.
Sincerely,
Beboy & Michelle
*******************************
Dearest Ramon and the Barriga Family,
We share in your grief.
Love, Amapola and the Cabase Family
Florida
********************************
My sincerest condolence on the passing away of your Father.
May he rest in the loving presence of the Lord with our beloved Pope John Paul II who himself has just passed away.
Fr. Eusebio Berdon, OSA
Asst. Superior General of the
Augustinian Order
Rome
Comments