Candy Canga's Letter to her Mom
Thu, January 16, 2003 10:35 pm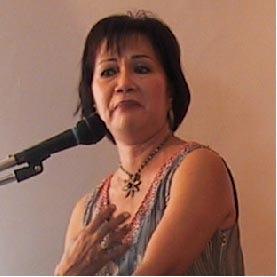 This is a personal note from a doting daughter to her mom, but I asked permission to share to our readers Candy Canga's email to her mom, Rose Canga, Dean of Student Affairs of Cebu State College, Danao City campus.
Candy is a professional registered nurse and currently is Surgical Department Manager of Sutter Memorial Hospital, Modesto, California,
Candy spearheads the DAUSA's Adopt-a-Student Program since its inception three years ago. She is a sponsor herself to some five scholars.

Likewise, Candy's mom contacts the barrio high school principals of Danao to send deserving indigent students to apply for scholarship.
Mrs. Canga screens and recommends students who get 4-year free college tuition. At present there are 30 DAUSA scholars enrolled at the Cebu State College, two will be graduating this March and another 20 next year. (Click "read more" to continue)

Dear Mrs. Rose Canga (Mommie),
On behalf of DAUSA, I would like to recognize your sincere efforts in coordinating this scholarship program. I really did not have to do much of anything other than just communicating and supporting the program.
You did most of the legwork, and I am very proud of you! I have never written to you something like this letter before because I just presumed that you are my mother and I did not need to say anything.
However, after reading your letter, I believe that as a coordinator myself, I need to tell you that you are an excellent program director…..you always follow through without fail. That is a trait that I needed to constantly remind myself. Your role-modelling has helped me become what I am today.
I want to thank you for being who you are. In fact, I have received an "exceptional evaluation" from my boss recently. Only 7% out of the 3,000 employees of our facility gets an exceptional evaluation.
Anyway, I believe that you will surely be missed by CSCST-CIT once you retire from your office on January 31, 2003. Writing this letter brought tears to my eyes because "Sabang Hayskul" (as we called it then) has been a great part of my life. The faculty and students were my extended family.
I will never forget the many times when I attended your faculty seminars which had helped me tremendously in my career today.
Sincerely from your daughter,
Candy C. Canga, BSN-RNC
Department Manager
Comments