Gemma Cabahug-Montegrande New DAUSA Prez 2001-2003
Fri, July 5, 2002 1:29 pm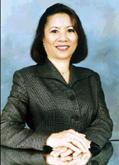 [Note: Originally posted on Kaming Danawanon, Vol VII, No. 4 Sep 2001.]
Yes, the new DAUSA President is unquestionably a Danawanon. Her mother, Isidra Batucan-Cabahug is a native of Danao, the daughter of the late Vito-Olay Batucan.
Gemma had lived and at some time attended elementary school in Danao.
She was treasurer when the first set of DAUSA officers were elected viva-voce during its organizational meeting in Long Beach in September, 1993 and was 2-term vice-president since 1997.
Gemma also grew up in Borbon, his father's hometown, but always stayed in Danao during summer breaks, tending her grandfather's store at the Danao town market. For two years she had her elementary schooling at the Danao Central School and had so much fond memories of her Danao childhood.
Shorly after her college graduation from USJR, Gemma got married to Leo who came home after two years in California to marry the 'pretty little girl across the street' in his hometown of Borbon.
Leo is an accountant who almost became a priest at the San Carlos Seminary. But while in college, Leo changed the course of his vocation after seeing the pretty sixth grader one day, waited till she bloomed, and married her in 1977.
Gemma joined her husband in California in 1979, and had 3 children. The eldest, Clarence has joined the U.S. Navy; Elizabeth is 1st year at the at the San Francisco State College; Leo, Jr., 9 years old, is in fourth grade. Gemma currently works as Executive Secretary at the Union Bank in Torrance, California.
The new President will spearhead the DAUSA Medical-Surgical-Dental and Educational missions leaving on September 10, 2001 for Danao City, Cebu along with over 30 volunteers. (MB)
Comments